NZD: The Reserve Bank of New Zealand (RBNZ) held its official cash rate (OCR) unchanged at 1.00%. In its accompanying press release, the RBNZ said that "Economic developments since the August Statement do not warrant a change to the already stimulatory monetary setting at this time". This is the last RBNZ meeting for the year. The next meeting is not until 12 February 2020.
USD: the release of the October inflation print will provide the data focus. Core inflation in the US has risen steadily in recent months, suggesting that tariff increase were pushing up consumer price inflation. Some residual effect of the September tariff increases is expected to see the annual rate of 'core' inflation move up to 2.5%YOY from 2.4%YOY. The headline rate, however, is expected to be unchanged at 1.7%, suggesting that overall inflationary pressures in the US remain well contained. The outlook for US inflation is likely to be a hot topic on the agenda for Fed Chair Powell in his address to the Joint Economic Committee of Congress ahead of his appearance before the House Budget Committee tomorrow. His comments around the outlook for the US economy and monetary policy are expected to echo those from the recent Fed rate-setting meeting. Since the meeting, a number of other Fed officials have signalled their comfort with the Fed's patient stance and it would be surprising if Mr Powell showed a preference for anything but the same.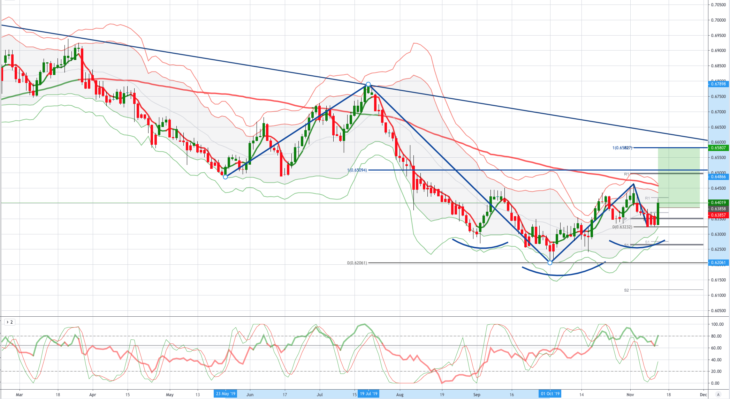 From a technical and trading perspective, NZD rocketed as RBNZ kept rates unchanged. With the market leaning very short into the rate decision we have witnessed a sharp short squeeze, CFTC data shows that positioning remains at elevated levels and a strong close today may encourage further profit taking and a shake out of weak hands. I am watching for a close towards todays highs to add to my existing long positions initially looking for a test of symmetry swing resistance at .6500 and then ontowards the equidistant swing objective at .6580
Disclaimer: The material provided is for information purposes only and should not be considered as investment advice. The views, information, or opinions expressed in the text belong solely to the author, and not to the author's employer, organization, committee or other group or individual or company.