GBP: GBP saw a seven month high against the USD amid market speculation that UK PM Boris Johnson's Conservative Party will win a clear majority at the 12 December polls and boost his Brexit agreement chances with the lawmakers. Decline in UK services activity amidst political uncertainty: The final reading of the IHS Markit/CIPS UK Services PMI was revised upwards from 48.6 to 49.3 in November (Oct: 50.0), but still below the no-change level in the previous month to indicate a contraction in UK services activity. The decline reflects cautious business and consumer spending stemming from the current political uncertainty leading up to next week's elections. Market participants will be watching the BBC Prime Ministerial Debate between Johnson and Corbyn tonight
JPY: Japan wage growth steadied; household spending plunged as sales tax hike took effect: Japan labour cash earnings rose 0.5% YOY in October (Sep: +0.5% revised), marking its second month of steady growth, driven by faster gain in contracted earnings of which regular pay was seen picking up at a faster pace as well. Overtime payment, a gauge of corporate activity was flat following a minor decline in September. Meanwhile, on a separate note, household spending slipped more than expected by 5.1% YOY in October (Sep: +9.5%), its largest decline since March 2016 as Japanese households cut spending in the month when a higher sales tax rate took effect. Household had earlier front-loaded their spending prior to the tax hike.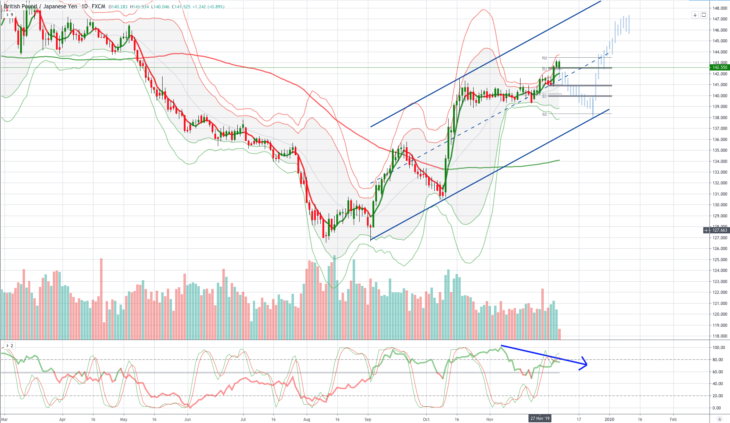 From a technical and trading perspective, GBPJPY has potentially posted a terminal advance from nearly eight weeks of consolidation, note the momentum and sentiment divergence that has accompanied the thrust higher, this suggests that we may see a corrective pullback develop over the coming sessions. With the UK election next week it is likely traders will book profits on the current move and reposition post the results next week. On the day watch for a close below the near term volume weighted average price to encourage the corrective view.
Disclaimer: The material provided is for information purposes only and should not be considered as investment advice. The views, information, or opinions expressed in the text belong solely to the author, and not to the author's employer, organization, committee or other group or individual or company.