Bullish USDJPY
USD: US ISM Non-manufacturing PMI beat estimate: The ISM non manufacturing index beat estimate to record a higher than expected reading of 55.0 in December (Nov: 53.9) that indicates a quicker expansion in services sector activity at year end. The gain in headline reading was led mainly by the nearly 6pts increase in production. New orders continued to pick up albeit at a much slower pace while hiring remained strong that spells good outcome for Friday's NFP payrolls.  US trade deficit narrowed to three-year low: US trade deficit shrank to three-year low of $43.1b in November (Oct: -$46.9b), as exports rebounded to increase 0.7% MOM (Oct: -0.1%) whereas imports continued to decline, albeit by a smaller magnitude of 1.0% (Oct: -1.7%) Deficit with China also slipped to $26.37b (Oct: -$31.3b) ahead of the phase one trade deal in December. Deficit has been trending down in recent months and would be a boon to 4QGDP.
JPY: Japan services sector slumped to contraction: Japan services sector activity returned to contraction in December as the Jibun Bank Japan Services PMI slipped to 49.4 (Nov: 50.3) according to a final reading after a short-lived rebound in November. The decline was reported to be the largest in over three years, ending the worst quarterly economic performance since 3Q16 according to Markit. Underlying conditions remained weak in Japan despite an increase in new orders, business from international clients also contracted for the first time since June. The latest services print, alongside yesterday's contracting manufacturing PMI (48.4) built stronger case for a contraction in Japan's 4Q19 GDP.  Japan wages fell in November: Labour cash earnings dropped more than expected by 0.2% YOY in November (Oct: 0.0% revised) while October data was revised from an initially estimated 0.5% growth to a flat 0.0% reading. November's print marks wages first decline in three months following a two months of lacklustre showings, confirming that the tightness in labour market fails to lead to higher pays for workers. The government's repeated calls for Japanese firms to raise wages do not seem to work as well. Details show that regular pay held steady at 0.2% YOY growth whereas overtime payment, a barometer of corporate activity slipped by a sharper 1.9% YOY (Oct: -0.1%).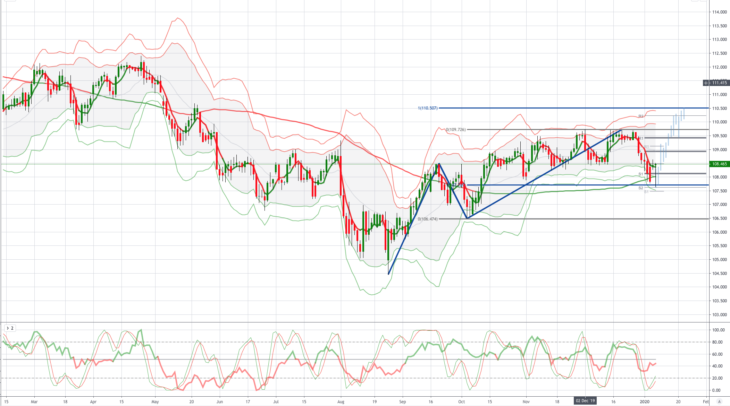 From a technical and trading perspective, USDJPY has tested symmetry swing support sited at 107.75 this area also retains a cluster of S1 supports. The level attracted significant buying interest, resulting in the potential for key outside reversal candle being printed at tonight's New York close. This 'long tail' pattern encourages a bullish posture, as price pierces 108.65 in a sustained fashion bulls will look to challenge offers and stops above 109, a close above this level would further support the bullish thesis targeting an equidistant swing objective sited at 110.50
Disclaimer: The material provided is for information purposes only and should not be considered as investment advice. The views, information, or opinions expressed in the text belong solely to the author, and not to the author's employer, organization, committee or other group or individual or company.