XAUUSD: Gold prices have tended to trade above $1,500/oz when US 10Y yields fall below 2.0%, especially in a monetary easing environment. Further escalations in trade and geopolitical risks may drive prices of gold higher. Low interest rates, escalating global recession risk, exacerbated by US-China trade tensions, heightened geopolitical rifts amid rich equity and credit market valuations, coupled with strong central bank and investor buying activity, are all combining to buttress a bullish gold market environment.
USD: The Fed left its key benchmark rates unchanged as widely anticipated. For the first time since May this year, the decision was a unanimous one, i.e. without any dissent in the FOMC. Moreover, Chairman Powell signalled no move in the near term, since the economic outlook remains favourable. For good measure, the FOMC statement removed any references to "uncertainties" in terms of growth outlook, and the median of the FOMC dot plot is forecasting no change in the policy rate through 2020. Meanwhile, on the repo market measure, Powell said that the Fed will be flexible in adapting its strategy and will consider extending the current purchase plan of Treasury bills to other short-term coupon securities if necessary, while adding that the existing plan is going according to expectations. Overall, the market seems to be buying the story told by the Fed, with USD down and Gold up.
The US House impeachment exercise progressed according to the script. As President Trump is likely to be the third US President to be impeached in US history officially next week, the focus will shift to the reaction from the Senate. According to the news, President Trump may no longer insist on a long trial in Senate with witnesses such as Biden. With a potentially shortened trial in the Senate, the focus on the impeachment story may dial down gradually.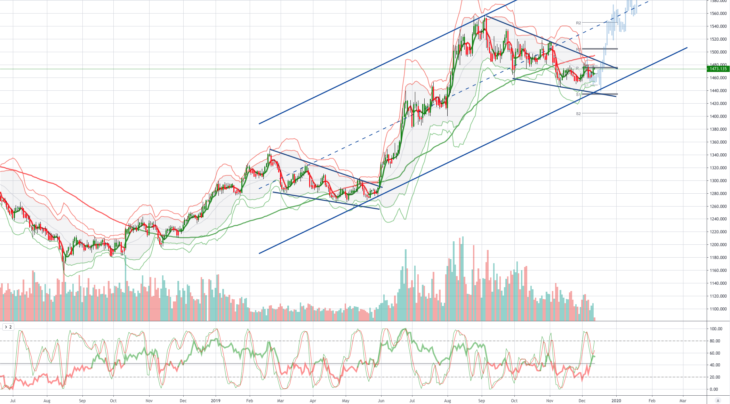 From a technical and trading perspective, XAUSUD has been trading in an extended complex corrective pattern that appears to be replicating the price action witnessed in the spring of 2019. As 1440 continues to attract bids it is likely we will witness another extension higher, a breach of 1485 will likely attract breakout players, initially targeting offers and stops at 1500, a breach of 1520 will add further support to the bullish case suggesting a retest of the 2019 highs towards 1560 enroute to a test of the ultimate upside target of 1585
Disclaimer: The material provided is for information purposes only and should not be considered as investment advice. The views, information, or opinions expressed in the text belong solely to the author, and not to the author's employer, organization, committee or other group or individual or company.