Main market themes
Stocks slipped overnight as a busy week began that saw traders turn cautious ahead of Fed, ECB meetings, UK election as well as the 15 Dec US tariffs deadline on Chinese goods.
Optimism surrounding US-China trade deal has faded amidst a lack of concrete development and details just days before the scheduled tariffs hike, following official China data that showed an unexpected decline in the country's November exports of which shipment to the US plunged by a whopping 23%.
The Dow, S&P 500 and NASDAQ lost around 0.3-0.4%, benchmark treasuries yields moved slightly lower around 0-2bps.
Major currencies hovered around recent ranges and the USD's performance was uneven across the FX board. EUR failed to ride on better German exports number. GBP remained strong amidst expectations of a Tories' win.
Crude oil prices ended a little lower by 0.2-0.3%. Brent crude settled at $64.25/barrel.
Eurozone investor sentiment rose for the first time in seven months: The Sentix Investor Confidence Index recorded a positive reading for the first time in seven months at 0.7 in December (Nov: -4.5) to signal a rise in confidence among European investors. The latest print was a major surprise that beat the consensus estimate of -5.3, driven by the jump in both current situation index (-1 vs -5.5) and expectation index (2.5 vs -3.5), reflecting what Sentix said firmer investors' expectations that "the worst is over for the economy in the euro zone and that impulses from the central bank and politicians will stimulate the economy in the coming months."
Japan economic watcher survey pointed to brighter outlook: The economic watcher survey reported that its current condition index picked up to 39.4 (Oct: 36.7), a modest improvement. Notably the expectations index rose to 45.7 in November (Oct: 43.7), a seven-month high that was driven by household's upbeat expectations over the economy, a positive sign for Japan's consumption outlook.
Australia business confidence weakened in November: The headline NAB Business Confidence index slipped to 0 in November (Oct: 2.0) to signal a weaker sentiment among Australian firms. The Business Condition Index was unchanged at 4.0 (Oct: 4.0). Details painted a mixed picture of overall business outlook with forward order slipping to -2 (Oct: 3.0) but employment remaining at a solid 4.0 (Oct: 4.0).
Today's Options Expiries for 10AM New York Cut (notable size in bold)
EURUSD (Intraday bias: Bearish below 1.1100 target 1.1000)
From a technical and trading perspective, as 1.1070/80 caps upside attempts look for another leg of downside to test bids and stops below 1.1000. Fridays candle printed a key reversal flipping the near term volume weighted average price negative. On the week only a close back above 1.1100 would concern the near term bearish bias. NO CHANGE IN VIEW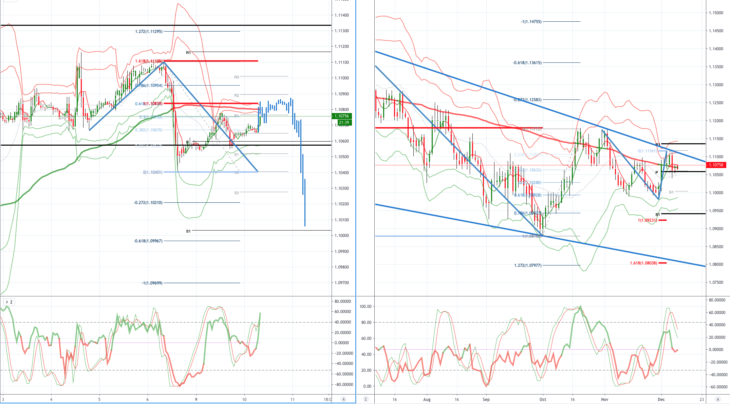 GBPUSD (Intraday bias: Bullish above 1.31 targeting 1.32)
From a technical and trading perspective, as 1.31 supports expect a grind higher to test stops and offers above 1.32, watching potential momentum divergence and resistance cluster 1.32/1.3250 to cap the current advance, prompting a potential retest of 1.30 from above.NO CHANGE IN VIEW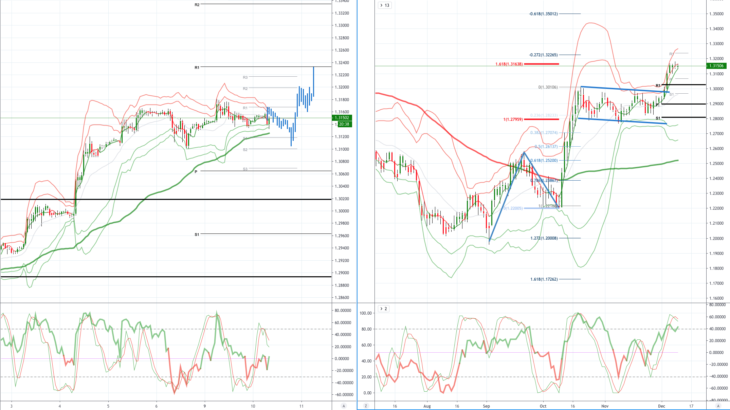 USDJPY (intraday bias: Bearish below 109.30 targeting 108.00)
From a technical and trading perspective, as 109.30 contains the upside attempts look for a retest of  bids below 108.50. A close through 109.30 would suggest downside failure and reset sites on 110. With 108.50 bids being tested look for further erosion to set up another leg down to test offers ahead of 108 NO CHANGE IN VIEW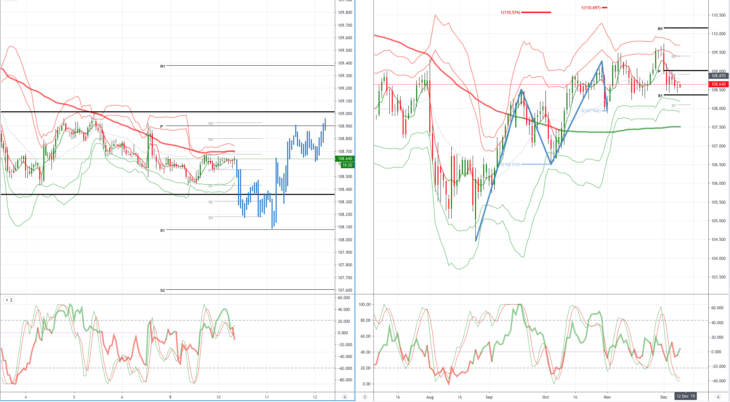 AUDUSD (Intraday bias: Neutral Bullish above .6830 targeting bearish below)
From a technical and trading perspective, anticipated basing pattern plays out stops above .6800 gunned, as .6810 supports look for a further grind higher to test offers and stops towards .6900. A failure below .6790 would concern the bulls suggesting a false upside break and drive down to test .6700 bids again. NO CHANGE IN VIEW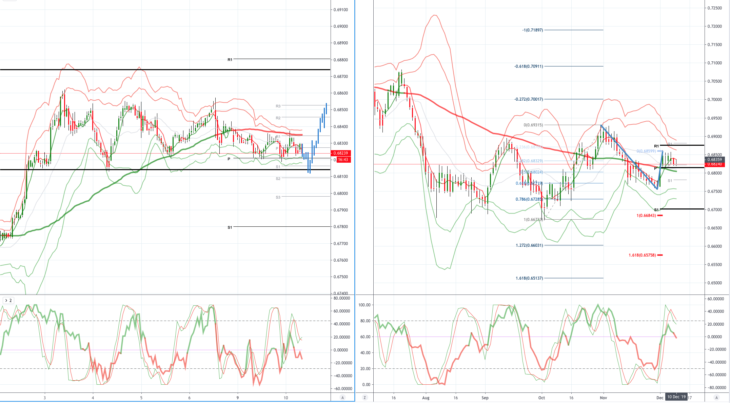 Disclaimer: The material provided is for information purposes only and should not be considered as investment advice. The views, information, or opinions expressed in the text belong solely to the author, and not to the author's employer, organization, committee or other group or individual or company.