Main market themes
Markets edged higher overnight as the Federal Reserve kept fed funds rate unchanged as widely expected and signaled no change in rates in 2020.
Fed signaled steady rate in 2020: In the last FOMC meeting of the year, the Federal Reserve left the target range of fed funds rate unchanged at 1.5- 1.75% as widely expected, and signaled no change in its policy rate throughout the 2020 election year. The Fed said in its latest statement that the "current stance of monetary policy is appropriate" to sustain economic growth and removed previous words regarding uncertainties over its inflation target. The overall assessment of the economy is unchanged as it maintained statement over solid job gains, strong household spending but weak business investment and exports. Latest median growth projections for 2019 (+2.2%) and 2020 (+2.0%) were unchanged. Unemployment rate was revised lower for 2019 (3.7 to 3.6%) and 2020 (3.7 to 3.5%). Forecast for core PCE inflation was trimmed for 2019 (+1.8 to +1.6%) and unchanged for 2020 (+1.9%). Meanwhile the median estimate of the fed funds rate is 1.6% (revised from 1.9%) at the end of both 2019 and 2020, signaling no change in rate next year. The new dot plot shows that 13 policy makers see rates steady next year while four officials expect one hike. In its post-meeting press conference, Fed Chair Jerome Powell reaffirmed that both the US economy and monetary policy are in a good place. While asked on potential rate hike, he said that he would prefer to see inflation that is "persistent" and "significant".
US consumer inflation picked up in November: A separate report prior to Fed's decision shows growth in headline consumer price index (CPI) eased to 0.3% MOM in November (Oct: +0.4%), while the gain in the core index was steady at 0.2% MOM. The YOY change in headline CPI however accelerated to 2.1% YOY (Oct: +1.8%), its largest recorded gain this year and core CPI registered a steady growth of 2.3% YOY (Oct: +2.3%), a modest but still lackluster gain in price pressure.
US mortgage applications rebounded last week: The MBA mortgage applications rebounded to increase 3.8% last week following a huge drop in the week before, mainly driven by a rise in refinancing applications (+8.7% vs -15.6%). Applications for mortgages to purchase homes dropped 0.4% (previous: +0.9%), as potential buyers stayed sidelined in the holiday season.  UK property sector under pressure amidst political uncertainties: The RICS House Price Balance Index dropped to -12% in November (Oct: -6%) to signal continuous downward pressure in the UK housing market amidst Brexit and general political uncertainties.
Japan capex slipped for fourth month: Japan core machinery orders, a highly watched gauge for the country's business spending dropped 6.0% MOM in October (Sep: -2.9%), marking its fourth consecutive month of decline. Compared to the same period last year, orders registered a contraction of 6.1% YOY (Sep: +5.1%). The numbers are in line with the BSI all industry and large manufacturing outlook for 4Q released yesterday that suggest weaker 4Q present condition. The BOJ's quarterly Tankan Survey is up next tomorrow to gauge Japanese firms' capex and growth outlook.
Treasury yields slipped lower by 4-5bps along the curve. Yield on 2Y benchmark treasuries notes lost about 4bps to 1.61% while the yield on 10Y UST dropped by 5bps to 1.79%.
The USD weakened across the board in response to Fed's steady policy rate outlook next year that indicates no hike.
Crude oil prices plunged by around 0.8-1.0% on higher US crude and fuel inventories. Brent crude closed at $63.72/barrel.
Traders will be kept on their toes ahead of today's ECB's Governing Council meeting alongside UK election. New ECB President Christine Lagarde is expected to hold her first press conference after taking over the role from Mario Draghi in November. Boris Johnson's Conservative Party is widely expected to secure a majority in the much awaited election today.
Today's Options Expiries for 10AM New York Cut (notable size in bold)
EURUSD (Intraday bias: Neutral Bullish above 1.1100 Bearish below)
From a technical and trading perspective, the closing breach of 1.1100 and the gunning of stops above last weeks highs, encourages bullish exposure, however, headline risk remains top of mind today. Caution is counseled as we note that price failed to close above the monthly R1, a repeated failure to take out that level on a closing basis today would likely concern newly minted longs, however as 1.1110/00 now acts as support their is a window for another drive higher to target October highs. On the day only a failure back below 1.1085 would suggest a false topside break and a return to the 1.10/1.11 range.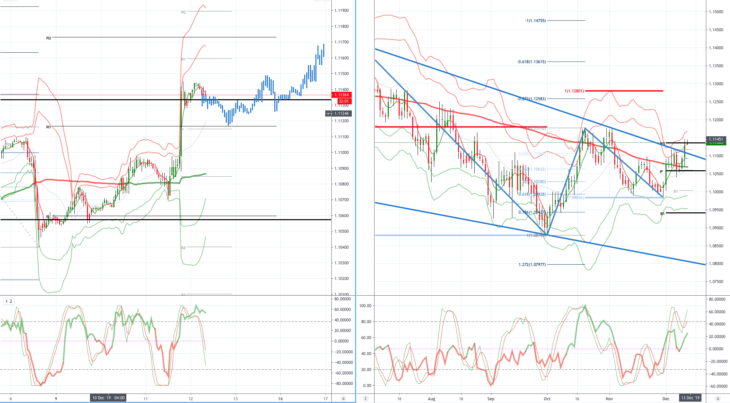 GBPUSD (Intraday bias: Bullish 1.32 target achieved)
From a technical and trading perspective, as 1.31 supports expect a grind higher to test stops and offers above 1.32, watching potential momentum divergence and resistance cluster 1.32/1.3250 to cap the current advance, prompting a potential retest of 1.30 from above.
GBPUSD…UPDATE 1.32 caps on initial test as anticipated, a second failure above 1.32 would set the stage for a test of 1.30, a close above 1.32 would give a window to spike 1.33 before the 1.30 retest. Note daily divergence which should be addressed in due course.NO CHANGE IN VIEW
***NOTE likely significant volatility into the Asian session tonight, as exit poll results are delivered overnight, with price action probably erratic in lower liquidity***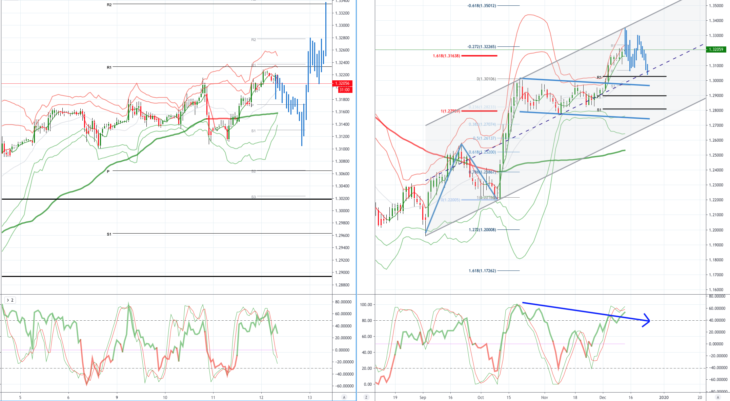 USDJPY (intraday bias: Bearish below 109.30 targeting 108.00)
From a technical and trading perspective, as 109.30 contains the upside attempts look for a retest of  bids below 108.50. A close through 109.30 would suggest downside failure and reset sites on 110. With 108.50 bids being tested look for further erosion to set up another leg down to test offers ahead of 108 NO CHANGE IN VIEW
AUDUSD (Intraday bias: Bullish above .6830 targeting .6950)
From a technical and trading perspective, anticipated basing pattern plays out stops above .6800 gunned, as .6810 supports look for a further grind higher to test offers and stops towards .6900. As .6850 caps corrections look for further upside pressure targeting a retest of October highs.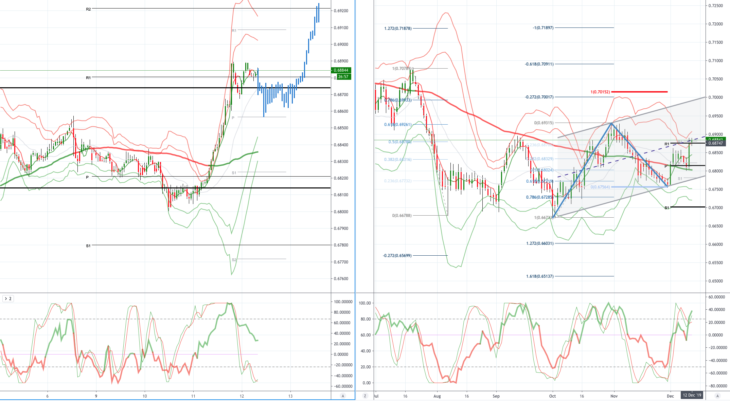 Disclaimer: The material provided is for information purposes only and should not be considered as investment advice. The views, information, or opinions expressed in the text belong solely to the author, and not to the author's employer, organization, committee or other group or individual or company.