Main market themes
Market picked up modestly but nonetheless hit record highs overnight, boosted by trade optimism as well as better than expected Chinese data.
The US and China had announced a so-called phase one trade deal last week that now targets an early January sign off, while official data show that China's industrial production growth topped estimates and jumped to a five-month high in November.
The Dow Jones, S&P 500 and NASDAQ rose by 0.4-0.9%, led by broad-based gains across sectors while treasury yields recovered by 2-5bps along the curve as investors exited safe havens.
PMIs show US business activities broadly in expansion: The flash US Markit Manufacturing PMI was a tad lower at 52.5 in December (Nov: 52.6) that reflects a broadly similar expansion in the previous month, supported by higher output and new orders. The services PMI rose to a five -month high of 52.2 (Nov: 51.6) to signal a modest increase in services business activity, reaffirming the importance of the sector in supporting overall US growth that appears to be quickening in the final month of 4Q. On a separate note, the New York Fed Empire State Manufacturing Index rose to 3.5 in December (Nov: 2.9), fell short of 4.0 expectation but points to an expansion New York state factory activity.
Muted growth in Eurozone economy as manufacturing mired in downturn: The latest PMI readings continued to paint a picture of subdued growth in the Euro area economy. The flash Eurozone Manufacturing PMI came in lower at 45.9 in December (Nov: 46.9) to mark its eleventh month of below-50 reading that points to an ongoing downturn in the bloc's manufacturing economy. Output was said to be slumping at the fastest rate since Oct-12 with new orders falling continuously that led firms to cut jobs this month. On a brighter note, the flash services PMI rose to a four-month high of 52.4 (Nov: 51.9) driven by gain in business activity and new orders but remained modest according to historical standards. By countries, Germany reported a contraction in manufacturing and a slight gain in services activity. France continued to outperform whereas the rest of the euro area reported unchanged output.
UK manufacturing and services activity dropped ahead of election: The flash UK Markit/CIPS Manufacturing PMI dropped to a four-month low of 47.4 in December (Nov: 48.9), its seventh back-to-month contraction. This reflects the faster reductions in output and new orders that were attributed to subdued overseas demand, customer destocking and delayed decision spending ahead of the general election. The flash Services PMI also slipped to 49.0 (Nov: 49.3), marking its second month below 50 and signaled a little drop in business activity. Markit said that survey respondents "overwhelmingly attributed lower business activity to a combination of domestic political uncertainty, a lack of clarity in relation to Brexit and subdued global economic conditions".
PMI suggest Japan economy ended 4Q in stagnation: The Jibun Bank flash manufacturing PMI barely changed at 48.8 in December (Nov: 48.9), marking its eight month of sub-50 reading that suggests a continuous contraction in the manufacturing sector. The flash services PMI rose slightly to 50.6 (Nov: 50.3), to reflect an ongoing recovery in services activity following a contraction in October that was driven by typhoon and sales tax hike. Nonetheless, the expansion was only marginal according to Markit and this, alongside the decline in factory output suggest that the economy stagnated in 4Q.
Today's Options Expiries for 10AM New York Cut (notable size in bold)
EURUSD (Intraday bias: Bullish above 1.1100 targeting 1.1250)
From a technical and trading perspective, Caution is counseled as we note that price failed to close above the monthly R1, the repeated failure to take out that level on a closing basis today would likely concern newly minted longs, however as 1.1110/00 now acts as support their is a window for another drive higher to target the equidistant swing objective sited at 1.1250, 1,1160 is the key upside hurdle ahead of Friday's highs.. A close today sub 1.1110 would suggest a false topside break and reset sites on another test of bids towards 1.1060 NO CHANGE IN VIEW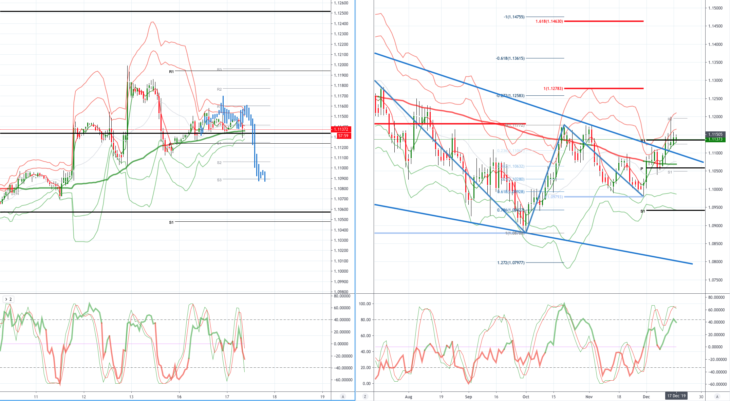 GBPUSD (Intraday bias: Neutral Bullish above 1.33 Bearish below)
From a technical and trading perspective, after last week's fireworks, expect some near term consolidation and digestion, as 1.35 caps, potential for another corrective leg to the downside testing bids to 1.3250, failure here would open a deeper correction to the 1.30 break point. NO CHANGE IN VIEW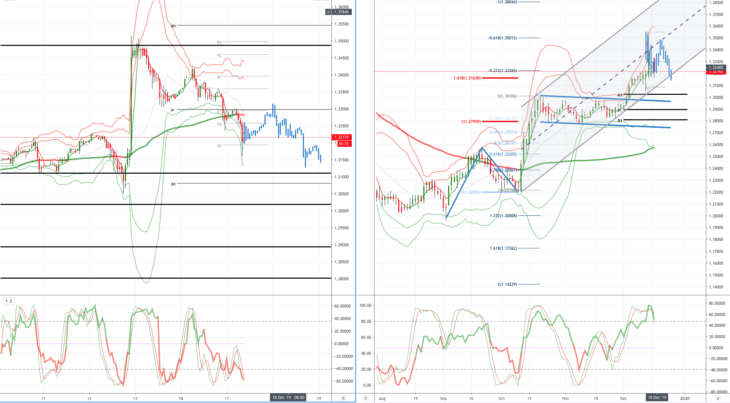 USDJPY (intraday bias: Bullish above 109.10 targeting 110.50)
From a technical and trading perspective, the close through 109.30 would suggest downside failure and reset sites on 110. As 109.10 acts as support look for a test of the equidistant swing objective at 110.50, however a close below 109 would suggest another headfake to the topside and return to bids towards 108.50.NO CHANGE IN VIEW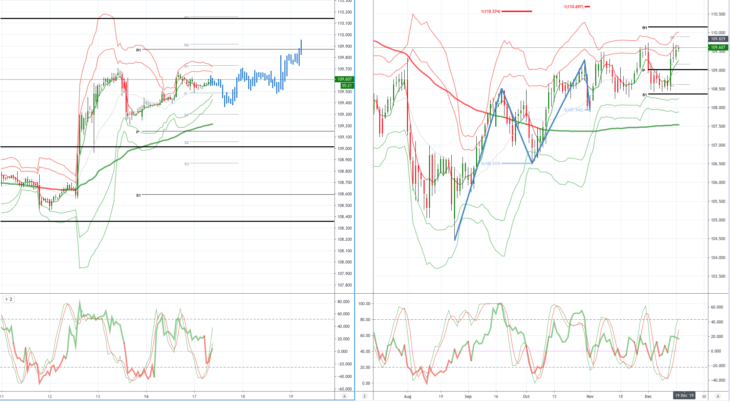 AUDUSD (Intraday bias: Bullish above .6850 targeting .7000)
From a technical and trading perspective, as .6850 caps corrections look for further upside pressure targeting a retest of October highs. Test of October offers underway as these are eroded look for a test of offers and stops to 0.7000. Caution as Friday printed a key reversal day, however, we failed to flip the daily chart bearish as per the near term Volume Weighted Average Price, follow through selling today will do so and would be of significant concern to the bullish bias.NO CHANGE IN VIEW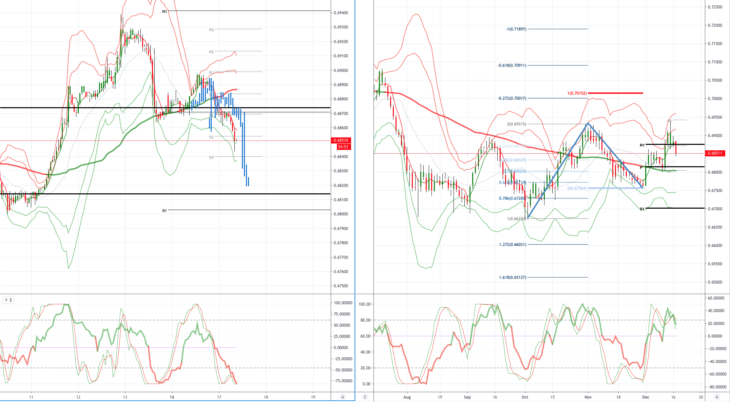 Disclaimer: The material provided is for information purposes only and should not be considered as investment advice. The views, information, or opinions expressed in the text belong solely to the author, and not to the author's employer, organization, committee or other group or individual or company.