Main market themes
Market eked out marginal gains overnight as positive economic data releases indicated that the US economic outlook might be improving. The S&P500 index was up 0.03%. Following the US-China partial trade deal, the S&P 500 index has been inching higher. Although there are still lingering concerns over the details of the trade deal, barring any downward slide in US-China relations expect the US markets to continue grinding higher.
Industrial production, housing starts and permits rose more than expected in November, helping the Dow Jones, S&P 500 and NASDAQ to climb higher by a modest 0.03-0.11% to close at respective high.
Treasury yields barely moved recording minor changes of -0.4 to +1.9bps along the curve while the USD largely strengthened against major currencies.
GBP plunged and erased the election spike. On the commodity front, gold finished unchanged whereas crude oils picked up around 1.2%- Brent crude settled at $66.10/barrel.
Fed policy makers Robert Kaplan and Eric Rosengren reiterated the central bank's message last week that interest rates should be on hold for now, unless there is a material change in outlook.
PM Boris Johnson is likely to use his party's majority in Parliament to block any extension of the Brexit transition period beyond 2020 to expedite his trade negotiations with the EU. EU Commission Vice President said the tight timeline for negotiations on a comprehensive trade agreement is rigid. As a result of renewed concern about the potential hard Brexit risk by end 2020, the GBP fell by 1.35% against the USD.
RBA to reconsider outlook in Feb'20 meeting: In the newly published RBA minutes for December meeting where it had left cash rate unchanged, policy makers noted that there had been little change in economic outlook since the last meeting. Notably, members discussed the transmission of the interest rate reductions to the economy since mid-2019 and noted that "the available evidence suggested that more stimulatory monetary policy had been working through the usual channels of lower bond yields, a depreciation of the exchange rate and lower interest rates on mortgage". It repeated that the low growth in household incomes continued to be a source of concern for the consumption outlook. Economic growth and unemployment rate remained broadly consistent with forecasts. The most appropriate approach is to maintain the current stance of monetary policy and to continue to assess the evidence of how the easing in monetary policy was affecting the economy. RBA concluded by adding that it would be important to "reassess the economic outlook in February 2020, when the Bank would prepare updated forecasts". It also reiterated that it had the ability to provide further stimulus if required and was prepared to ease policy further if needed to support growth, full employment and to achieve its inflation target.
UK economy added jobs but wage growth pulled back: The ONS later job report painted a mixed picture of the state of the labour market. The economy added 24k jobs in the three months to October (Sep: -58k), beating analysts' expectation of a 14k job losses. The gain in hiring came primarily from full time employment given the loss in part-time jobs. The same period also saw unemployment rate remaining unchanged at 3.8%, again better than forecast of 3.9%. On a less positive note, gain in average weekly earnings, a key gauge of wage growth eased substantially to 3.2% YOY in the three months to October (Sep: +3.7% revised), its slowest pace of growth in more than a year in part due to a reduction in bonus payout (-4.2% vs +4.1%) particularly in the public sector. Excluding bonus, wage growth also pulled back to 3.5% YOY (Sep: +3.6%), a six-month low.
Today's Options Expiries for 10AM New York Cut (notable size in bold)
EURUSD: 1.1000 (EUR785mn); 1.1015 (EUR572mn); 1.1045 (EUR459mn); 1.1050 (EUR712mn); 1.1080 (EUR469mn); 1.1085 (EUR630mn); 1.1100 (EUR503mn); 1.1140 (EUR1.1bn); 1.1150 (EUR584mn); 1.1185 (EUR592mn); 1.1200 (EUR1.8bn)
USDJPY: 108.00 (700mn); 108.50 (USD395mn); 108.70 (USD631mn); 108.85 (USD804mn); 109.00 (USD510mn); 109.25 (USD275mn)
AUDUSD:  0.6775 (AUD242mn); 0.6860 (AUD372mn); 0.6865 (AUD275mn)
EURUSD (Intraday bias: Bullish above 1.1100 targeting 1.1250)
From a technical and trading perspective, Caution is counseled as we note that price failed to close above the monthly R1, the repeated failure to take out that level on a closing basis today would likely concern newly minted longs, however as 1.1110/00 now acts as support their is a window for another drive higher to target the equidistant swing objective sited at 1.1250, 1,1160 is the key upside hurdle ahead of Friday's highs.. A close sub 1.1110 would suggest a false topside break and reset sites on another test of bids towards 1.1060 NO CHANGE IN VIEW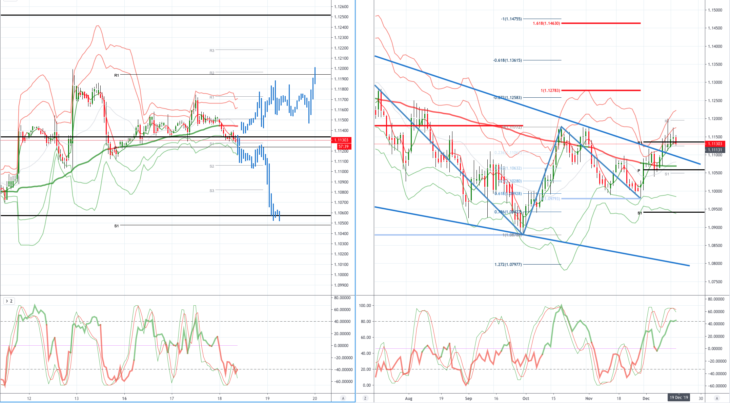 GBPUSD (Intraday bias: Bearish below 1.32 target 1.30)
From a technical and trading perspective, anticipated failure below 1.33 has initiated a deeper correction to the 1.30 break point. On the day look for 1.32 to act as resistance, only a daily close back above 1.3250 would alleviate downside pressure, setting a base to revisit 1.34  NO CHANGE IN VIEW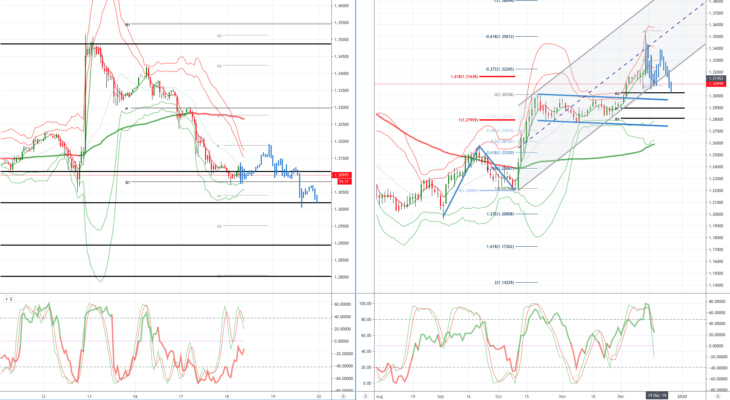 USDJPY (intraday bias: Bullish above 109.10 targeting 110.50)
From a technical and trading perspective, the close through 109.30 would suggest downside failure and reset sites on 110. As 109.10 acts as support look for a test of the equidistant swing objective at 110.50, however a close below 109 would suggest another headfake to the topside and return to bids towards 108.50. NO CHANGE IN VIEW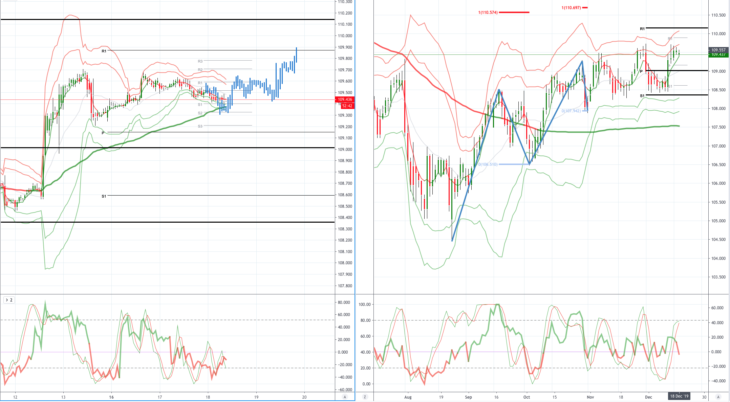 AUDUSD (Intraday bias: Bullish above .6850 targeting .7000)
From a technical and trading perspective, as .6850 caps corrections look for further upside pressure targeting a retest of October highs. Test of October offers underway as these are eroded look for a test of offers and stops to 0.7000. Caution as Friday printed a key reversal day, however, we failed to flip the daily chart bearish as per the near term Volume Weighted Average Price, follow through selling today will do so and would be of significant concern to the bullish bias.
AUDUSD…UPDATE Daily chart has flipped bearish, .6850 bids being eroded, bulls trying to defend .6840 a further failure here opens a move to test bids back towards .6800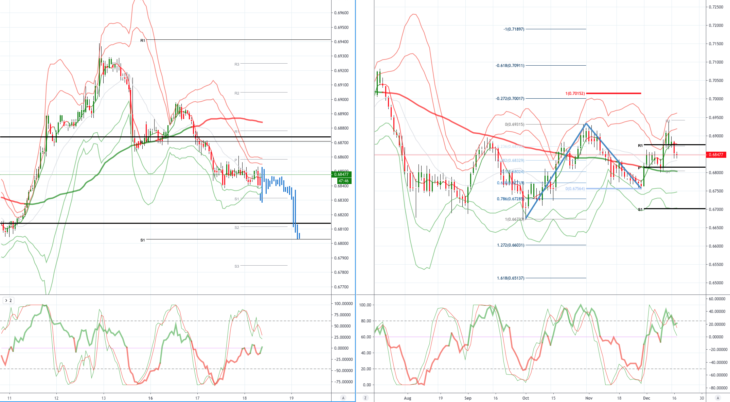 Disclaimer: The material provided is for information purposes only and should not be considered as investment advice. The views, information, or opinions expressed in the text belong solely to the author, and not to the author's employer, organization, committee or other group or individual or company.