Main market themes
Risk sentiment continued to hold on though the US equity market paused its gains after Fedex shares fell by 10% due to lower profit forecast for 2020.
The impeachment debate overnight before the official vote this morning is likely to have limited impact on the market as the vote was mostly adopted on partisan lines. The result is unlikely to change how the Fed assesses the economy as well as the progress of US-China trade talk.
Two more Fed officials joined their colleagues sharing the optimistic outlook on the US economy yesterday. Chicago Fed official Evans said the economy is doing remarkably well. Meanwhile, New York Fed President John Williams also expects the US economy to grow by about 2% in 2020 while the unemployment rate will stay close to its current 3.5% level.
Eurozone inflation accelerated in November but remained benign: The final reading of Eurozone HICP inflation was unchanged at 1.0%YOY in November (Oct: +0.7%), reflecting the higher cost of food, alcohol and tobacco (+2.0% vs +1.5%) and mainly higher services inflation (+1.9% vs +1.5%). Core CPI rose 1.3% YOY (Oct: +1.1%), its largest gain in seven months. The acceleration in price pressure is welcoming news for the ECB, which is battling low inflation and slower growth cutting deposit rate and by reintroducing asset purchase program (APP) in November. Nonetheless, the headline HICP rate is still far below the central bank's target of just below 2%. Underlying inflation has in fact remained weak, spurred mainly by services inflation that was driven by lower contributions from the cheaper package holiday prices in November.
UK inflation held steady ahead of BOE: UK headline CPI inflation stayed at a three-year low of 1.5% YOY in November (Oct: +1.5%), topping analysts' consensus forecast of 1.4%. Gain in core CPI which excludes tobacco, food, energy and alcohol was also held steady at 1.7% YOY (Oct: +1.7%). Looking back, CPI growth has been running below the Bank of England's 2% target for four consecutive months and alongside the recent fall in wage growth could possibly reinforce the BOE's recent dovish tilt. The BOE has remained a major central bank that is still maintaining its hawkish stance as its global peers slashed rates this year and is still expected to keep bank rate unchanged at 0.75% today.
Today's Options Expiries for 10AM New York Cut (notable size in bold)
EURUSD (Intraday bias: Bullish above 1.1100 targeting 1.1250)
From a technical and trading perspective, Caution is counseled as we note that price failed to close above the monthly R1, the repeated failure to take out that level on a closing basis today would likely concern newly minted longs, however as 1.1110/00 now acts as support their is a window for another drive higher to target the equidistant swing objective sited at 1.1250, 1,1160 is the key upside hurdle ahead of Friday's highs.. A close sub 1.1110 would suggest a false topside break and reset sites on another test of bids towards 1.1060 NO CHANGE IN VIEW
GBPUSD (Intraday bias: Bearish below 1.32 target 1.30)
From a technical and trading perspective, anticipated failure below 1.33 has initiated a deeper correction to the 1.30 break point. On the day look for 1.32 to act as resistance, only a daily close back above 1.3250 would alleviate downside pressure, setting a base to revisit 1.34  NO CHANGE IN VIEW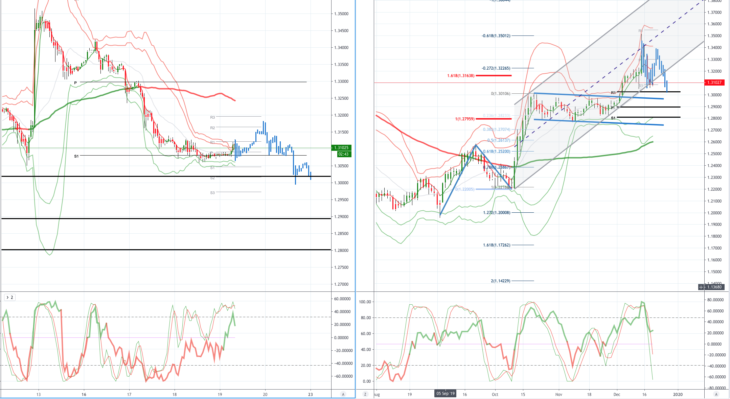 USDJPY (intraday bias: Bullish above 109.10 targeting 110.50)
From a technical and trading perspective, the close through 109.30 would suggest downside failure and reset sites on 110. As 109.10 acts as support look for a test of the equidistant swing objective at 110.50, however a close below 109 would suggest another headfake to the topside and return to bids towards 108.50. NO CHANGE IN VIEW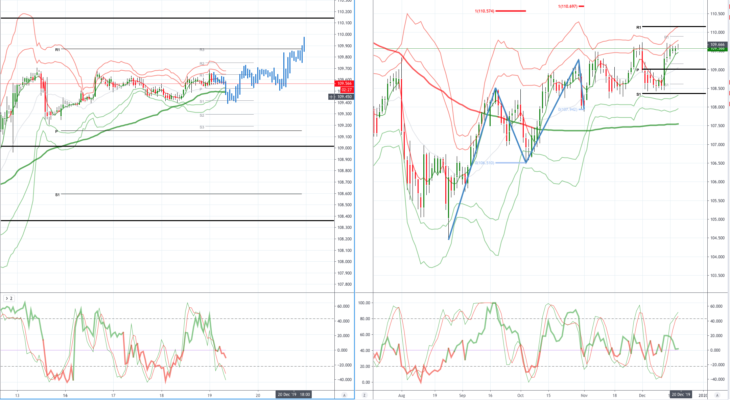 AUDUSD (Intraday bias: Bullish above .6850 targeting .7000)
From a technical and trading perspective, as .6850 caps corrections look for further upside pressure targeting a retest of October highs. Test of October offers underway as these are eroded look for a test of offers and stops to 0.7000. Caution as Friday printed a key reversal day, however, we failed to flip the daily chart bearish as per the near term Volume Weighted Average Price, follow through selling today will do so and would be of significant concern to the bullish bias.
AUDUSD…UPDATE Daily chart has flipped bearish, .6850 bids being eroded, bulls trying to defend .6840 a further failure here opens a move to test bids back towards .6800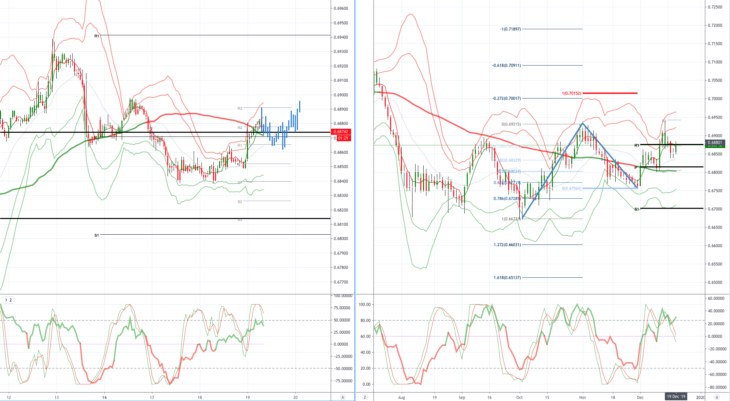 Disclaimer: The material provided is for information purposes only and should not be considered as investment advice. The views, information, or opinions expressed in the text belong solely to the author, and not to the author's employer, organization, committee or other group or individual or company.