Main market themes
Daily market outlook – US markets reopened on Friday after Thanksgiving but trading remained relatively thin in a shorter session. Main stock benchmarks slipped around 0.4-0.5%, weighed down by uncertainty and negative outlook surrounding US-China relations that could potentially hamper a mini trade deal in-the-making following President's Trump signing of a controversial bill related to Hong Kong's autonomy status.
Retail stocks took a beating as sales at brick-and-mortar stores lost out to its online counterparts during the annual Black Friday frenzy. Benchmark treasuries yields barely moved (-0.3bps to +1.7bps) along the curve.
Crude oil plunged by a dramatic 2-5% on renewed trade worries and record high crude production as well as signs that an OPEC+ meeting this week would not result in further production cuts.
China's Global Times reported over the weekend that Beijing is insisting on a tariff's rollback as part of any phase one trade deal with Washington, adding to uncertainties as the US has yet to make any latest comment. Stocks were boosted this morning as markets cheered better China PMI data.
The week ahead is a busy one for the US. The Markit US manufacturing PMI will kick off the docket on Monday. Construction spending data for October will also be due, alongside November's ISM manufacturing print. The ISM non-manufacturing print will be released on Wednesday, together with the latest ADP report. The Markit US services and composite PMIs will also be due. Thursday sees the latest weekly initial jobless claims as well as October trade balance, factory orders and durable goods orders. On Friday, all eyes will be on the US jobs report for November, Bloomberg consensus forecast as of 29 November is for 190k. The unemployment rate is likely to stay at 3.6%. US wage growth may pick up to +0.3%m/m, +3.0%y/y (from 0.2% m/m, 3.0% y/y in October). Wholesale inventories for October and the University of Michigan consumer sentiment index for December are also due.
The FOMC blackout period began over the weekend on Saturday (7 December) and will end on 12 December. Meanwhile, Vice Chair for supervision, Fed Governor Randall Quarles will provide his testimony to Congress on the topic of supervision and regulation despite the blackout period, first to the US House Financial Services Committee on Wednesday, and then to US Senate Banking Committee on Thursday.
Elsewhere, on the central bank front, European Central Bank (ECB) President Christine Lagarde will testify at the ECON hearing of the EU Parliament, Brussels later today. The Reserve Bank of Australia (RBA) is expected to keep its official cash rate (OCR) target unchanged at 0.75% when it announces its last monetary policy decision for the year on Tuesday. The Bank of Canada (BoC) will announce its latest monetary policy decision on Wednesday and the BoC is widely expected to keep policy steady at 1.75%.
Today's Options Expiries for 10AM New York Cut (notable size in bold)
EURUSD: 1.0995-1.1000 (1.2BLN), 1.1005-20 (1.1BLN) , 1.1050-55 (600M)
USDJPY:  109.00 (265M), 109.50 (700M
AUDUSD: 0.6745-50 (330M), 0.6815 (300M)
EURUSD (Intraday bias: Bullish above 1.1000 targeting 1.1060)
From a technical and trading perspective, month end flows were responsible for the anticipated short squeeze suggested in Friday's analysis. As 1.1000 continues to attract bids look for a move to test offers and stops above 1.1050 (daily chart has flipped bullish a per the near term volume weighted average price). Note significant optionality today tomorrow in the 1.0990-1.1030 area likely to see price penned in until after the NY cut tomorrow.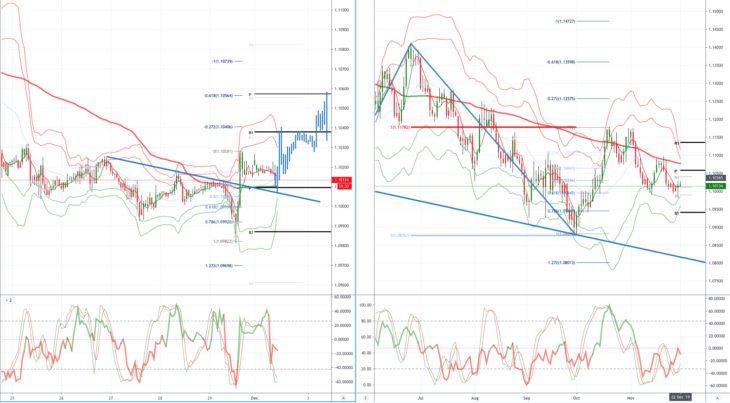 GBPUSD (Intraday bias: Bullish above 1.29 targeting 1.32)
From a technical and trading perspective, close above 1.29 injects upside momentum, with stops above 1.30 the immediate upside objective, only a reversal below 1.2820 would concern the bullish bias suggesting a false upside break and return to well defined 1.27/1.29 range.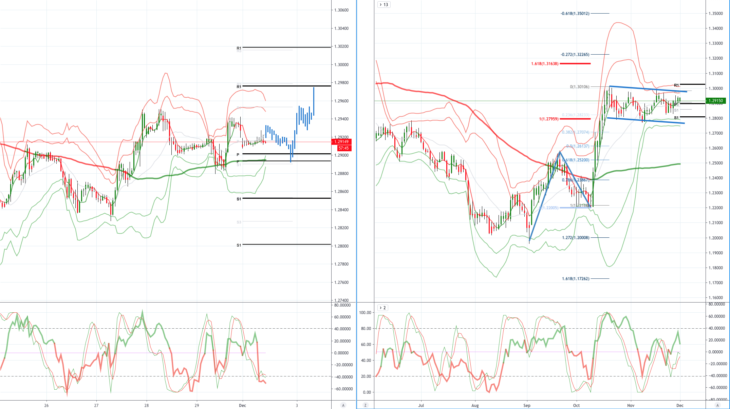 USDJPY (intraday bias: Bullish above 109 targeting 110.50)
From a technical and trading perspective, the upside breach of 109.50 on a closing basis suggests a further grind higher to test the long awaited 110.50. Only a close back below 109 would suggest a false break and return to the well trodden range 108/109.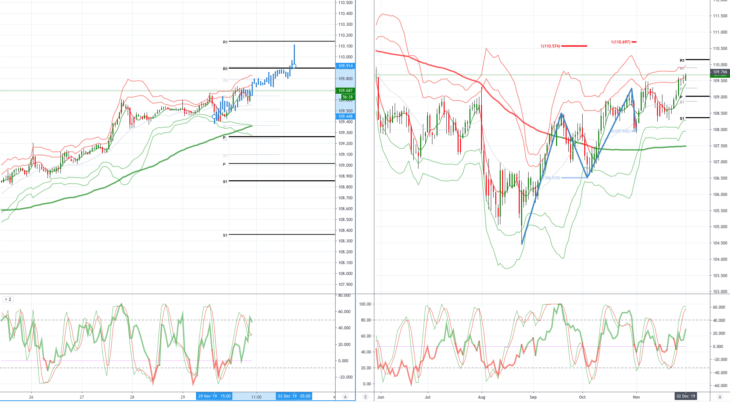 AUDUSD (Intraday bias: .6750 target achieved)
From a technical and trading perspective, .6750 downside target achieved the pair now has a window to develop a base for another attempt to move higher, as .6770 now supports look for another push higher to test offers and stops above .6800. Failure below .6750 would be a bearish development opening a test of year to date lows sub .6700.
Disclaimer: The material provided is for information purposes only and should not be considered as investment advice. The views, information, or opinions expressed in the text belong solely to the author, and not to the author's employer, organization, committee or other group or individual or company.