Main market themes
US stocks plunged overnight on weaker than expected ISM manufacturing data and continuous trade uncertainties. The key manufacturing gauge recorded its sub-50 reading four months in a row, a contraction in factory activities that weighs on growth outlook while construction spending fell for two straight months.
There was still a lack of solid headlines related to US-China trade deal, but President Trump's move to impose tariffs on Brazilian and Argentinian steels raised concerns that he might actually increase tariffs on Chinese goods comes 15 December. Commerce Secretary Wilbur Ross's remark supported that notion, as he said that President Trump is prepared to levy more duties on Chinese goods if a deal is not reached.
China said it would ban the visit of US military to Hong Kong and announced sanctions against several US non-government organizations.
As risk sentiment retreated, benchmark treasuries yields rose around 2-6bps at the belly to-long end and slipped a little at the shorter part of the curve.
The JPY surged on safe haven bidding. The USD lost its strength on weak data, weakening across the board against most of its major peers.
Crude oil benchmarks were mixed. Brent crude slipped further by another 2.4% to $60.92/barrel while WTI rebounded by 1.4% to $55.96/barrel following Friday's huge losses.
Speaking on Monday at her first appearance before the European Parliament since starting in the job, European Central Bank (ECB) President Christine Lagarde said the ECB will be "resolute" in restoring euro-zone price stability under her presidency, while stressing that an upcoming strategy review will be wide-ranging, including climate change as well as inflation. She acknowledged the side effects of the ECB's ultra-loose policy and said the review will try to gain a better understanding of how longer-term trends affect what the central bank can control.
RBA as expected held rates at 0.75% but says economy may be at gentle turning point, the Central Bank pointed to price boost from lower rates, says to lead to spending rise, the Central Bank did leave the door open to further cuts in 2020.
Today's Options Expiries for 10AM New York Cut (notable size in bold)
EURUSD (Intraday bias: Bullish above 1.1000 targeting 1.1060)
From a technical and trading perspective, 1.1060 target achieved, as 1.1050 acts as support look for further gains to test offers and stops above 1.1100. On the day only a move back below 1.1030 concerns the bullish bias suggesting a false upside break.

GBPUSD (Intraday bias: Bullish above 1.29 targeting 1.32)
From a technical and trading perspective, close above 1.29 injects upside momentum, with stops above 1.30 the immediate upside objective, only a reversal below 1.2820 would concern the bullish bias suggesting a false upside break and return to well defined 1.27/1.29 range. NO CHANGE IN VIEW
USDJPY (intraday bias: Bearish below 109.50 targeting 108.00)
From a technical and trading perspective, the close back towards 109 would suggest a false break and return to the well trodden range 108/109. Yesterday the pair printed a six month high only to close back at the lows of the day, printing a bearish key reversal pattern. Follow through selling today will open a move to test bids back to range support at 108
AUDUSD (Intraday bias: Bullish above .6830 targeting .6900)
From a technical and trading perspective, .6750 downside target achieved the pair now has a window to develop a base for another attempt to move higher, as .6770 now supports look for another push higher to test offers and stops above .6800. Failure below .6750 would be a bearish development opening a test of year to date lows sub .6700.
AUDUSD…UPDATE anticipated basing pattern plays out stops above .6800 gunned, as .6810 supports look for a further grind higher to test offers and stops towards .6900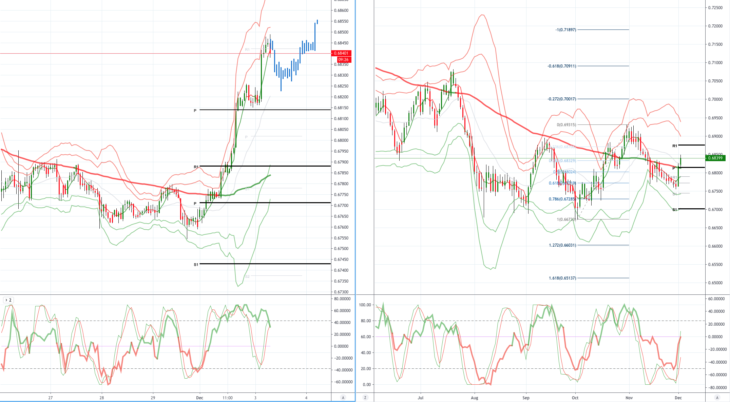 Disclaimer: The material provided is for information purposes only and should not be considered as investment advice. The views, information, or opinions expressed in the text belong solely to the author, and not to the author's employer, organization, committee or other group or individual or company.