Main market themes
Markets were lifted on Wednesday by a Bloomberg report saying that the US and China were edging closer to a trade deal, leading the major averages to snap a three-day slide. The report, which cited people familiar with the talks, said the two countries were moving closer to agreeing on the amount of tariffs that would be rolled back in a so-called phase-one trade deal. US President Donald Trump also said Wednesday that trade talks with China were going well. Yields on US Treasuries rose on Wednesday on an improved outlook for a US-China trade deal, and as market participants brushed off mixed US economic data.
Treasury yields recovered by 3-6bps after falling sharply in the previous session. The USD weakened against most of the major currencies as sentiment was lifted by positive trade headlines. The JPY and XAU slipped, crude oil regained footing to rally around 3-4%. Brent crude closed at $63/barrel.
Testifying before the House of Representatives Financial Services Committee, Fed Vice Chair Randal Quarles said the central bank is reviewing its supervisory practices in the wake of a September liquidity crunch in the "repo" market. Specifically, Quarles said that liquidity stress tests that Fed supervisors run on large banks may have caused lenders to prefer to hold reserves at the central bank as opposed to other high-quality liquid assets like Treasury bonds.
GBP saw a seven month high against the USD amid market speculation that UK PM Boris Johnson's Conservative Party will win a clear majority at the 12 December polls and boost his Brexit agreement chances with the lawmakers.
US ISM indicates slower growth in services activity: The ISM Non Manufacturing Index slipped to 53.9 in November (Oct: 54.7), reflecting smaller output/production last month. Nonetheless details suggest that overall services sector remains healthy, supported by solid gains in new orders, employment as well as new exports orders. Meanwhile, the final reading of the IHS Markit US Services PMI was unrevised at 51.6 in November (Oct: 50.6), above the previous month's print to suggest a faster upturn in the services sector.
Eurozone services continued to drive Eurozone economy: The final reading of the IHS Markit Eurozone Services PMI was revised from 51.5 to 51.9 in November (Oct: 52.2), lower than October's reading to suggest a moderation in Eurozone's services activity. The sector remained the primary driver of overall growth despite its waning contribution since October but was still better off than the ongoing contraction in the manufacturing industry.
Decline in UK services activity amidst political uncertainty: The final reading of the IHS Markit/CIPS UK Services PMI was revised upwards from 48.6 to 49.3 in November (Oct: 50.0), but still below the no-change level in the previous month to indicate a contraction in UK services activity. The decline reflects cautious business and consumer spending stemming from the current political uncertainty leading up to next week's elections.
Japan services sector's returned to marginal growth: The final reading of Jibun Bank Japan Services PMI was revised slightly lower from 50.4 to 50.3 in November (Oct: 49.7) to indicate Japanese services sector's return to growth following an October contraction that was driven by a typhoon and a higher sales tax.
Today's Options Expiries for 10AM New York Cut (notable size in bold)
EURUSD (Intraday bias: Bullish 1.1100 target achieved)
From a technical and trading perspective, anticipated test of offers and stops above 1.1100 achieved, overnight consolidation continues above 1.1065 support as this area to 1.1050 continues to attract bids expect a further probe of offers and stops above yesterday's highs, 1.1120/30 key resistance . Only a move back below 1.1030 concerns the bullish bias suggesting topside failure.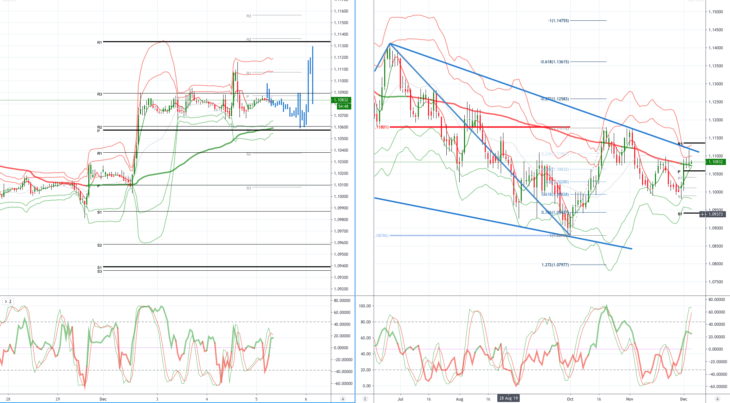 GBPUSD (Intraday bias: Bullish above 1.29 targeting 1.32)
From a technical and trading perspective, close above 1.29 injects upside momentum, with stops above 1.30 the immediate upside objective, only a reversal below 1.2820 would concern the bullish bias suggesting a false upside break and return to well defined 1.27/1.29 range.
GBPUSD…UPDATE As 1.3080/60 supports expect a grind higher to test stops and offers above 1.32, watching potential momentum divergence and resistance cluster 1.32/1.3250 to cap the current advance, prompting a potential retest of 1.30 from above.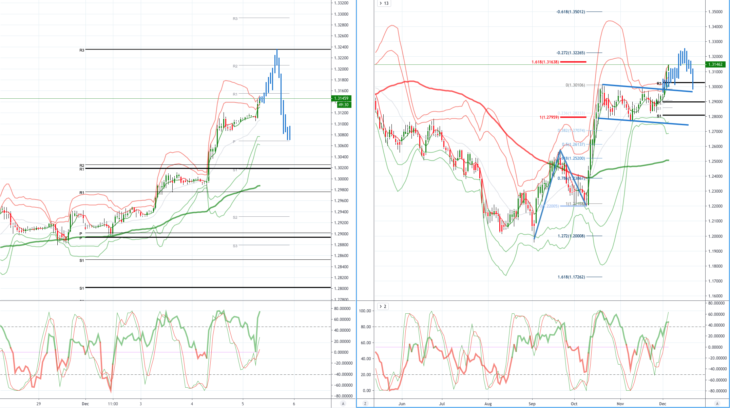 USDJPY (intraday bias: Bearish below 109.30 targeting 108.00)
From a technical and trading perspective, the close back towards 109 would suggest a false break and return to the well trodden range 108/109. Yesterday the pair printed a six month high only to close back at the lows of the day, printing a bearish key reversal pattern. Follow through selling today will open a move to test bids back to range support at 108.
USDJPY… UPDATE As 109.30 contains the upside attempts look for a retest of  bids below 108.50. A close through 109.30 would suggest downside failure and reset sites on 110.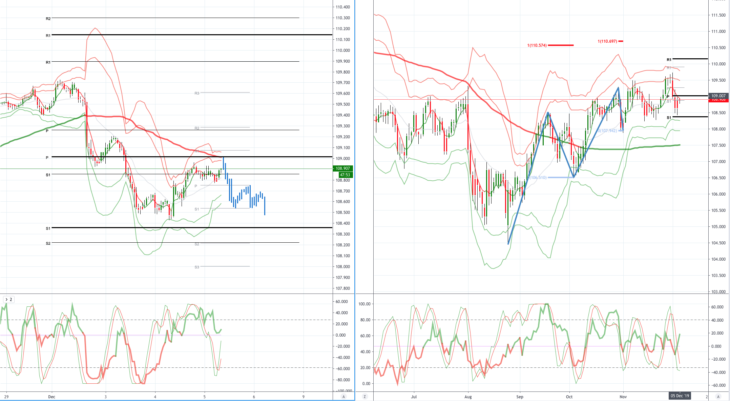 AUDUSD (Intraday bias: Bullish above .6830 targeting .6900)
From a technical and trading perspective, .6750 downside target achieved the pair now has a window to develop a base for another attempt to move higher, as .6770 now supports look for another push higher to test offers and stops above .6800. Failure below .6750 would be a bearish development opening a test of year to date lows sub .6700.
AUDUSD…UPDATE anticipated basing pattern plays out stops above .6800 gunned, as .6810 supports look for a further grind higher to test offers and stops towards .6900. A failure below .6790 would concern the bullish bias suggesting a false upside break.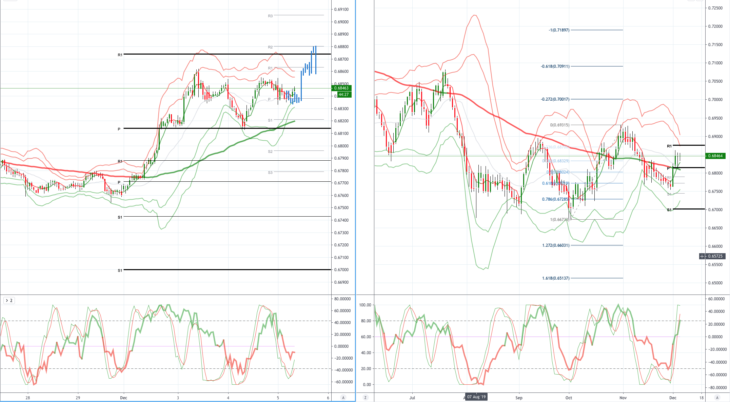 Disclaimer: The material provided is for information purposes only and should not be considered as investment advice. The views, information, or opinions expressed in the text belong solely to the author, and not to the author's employer, organization, committee or other group or individual or company.