Main market themes
Markets eked out minor gains overnight as investors weighed trade headlines and anticipate today's nonfarm payroll report.
Wall Street's main benchmarks picked up around 0.1-0.2% following a rally in the previous session, as investor sentiment turned cautious awaiting further solid development in current US-China mini trade deal in-the-making. China's Commerce Ministry said yesterday that its negotiating team has been maintaining close contact with the US, following Trump's comment that talks have been "going well". A report from WSJ suggests that the two sides are still wrangling over the size of Chinese agricultural goods purchases, with Trump touting USD40-50bn, but without a similar pronouncement from China
OPEC+ is reportedly coming close to a deal on cutting oil output, with a quota adjustment of 500k barrels per day agreed in principle, according to Bloomberg. Oil prices did not move much, however, with the market seeing the magnitude of the cuts as largely symbolic, given that the amount reflects the supply reduction that the group has already been making throughout the year, rather than any net new marginal cut.
US reported trade numbers which showed that its imports from China declined by 14.4% this year, with a bilateral deficit in goods with China down to a seven-month low of USD27.8bn in seasonally adjusted terms, indicating the impact that rounds of tariffs have done to the flow of goods between the two countries, with no concrete progress on negotiations.
For the day ahead, market will be on the lookout for Novembers' nonfarm payrolls figure from US today, with expectation of 183k, an uptick from 128k the month before. There are expectations that the resolution of the GM strike should help to boost the payroll numbers, by 46k. Elsewhere, average hourly earnings is deemed to pick up slightly to 0.3% mom, compared to 0.2% before. If that pans out, market will see it as a welcome sign of strength in the US economy, particularly when it comes to the all-important consumption.
Today's Options Expiries for 10AM New York Cut (notable size in bold)
EURUSD (Intraday bias: Bullish 1.1100 target achieved)
From a technical and trading perspective, anticipated test of offers and stops above 1.1100 achieved, overnight consolidation continues above 1.1065 support as this area to 1.1050 continues to attract bids expect a further probe of offers and stops above yesterday's highs, 1.1120/30 key resistance. Only a move back below 1.1030 concerns the bullish bias suggesting topside failure. NO CHANGE IN VIEW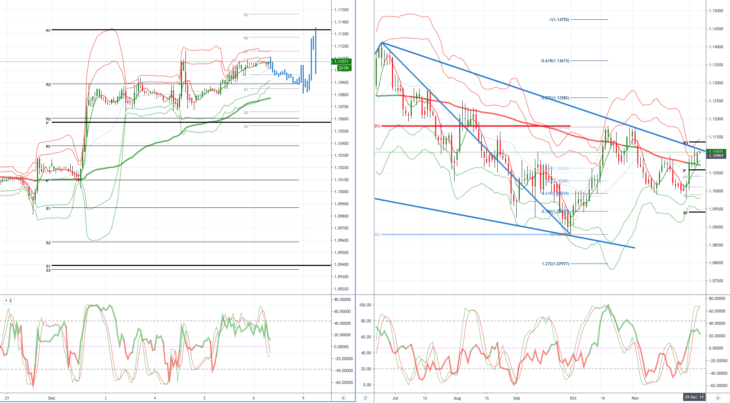 GBPUSD (Intraday bias: Bullish above 1.29 targeting 1.32)
From a technical and trading perspective, close above 1.29 injects upside momentum, with stops above 1.30 the immediate upside objective, only a reversal below 1.2820 would concern the bullish bias suggesting a false upside break and return to well defined 1.27/1.29 range.
GBPUSD…UPDATE As 1.3080/60 supports expect a grind higher to test stops and offers above 1.32, watching potential momentum divergence and resistance cluster 1.32/1.3250 to cap the current advance, prompting a potential retest of 1.30 from above NO CHANGE IN VIEW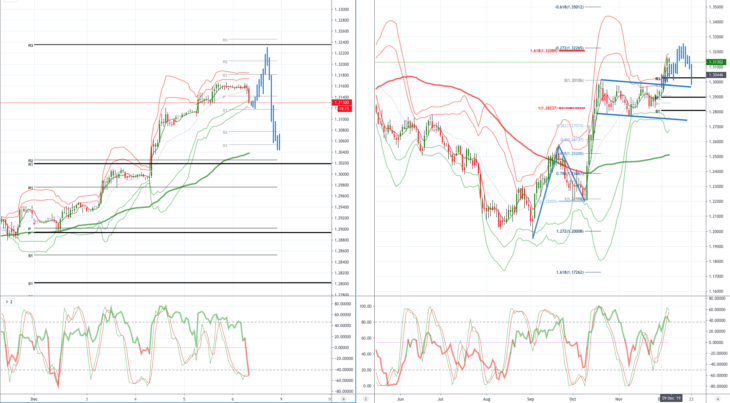 USDJPY (intraday bias: Bearish below 109.30 targeting 108.00)
From a technical and trading perspective, the close back towards 109 would suggest a false break and return to the well trodden range 108/109. Yesterday the pair printed a six month high only to close back at the lows of the day, printing a bearish key reversal pattern. Follow through selling today will open a move to test bids back to range support at 108.
USDJPY… UPDATE As 109.30 contains the upside attempts look for a retest of  bids below 108.50. A close through 109.30 would suggest downside failure and reset sites on 110. NO CHANGE IN VIEW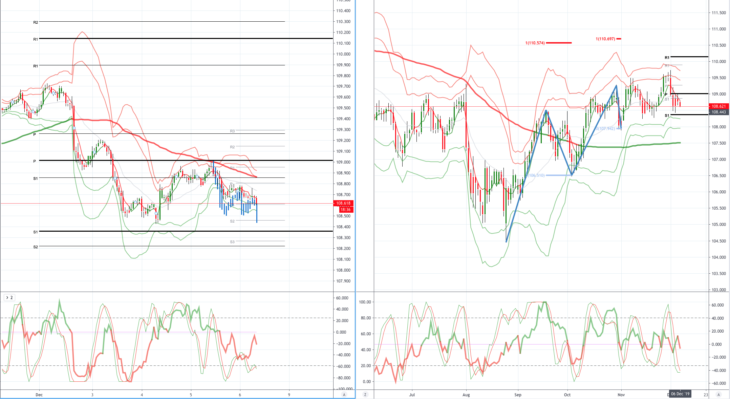 AUDUSD (Intraday bias: Bullish above .6830 targeting .6900)
From a technical and trading perspective, .6750 downside target achieved the pair now has a window to develop a base for another attempt to move higher, as .6770 now supports look for another push higher to test offers and stops above .6800. Failure below .6750 would be a bearish development opening a test of year to date lows sub .6700.
AUDUSD…UPDATE anticipated basing pattern plays out stops above .6800 gunned, as .6810 supports look for a further grind higher to test offers and stops towards .6900. A failure below .6790 would concern the bullish bias suggesting a false upside break.NO CHANGE IN VIEW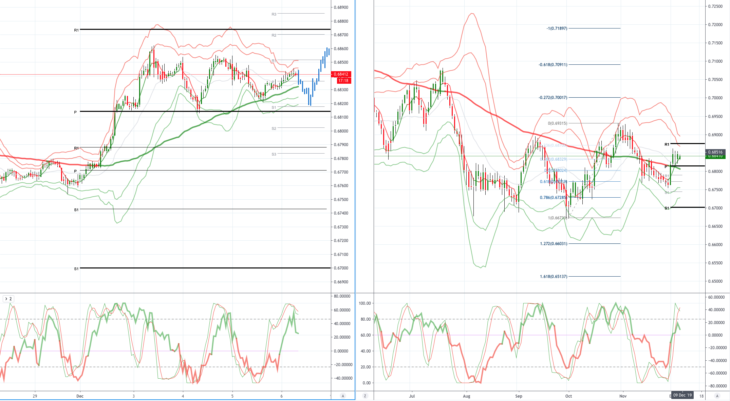 Disclaimer: The material provided is for information purposes only and should not be considered as investment advice. The views, information, or opinions expressed in the text belong solely to the author, and not to the author's employer, organization, committee or other group or individual or company.