Main market themes
Stocks rallied on Friday on solid job numbers and better trade sentiment, to finish the week on a mixed note. The US economy added 266k jobs in November defying recent expectations that hiring is slowing down in a labour market that is flashing signs of weakness.
News that China is in the process of issuing waivers on tariffs over US goods such as pork and soy that signals a deal is in the making. White House Economic Advisor Larry Kudlow meanwhile reassured that talks with China were constructive and happened on a daily basis. Treasury yields extended further climb – picking up 2-3bps along the curve.
Crude oil prices gained 1.3-1.6%. Brent crude finished at $64.39/barrel.
GBP came off highs on Friday, as we expect increased volatility this week surrounding the UK elections (Thurs). Polls continue to favour the Tories, with spot having reacted higher in light of expected political/Brexit certainty. However, short term riskies moving sharply in the opposite direction, with GBP puts favoured to calls, jars against that narrative.
This week, both the FOMC (Wed) and ECB (Thurs) is expected to be unchanged, but any hints on the 2020 rate trajectory at the FOMC, and Lagarde's views on fiscal policy will be scrutinized. However, the central banks may be shadowed by the scheduled implementation of new tariffs by the US on Chinese imports on 15 December. The base case is for this round of tariffs to be called off. If they are implemented, any remnant expectations surrounding the Phase 1 deal may be severely dented, if not reversed.
Short term Risk-On/weak-USD dynamic continues to persist within the FX space. This is also reflected in the CFTC data, with leveraged accounts moved against the USD, cutting their net implied USD longs. However, longer-term asset managers (net implied USD shorts reduced) favoured the greenback.
Today's Options Expiries for 10AM New York Cut (notable size in bold)
EURUSD (Intraday bias: Bearish below 1.1100 target 1.1000)
From a technical and trading perspective,as 1.1070/80 caps upside attempts look for another leg of downside to test bids and stops below 1.1000. Fridays candle printed a key reversal flipping the near term volume weighted average price negative. On the week only a close back above 1.1100 would concern the near term bearish bias.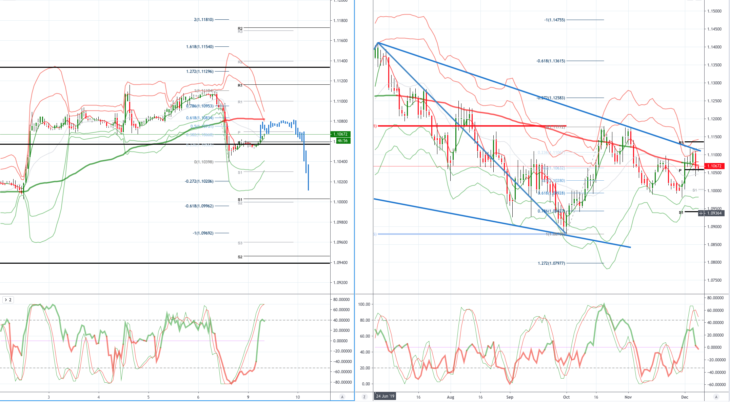 GBPUSD (Intraday bias: Bullish above 1.29 targeting 1.32)
From a technical and trading perspective, as 1.3080/60 supports expect a grind higher to test stops and offers above 1.32, watching potential momentum divergence and resistance cluster 1.32/1.3250 to cap the current advance, prompting a potential retest of 1.30 from above.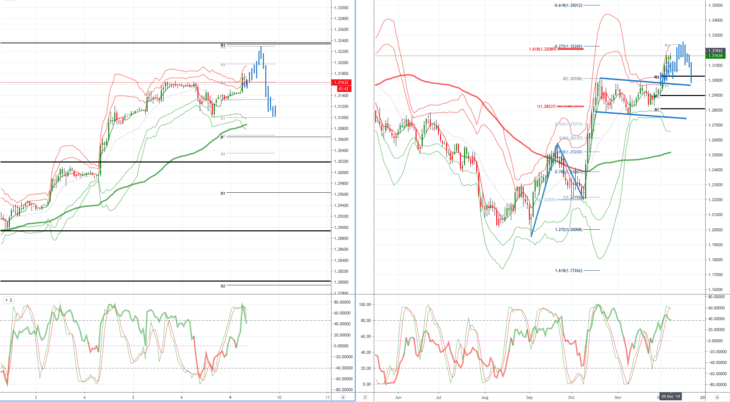 USDJPY (intraday bias: Bearish below 109.30 targeting 108.00)
From a technical and trading perspective, as 109.30 contains the upside attempts look for a retest of  bids below 108.50. A close through 109.30 would suggest downside failure and reset sites on 110. With 108.50 bids being tested look for further erosion to set up another leg down to test offers ahead of 108.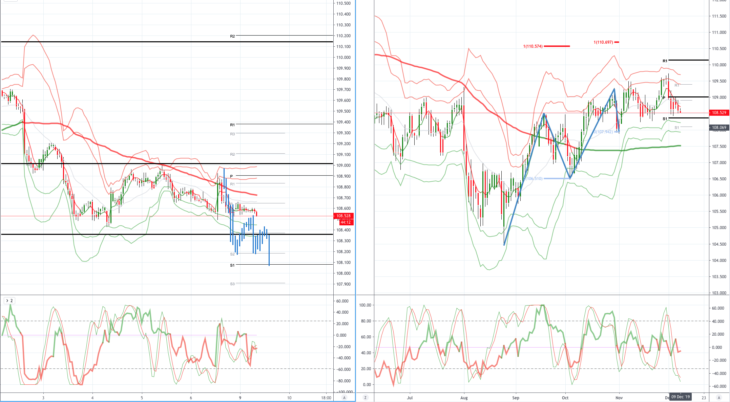 AUDUSD (Intraday bias: Neutral Bullish above .6830 targeting bearish below)
From a technical and trading perspective, anticipated basing pattern plays out stops above .6800 gunned, as .6810 supports look for a further grind higher to test offers and stops towards .6900. A failure below .6790 would concern the bulls suggesting a false upside break and drive down to test .6700 bids again.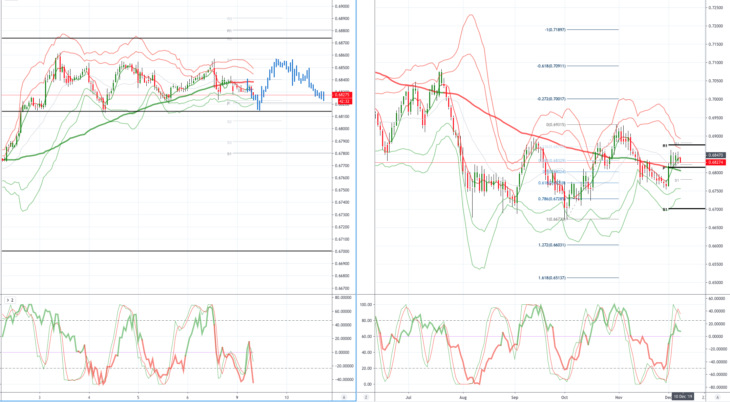 Disclaimer: The material provided is for information purposes only and should not be considered as investment advice. The views, information, or opinions expressed in the text belong solely to the author, and not to the author's employer, organization, committee or other group or individual or company.