Main market themes
Market extended further gains overnight on hopes an escalation in the Middle-east tension is slim despite Iran's attack on US forces in Iraq on Tuesday. Iran's Foreign Minister Javad Zarif said that they weren't seeking escalation or war after a missile attack on US base that involved no casualty while President Trump responded by adding that the US was "ready to embrace peace", suggesting no further actions from both Washington and Tehran that could lead to a broader conflict.
The Dow Jones, S&P 500 and NASDAQ rose 0.5-0.7% at the end of the day. The easing in risk-off mode led US treasury yields to recover and add 4-6bps after slipping sharply in the immediate response to the attack. 10Y US Treasury yields finished 6bps higher at 1.88%.
Gold prices snapped winning streak as it retreated to $1,556.42/troy ounce whereas crude oils collapsed around 4-5%, giving up recent gains. Brent crude settled at $65.44/barrel. The greenback continued to strengthen across the board as the dollar benefitted from the tone-down in hostility. JPY was the major loser as USDJPY broke past 109.00.
The World Bank believes that global growth may only pick up marginal speed from 2.4% in 2019 to 2.5% in 2020 amid stabilization for some large emerging economies, but trimmed forecasts for the Euro region and China and warned of the downside risks from a re-escalation of global trade tensions, sharp downturns in major economies, and financial disruptions in EM and DM.
Strong job growth in US private sector: The US private sector added a remarkable 202k new jobs in December (Nov: 124k revised), it's largest gain in eight months according to the latest ADP National Employment Report. The number of payroll gains in November was also revised from 67k to 124k, reflecting a stronger than expected hiring momentum at the end of 2019. Job growth in December came from construction and the broader services sector whereas manufacturing continued to report job losses. The strong showings set the stage for a solid NFP nonfarm payroll number due on Friday.
US mortgage applications surged as borrowing costs fell: Mortgage applications jumped by 13.5% in the week ended 3 January (previous: – 13.2%) following three weeks of consecutive decline. The gain was driven mainly by a nearly 25% jump in refinancing applications as existing home owners took opportunities of the lower mortgage rates, a result of lower treasuries yields last week to refinance their loans. Applications for new purchases picked up 3.0% (previous: +2.0%) reflecting the currently rising demand in the housing market.
Eurozone sentiment broadly unchanged in December: The European Commission Economic Sentiment Indicator (ESI) edged up slightly to 101.5 in December (Nov: 101.2) to indicate broadly unchanged sentiment in the Euro area. The stabilization of ESI reflects markedly higher confidence in the services sector, construction and retail trade as confidences fell among consumers (-8.1 vs -7.1) and was little changed in industry. The services sector appeared more optimistic over growth outlook whereas consumers seem worried their future financial conditions.
Australia recorded larger than expected trade surplus: Australia recorded A$5.8b trade surplus in November (Oct: A$4.08b revised), beating analysts' estimate that called for a smaller surplus of A$4.1b. The larger balance reflects a 1.8% MOM increase in exports (Oct: -3.8%) and a 2.8% MOM decline in imports (Oct: +0.3%). Exports to China picked up by 8.7% MOM (Oct: -9.8%).
Today's Options Expiries for 10AM New York Cut (notable size in bold)
EURUSD (Intraday bias: Bearish targeting 1.11 achieved)
From a technical and trading perspective, the daily chart is orientated with a bearish bias, however as prices continue to hold the 1.1150 as support there is a window for prices to pressure stops above 1.12, looking for sellers to remerge here for a test of the symmetry swing downside objective sited at 1.11.
EURUSD…Update 1.11 downside objective achieved as 1.1150 caps corrections sellers will target a sustained breach of 1.11 en-route to a symmetry swing objective sited at 1.1040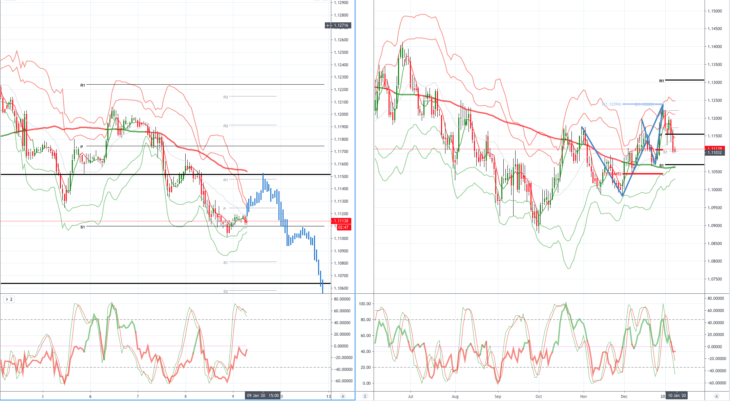 GBPUSD (Intraday bias: Neutral, Bullish above 1.3150 Bearish below 1.3050)
From a technical and trading perspective, as .1.3150 caps upside attempts look for a test of bids and stops below 1.3000, failure to find a base here would open a test of pivot confluence down to 1.2930/35, only a breach of 1.3150 would delay downside objectives.
GBPUSD…UPDATE the upside breach of 1.3150 suggests a test of offers and stops above 1.3210, as this area caps there is a window to retest 1.3050 support. A close above 1.3250 would set an equidistant swing objective at 1.3420
USDJPY (intraday bias: Bullish above 108.65 targeting 110.50)
From a technical and trading perspective, as 108.50 contains upside moves, look for a grind lower to test bids and stops below 107.50, expect profit taking on the first test of this area. On the day only a move through 108.60 would negate the downside objectives.
USDJPY…UPDATE downside objective all but achieved on overnight spike south. The sharp rejection of these lower levels suggests a window for a reversal pattern to play out. Look for a close through 108.65 to set up a tet of offers and stops above 109. The breach of 109 provides a window for upside extension to challenge the 110.50 equidistant swing objective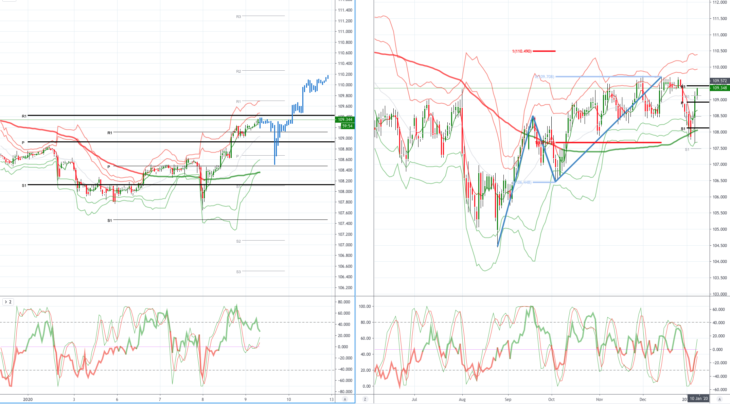 AUDUSD (Intraday bias:Bearish below .6930 targeting .6840)
From a technical and trading perspective, as .6970/80 cap any upside advance look for a breach of support at .6930 to open another leg of downside to target bids and stop sited below .6900. On the day a move through .6980 would negate the downside scenario opening a retest of prior swing highs to .7030.
AUDUSD…UPDATE failure below .6900 with .6930 now acting as intraday resistance look for a test of .6840 next, look for profit taking here as we test symmetry swing support. There is a window for prices to base here and develop a platform for a correction to retest .6940 from below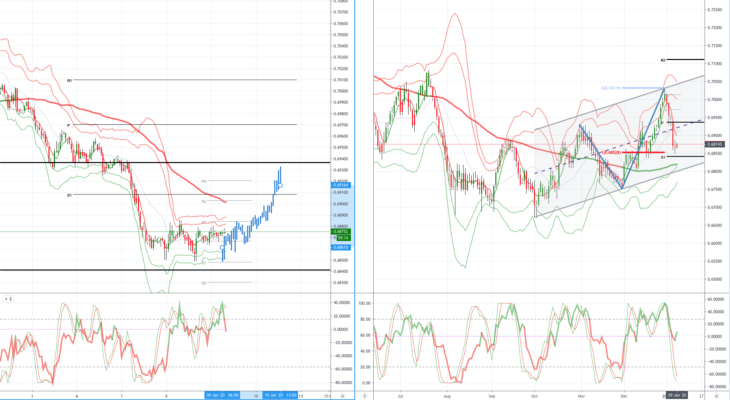 Disclaimer: The material provided is for information purposes only and should not be considered as investment advice. The views, information, or opinions expressed in the text belong solely to the author, and not to the author's employer, organization, committee or other group or individual or company.