Main market themes
Market higher this morning on signs that the Middle East situation may be stabilising. In the US, the Democrat-dominated lower house of Congress passed a bill designed to limit President Trump's ability to undertake actions against Iran without Congressional approval. However, the measure is unlikely to pass the Republican- controlled Senate.
It has been confirmed that a Chinese delegation led by Vice Premier Liu He will travel to Washington next week to sign a phase one trade deal. President Trump has said that he wants to start negotiations on phase two "right away" but these might not conclude before the November elections.
The Dow Jones added 212 pts or 0.7%, closing just below 29,000 whereas the S&P500 and NASDAQ each gained 0.7% and 0.8% to fresh records, led by a broad-based rally across sectors. Apple shares were the top winner, adding 2.1% in a single day. Boeing shares closed higher on news that Iran may have accidentally shot down the Ukraine-bound Boeing airplane that led to a fatal crash, killing all 176 people on board.
US bond yields slipped lower by 0.2 to 3.3bps. Gold prices continued to moderate to $1552.32/troy ounce while crude oils barely changed. Brent crude last traded at $65.37/barrel on Thursday. The USD remained strong with most major currencies weakening against the dollar overnight, save for the EUR and Swiss CHF which were little changed.
US initial jobless claims slipped last week: Initial jobless claims fell by 9k to 214k for the week ended 4 Jan (previous: 223k revised), its lowest level in five weeks to indicate a currently tight labour market. The four-week moving average also dropped to 224k (previous: 233.5k), in line with the strong ADP private payroll showing at 202k and set a strong stage for a solid NFP job report tonight.
Eurozone unemployment rate held steady: Eurozone unemployment rate was unchanged at more-than-decade low of 7.5% in November (Oct: 7.5%), reflecting solid labour market in the Euro area.
Japan spending fell by smaller amount in November: Japan household spending continued to fall in November albeit at a smaller magnitude of 2.0% YOY (Oct: -5.1%) following October's sales tax hike. Spending had jumped by a whopping 9.5% YOY in September prior to the hike, and is likely to recover again in 1Q2020 after the effect wears off.
Australia retail sales growth hit two-year high; Services activities slumped into contraction in December: Retail sales beat expectations to record a sharp growth of 0.9% MOM in November (Oct: +0.1% revised), its largest increase in two years. The upturn reflects higher sales of food, household goods and notably apparel (+3.1% vs -0.4%) which was boosted during the annual Black Friday sale. Department stores also saw its sales picked up by an impressive 3.4% MOM ahead of the holidays. On a separate note, business conditions in Australia's services sector declined in December as the AiG Performance of Services Index slipped into contraction area at 48.7 (Nov: 53.7), its first below 50 reading in five months, driven by declines in sales, new orders and selling prices.
Today's US labour market report will as usual be seen as a key bellwether of economic conditions. The last report, for November, was much stronger than expected. In particular employment grew by 266k its largest monthly rise since last January. The data was inflated by GM workers returning from a strike but nevertheless was still a confirmation that the US labour market remains buoyant.
Today's Options Expiries for 10AM New York Cut (notable size in bold)
EURUSD (Intraday bias: Bearish targeting 1.11 achieved)
From a technical and trading perspective, the daily chart is orientated with a bearish bias, however as prices continue to hold the 1.1150 as support there is a window for prices to pressure stops above 1.12, looking for sellers to remerge here for a test of the symmetry swing downside objective sited at 1.11.
EURUSD…Update 1.11 downside objective achieved as 1.1150 caps corrections sellers will target a sustained breach of 1.11 en-route to a symmetry swing objective sited at 1.1040… The stall at symmetry swing support opens a window for price to stabilise and base to make another run at the prior swing highs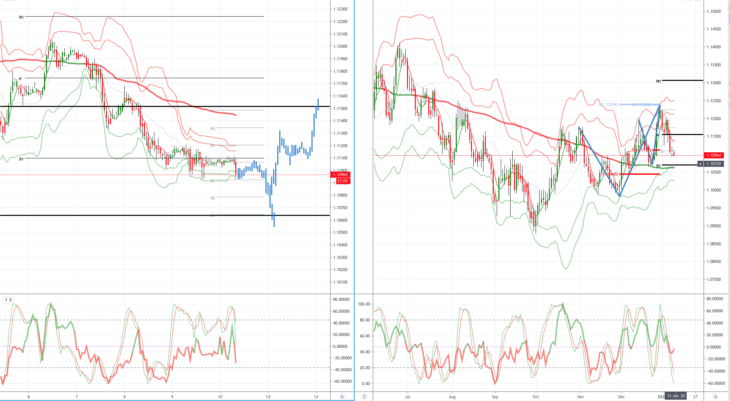 GBPUSD (Intraday bias: Neutral, Bullish above 1.3150 Bearish below 1.3050)
From a technical and trading perspective, as .1.3150 caps upside attempts look for a test of bids and stops below 1.3000, failure to find a base here would open a test of pivot confluence down to 1.2930/35, only a breach of 1.3150 would delay downside objectives.
GBPUSD…UPDATE the upside breach of 1.3150 suggests a test of offers and stops above 1.3210, as this area caps there is a window to retest 1.3050 support. A close above 1.3250 would set an equidistant swing objective at 1.3420… Another failure below 1.3150 suggests another test of bids below 1.3000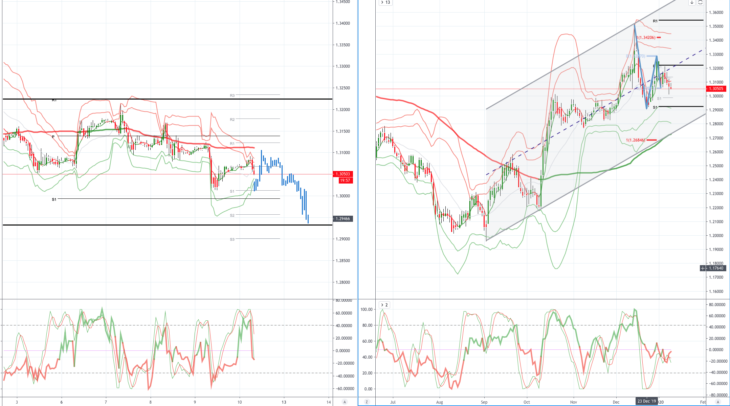 USDJPY (intraday bias: Bullish above 108.65 targeting 110.50)
From a technical and trading perspective, as 108.50 contains upside moves, look for a grind lower to test bids and stops below 107.50, expect profit taking on the first test of this area. On the day only a move through 108.60 would negate the downside objectives.
USDJPY…UPDATE downside objective all but achieved on overnight spike south. The sharp rejection of these lower levels suggests a window for a reversal pattern to play out. Look for a close through 108.65 to set up a test of offers and stops above 109… The breach of 109 provides a window for upside extension to challenge the 110.50 equidistant swing objective…Only a failure back below 109 would suggest another upside false break and return to well trodden range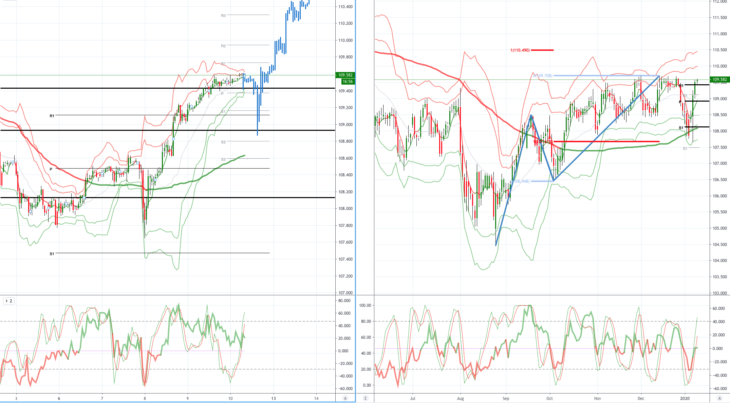 AUDUSD (Intraday bias:Bearish below .6930 targeting .6840)
From a technical and trading perspective, as .6970/80 cap any upside advance look for a breach of support at .6930 to open another leg of downside to target bids and stop sited below .6900. On the day a move through .6980 would negate the downside scenario opening a retest of prior swing highs to .7030.
AUDUSD…UPDATE failure below .6900 with .6930 now acting as intraday resistance look for a test of .6840 next, look for profit taking here as we test symmetry swing support. There is a window for prices to base here and develop a platform for a correction to retest .6940 from below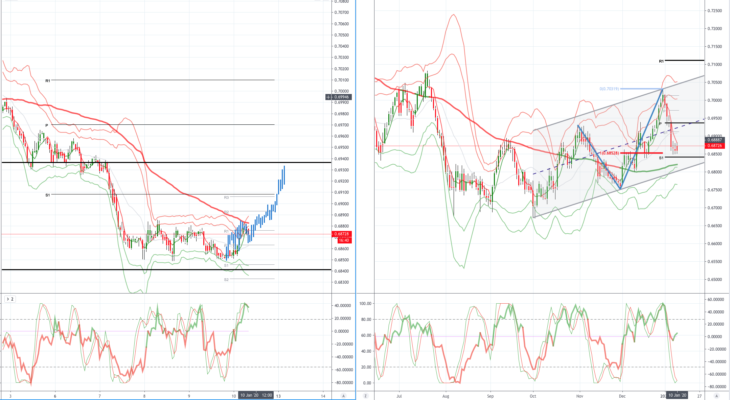 Disclaimer: The material provided is for information purposes only and should not be considered as investment advice. The views, information, or opinions expressed in the text belong solely to the author, and not to the author's employer, organization, committee or other group or individual or company.