Main market themes
Risk sentiment was steadier in the Asia market, as traders appeared to latch on to the World Health Organisation's decision not to declare the coronavirus outbreak in China as a public health emergency. The death toll is reported to have risen to 26, as China begins a week-long lunar new year holiday. The WHO meets again in ten days or sooner if needed.
US stocks registered a slight gain, with modest movements on Thursday. This came as stocks remain close to record highs. Some cautious behavior remained, due to market concerns regarding the coronavirus that is spreading from China to other Asian countries. The S&P rose 0.11%, even as the Dow came off slightly with a 0.09% decrease. NASDAQ gained 0.2%, reaching a record high in the process. 10Y USD yields closed at 1.7325%, slightly lower than almost-1.77% seen a day earlier.
Meanwhile crude edged higher. For FX, the EUR softened slightly after the ECB suggested that they will need to maintain an accommodative stance for the foreseeable future. The JPY remained little changed in contrast.
Markets in mainland China and South Korea are closed on Friday, with Hong Kong closing early for Lunar New Year.
US initial jobless claims came in slightly lower than expected at 211k vs. 214k consensus expectations. The leading index fell 0.3% in December, compared to a slightly upwardly revised 0.1% increase a month. ago. The biggest support came from stock prices, while the drag came from jobless claims.
ECB kept policy rates unchanged, with the deposit facility rate unchanged at -0.5%. The market focus was on Christine Lagarde's inaugural meeting and comments on current policy focus. Overall, the ECB's stance is that they will reassess how the current accommodative stance has impacted conditions in the euro area before making further moves. The tone is also suggestive that there is no hurry to change their current monetary policy stance. ECB noted some improving inflation trends and diminishing risks to growth. This weakened the EUR at the expense of the USD, as hawkish expectations are dented.
Japan's economic data remained relatively soft: Japan's leading index was revised slightly downwards to 90.8 for November, from 90.9. This continued the decreasing trend since mid-2018. Meanwhile, machine tool orders decreased 33.5% y/y in December, slightly lower than the initial estimates of -33.6%. Japan's national inflation came in higher than expected due to higher energy prices, with headline inflation at 0.8% y/y. Inflation ex food and energy also inched up by 0.1ppt to 0.9% y/y in December.
This morning's UK flash PMI reports for January will be an important input for policymakers ahead of next week's interest rate announcement.
In the Eurozone, the ECB has already acknowledged "less pronounced" downside risks to the economic outlook after leaving its policy settings unchanged yesterday. Eurozone flash PMIs for January will also be released this morning.
US flash PMIs will also be released, although they tend to generate less attention than the ISM surveys. Still markets expect both the manufacturing and services headline indices to be broadly steady at 52.3 and 52.9, respectively.
Today's Options Expiries for 10AM New York Cut (notable size in bold)
EURUSD:  1.11090 (EUR296mn); 1.1100 (EUR1.1bn)
GBPUSD:  1.3000 (GBP255mn); 1.3100 (GBP557mn); 1.3150 (GBP481mn); 1.3200 (GBP219mn); 1.3250 (GBP239mn)
USDJPY: 108.00 (USD260mn); 109.65 (USD250mn); 110.00 (USD225mn)
EURUSD (Intraday bias: Bearish below 1.1120 Bullish above)
From a technical and trading perspective, with the optionality in th e1.11/1.1150 area expiring, prices took out the 1.11 support, as 1.1120 caps corrections look for a test of pivotal 1.1040/60, look for daily reversal patterns from this level as an opportunity to take on long exposure. If bids fail to emerge here bears will press for a test of bids towards 1.10 and stop below.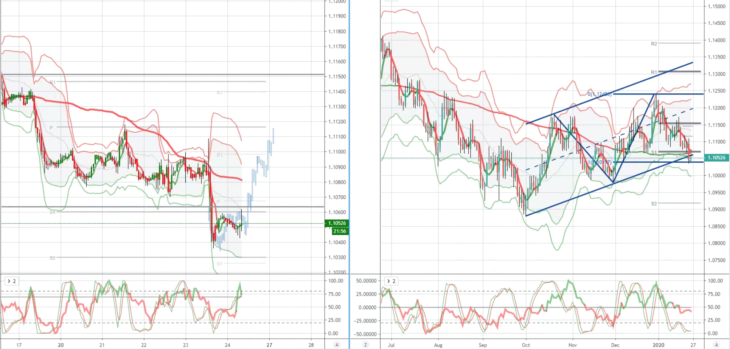 GBPUSD (Intraday bias: Bullish above 1.31)
From a technical and trading perspective, as 1.3035 caps corrections to the upside look for a test of bids and stops below 1.2950. A close above 1.31 would suggest a delay to downside objectives opening a retest of range resistance, with offers and stops above 1.32 targeted. Watch for 1.3035 to now act as support, if this level holds intraday expect a test of offers and stops above 1.31. Yesterday's 1.31 breach encourages a bullish bias as 1.31 now acts as support bulls target a test of 1.32 offers & stops above.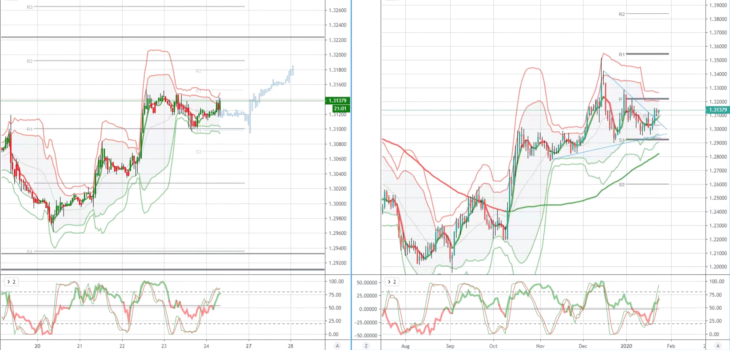 USDJPY (intraday bias: Bearish below 109.80)
From a technical and trading perspective, the breach of 109.50 provides a window for upside extension to challenge the 110.50 equidistant swing objective. Only a failure back below 109.80 would suggest a period of consolidation/correction. Note significant sentiment divergence developing which will likely be addressed over coming sessions. As anticipated sentiment and momentum divergence has been addressed with the breach of 109.80 as this levels caps upside attempts now look for a move to test bids at 10940/20.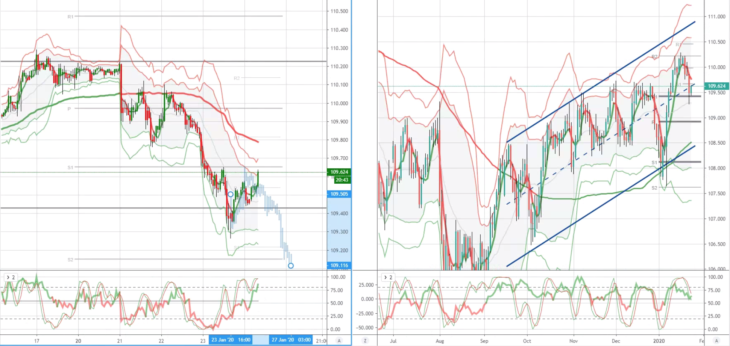 AUDUSD (Intraday bias: Bullish above .68500)
From a technical and trading perspective, the failure to establish ground above .6940 has seen the anticipated freshly minted long liquidation opening another test of .6840/20 bids. If bids fail to emerge here look for a test of ascending trendline support to .6800. Initial bids in the the PPRZ referenced in yesterday's Chart of the Day suggest the potential for further upside development a breach of the overnight highs at .6880 will likely see a grind towards sizeable optionality at .6915 into the New York session.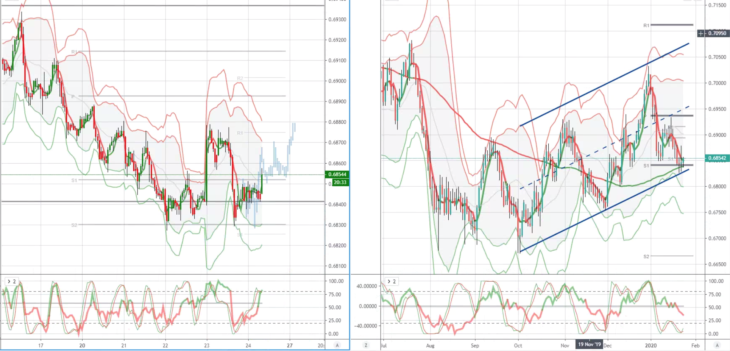 Disclaimer: The material provided is for information purposes only and should not be considered as investment advice. The views, information, or opinions expressed in the text belong solely to the author, and not to the author's employer, organization, committee or other group or individual or company.