Main market themes
Following the rebound in the US, the Asian market was mostly positive, although the Hang Seng was negative as it played catch-up. The number of mainland coronavirus cases reported by Chinese authorities climbed to nearly 6,000, surpassing that of the SARS outbreak. The death toll rose to 132.
Dow Jones Industrial Average, S&P 500 and NASDAQ gained around 0.7-1.4%, led by the nearly 3% surge in Apple stocks ahead of the release of its 4Q earnings. After the closing bells, the smartphone maker announced record breaking revenue of $91.8bn (+9% YOY) that surpassed analysts' estimate, driven by better-than-expected sales of its iPhone 11 and iPhone 11 Pro.
Treasury yields picked up 3-6bps as traders sold bonds amidst a recovery in sentiment after the yield curve briefly inverted the day before. Gold price retraced gains to lose nearly 1% to $1567/17/troy ounce. Crude oil rebounded slightly by 0.3-0.6% after falling for five consecutive sessions. Safe haven currencies were major losers on the FX board, GBP slumped over renewed Brexit concerns and ahead of tomorrow's BOE decision.
US consumer confidence surged as new year began: The Conference Board Consumer Confidence Index jumped to a five-month-high of 131.6 in January (Dec: 128.2 revised), driven by gain in both Expectations and Present Situation Index , in what appear to be a lagged positive response to the December US-China trade deal. The survey was carried out prior to the escalation of the Coronavirus outbreak that prompted concerns of a possible global pandemic .
US durable goods rebounded in December; Boeing orders slipped: Preliminary reading shows that orders of durable goods or goods that last at least three years rebounded to increase 2.4% MOM in December (Nov: – 3.1%) mainly because of a surge in orders of defense aircrafts (+90.2%) that masked the fall in orders of Boeing aircrafts (non-defense orders slipped for the second month by 6.5% MOM). Core capital orders, a gauge of US capex meanwhile slipped 0.9% MOM (Nov: +0.1%) suggesting that firms continued to scale back on investment at the end of 2019. On a separate note, the Richmond Fed Manufacturing Index jumped to more-than-one-year high of 20.0 in January (Dec: -5), far surpassing consensus expectation that called for a continuous decline in manufacturing activity in the district.
Japan services producer prices saw steady gain: Producer prices for services provided in Japan increased at a steady pace of 2.1% YOY for the 3 rd straight month in December but prices decelerated on a MOM basis to stay flat MOM in December, suggesting continuous absence of inflationary pressure in the system.
Australia business confidence tapered off in December; leading index suggests weak 1H2020: Latest finding by NAB showed businesses were less upbeat in December compared to a month ago. The conditions index pulled back a tad from 4 to 3 in December while confidence levels turned negative during the month (-2 vs 0), as expectation for trading, profitability, stocks, exports, and exporters' sales all weakened, foretelling a softer growth momentum going forward. The Westpac Leading Index rose 0.05% to 97.52 in December leading the 6-month annualized growth rate to a better -0.32% (Nov: -0.62%). Despite that, the reading continued to suggest a below-trend growth rate that points to weak economic momentum in the first half of 2020.
Australia headline inflation beat estimate but remained below RBA target: Australia headlines CPI rose more than expected by 1.8% YOY in the fourth quarter of 2019 (3Q: +1.7%), it's largest gain since 4Q last year, but still below the RBA mid point target of 2%. Analysts had expected CPI to rise steadily at 1.7% YOY. Meanwhile, the trimmed mean CPI, a gauge of core inflation met expectation to pick up 1.6% YOY in the same period (3Q: +1.6%), indicating a lack of underlying inflationary pressure.
Today's US Federal Reserve policy announcement is expected to be considerably less 'exciting' than the Bank of England tomorrow. Having reduced interest rates three times last year, Fed officials believe the economy is now in "a good place" (we get the first estimate of US Q4 GDP tomorrow).Hence, the Fed is widely expected to keep interest rates on hold at the 1.5-1.75% target range. There are no new forecasts at this meeting, so markets will be looking at the statement (which is expected to be broadly little changed from December) and the tone of Chairman Powell's press conference.
Since December, the US and China have signed a 'phase one' trade deal, but the coronavirus outbreak has led to concerns about impact on the global outlook. Powell may be asked about the potential economic effect on the US economy, although it seems too early to tell. Markets have nevertheless upped the odds of a US rate cut later this year. Markets will also be looking for potential further clues from Powell on prospects for the Fed's Treasury bill purchases to the tune of $60bn a month since October, which are aimed at alleviating pressures in short-term funding markets. They will continue at least into Q2. Although not technically QE, it has led to a re-expansion of the balance sheet and, some argue, to higher asset prices.
Today's Options Expiries for 10AM New York Cut (notable size in bold)
EURUSD (Intraday bias: Bearish below 1.1040)
From a technical and trading perspective, as 1.1065 contains upside corrections look for a test of bids and stops below 1.10, a failure below 1.0980 will be a bearish development exposing the 1.0870's autumn low. On the day only a close back above 1.1065 would suggest that the symmetry & equidistant swing support will stem the downside pressure. Note yesterday's price action saw a late day reversal, as we witnessed position squaring ahead of pivotal support and headline risk from the FOMC. A daily close today back through 1.1050 could prompt further short covering into the end of the month. Citi FX quants asset rebalancing signal is strong and points at USD selling against JPY and EUR at month end.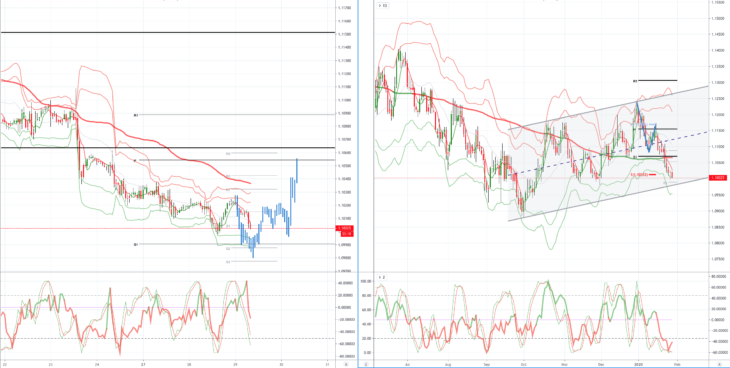 GBPUSD (Intraday bias: Bearish below 1.3065)
From a technical and trading perspective, as anticipated New York trading yesterday set up the test of bids towards 1.30 as 1.3065 caps corrections today look for a retest of 1.30 and stops below. On the day a close above 1.31 will likely frustrate fresh shorts leading to further consolidation ahead of Thursday asymmetric risk event. Expect further consolidation with a mild downside bias ahead of tomorrow's knife edge rate decision. There is likely further scope for upside with the FED likely on hold and a BOE that follows suit would prompt rapid short covering post the release.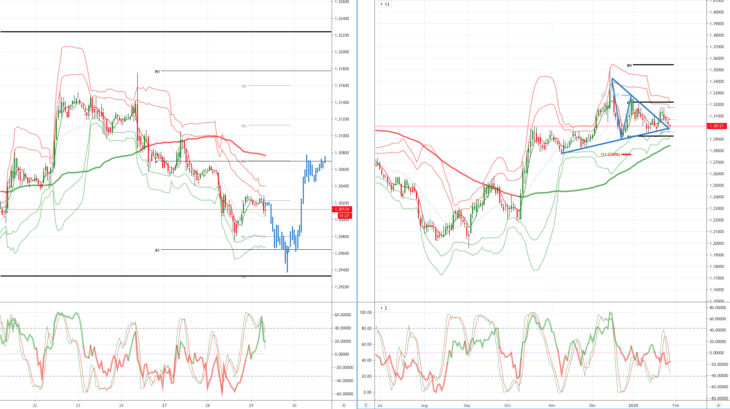 USDJPY (intraday bias: Bearish below 109.60)
From a technical and trading perspective, as anticipated sentiment and momentum divergence has been addressed with the breach of 109.80/60 as this levels caps upside attempts now look for a move to test bids at 108.60 and stops below. On the day only a close back above 109.60 would suggest a move to close the Asian gap.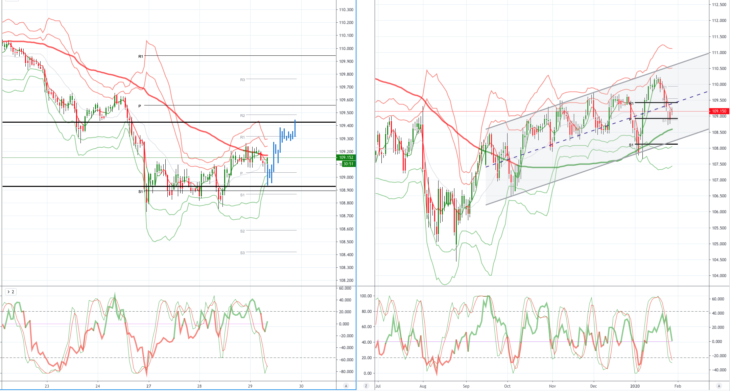 AUDUSD (Intraday bias: Bearish below .6820)
From a technical and trading perspective, the overnight gap through the ascending trendline support suggests the potential for further downside to test equidistant swing support sited towards .6750. As .6730 survives there is a window to set a base, however, a failure here will open a test of bids back to .6700 and stops below.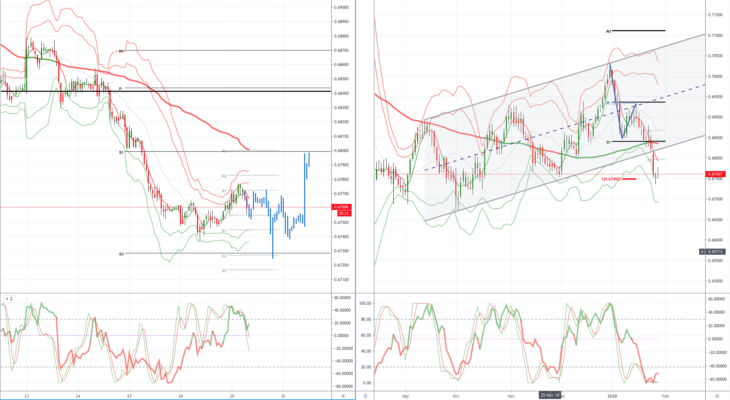 Disclaimer: The material provided is for information purposes only and should not be considered as investment advice. The views, information, or opinions expressed in the text belong solely to the author, and not to the author's employer, organization, committee or other group or individual or company.