Main market themes
Daily market outlook: US equities fell on Thursday despite better-than-expected earnings and the Fed's third rate cut of 2019, as market participants turned their attention to US-China trade negotiations. US Treasury yields declined on Thursday as market participants loaded up on safer assets. The US Dollar Index (DXY) dropped further to 97.35 from 97.64 amid month-end flows and lackluster US data.
BOJ held policy intact but modified forward guidance to send easing signal: The Bank of Japan left its ultra-loose monetary policy unchanged as widely expected as it kept its short-term policy balance rate at -0.1% and its target for 10Y JGB at around 0% while maintaining its guideline on JGB and ETF purchases. While still refraining from joining global peers to ease policy, it modified its forward guidance to send a clearer easing signal by saying that it now expects short and long term policy rates to remain at their present or lower levels as it is necessary, cautioning the possibility that inflation might not hit its 2% target. The BOJ expects the Japanese economy to grow temporarily below its potentials, taking into account weaker exports and the recent sales tax hikes against a backdrop of prolonged US-China trade friction. Median GDP growth forecasts for 2019 were revised downwards from 0.7% to 0.6% and for 2020, from 0.9% to 0.7%. Inflation projections were trimmed substantially, reflecting the central bank's dimmer price outlook – CPI ex fresh foods for 2019 was revised from 1.0% to 0.7%, and for 2020, from 1.3% to 1.1%.
Eurozone 3Q growth steadied; inflation still subdued: The preliminary Eurozone third quarter real GDP growth topped estimates at 0.2% QOQ (2Q: +0.2%), unchanged from the pace of growth in the second quarter, offering some reprieves that the Euro area economy is not slipping into a stagnation. Analysts had been less optimistic, calling for a 0.1% QOQ growth. YOY, real GDP increased by 1.1% (2Q: +1.2%), pulling back from 2Q. Meanwhile, price pressure remained very much subdued as the headline HICP inflation edged lower to 0.7% YOY in October (Sep: +0.9%) over falling energy prices but the core reading managed to tick up to 1.1% YOY (Sep: +1.0%). Unemployment rate was unchanged at 7.5% in September (Aug: 7.5% revised) following a newly revised August print.
All eyes are on the latest US labour market report due today, expected to only show the US economy adding only 95,000 new jobs in October. The lower expectation of the headline number takes into account a sharp contraction of around 55,000 manufacturing related jobs, mainly due to a strike at General Motors.
The US ISM manufacturing will also be released. Separately, Fed Vice Chair Richard Clarida and New York Fed President John Williams are scheduled to speak today, the first officials to offer their insights after the latest Fed rate cut this week.
Today's Options Expiries for 10AM New York Cut (notable size in bold)
EURUSD: 1.1100 (EUR1.2bn); 1.1150 (EUR3.1bn); 1.1200 (EUR5.2bn)
EURUSD (Intraday bias: Bullish above 1.1120 target 1.12)
From a technical and trading perspective, intraday divergence weighing on price as 1.1110 caps upside look for failure here to open pivotal 1.1040 support, as this area supports there is the potential to set a base to target a retest of 1.1180 offers. A failure at 1.1030 exposes bids and stops below 1.10
EURUSD…UPDATE  as 1.1130 acts as support 1.12 test is the next upside objective. Only below 1.11 concerns bullish bias, opening a move to test pivotal support back at 1.1070.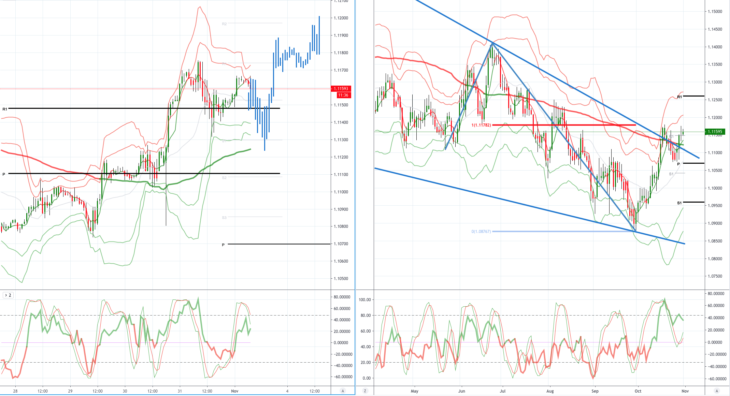 GBPUSD (Intraday bias: Bullish above 1.2875 target 1.3150)
From a technical and trading perspective, last Tuesday's Daily key reversal flipped daily chart bearish, however, without daily divergence, this would only suggest a profit taking pause, as 1.29 caps upside look for a deeper correction to test bids below 1.2750, as this area contains the correction watch for intraday bullish reversal patterns to set longs targeting a retest of 1.30. Failure below 1.27 opens the pivotal 1.26 support.
GBPUSD…UPDATE Daily chart has flipped bullish as per the daily VWAP, also the daily chart has a potentially bullish triangle developing, as 1.2875 supports look for continued consolidation, with the potential to challenge stops above 1.30.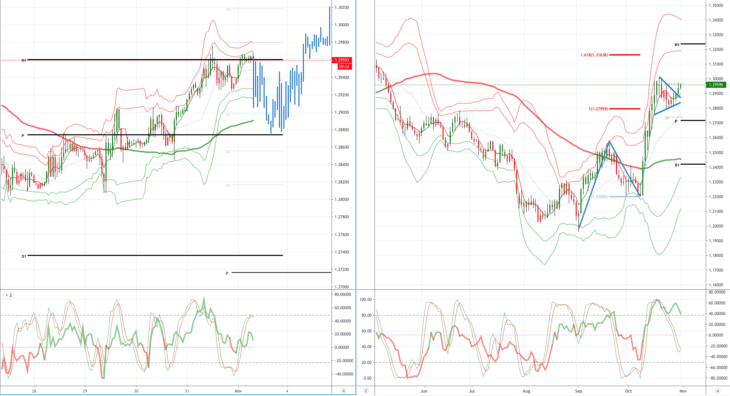 USDJPY (intraday bias: Bearish target 108.35 achieved)
From a technical and trading perspective, consolidation continues in the 108/109 range. As 108.40 supports I still anticipate a test of offers and stops above 109 which should cap on the initial test, however, a failure below 108 would open a swift test of bids below 107.50.
USDJPY…UPDATE as 108.35 now acts as resistance look for a test of bids towards 107.50, a failure to find support here opens 107 bids next.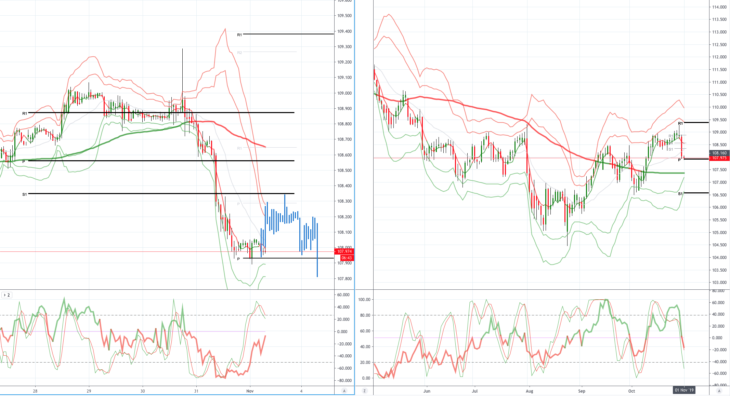 AUDUSD (Intraday bias: Bullish above .6865 target .7000)
From a technical and trading perspective, as .6865 caps upside attempts look for a test of bids sub .6800, as .6770 contains the correction bulls will try to set a platform to target a retest of last week's highs, en-route to challenging offers and stops above .6900.
AUDUSD…UPDATE A close above .6885 would negate the corrective view and inject further upside momentum with bulls eyeing a .7000 test. Initial bullish objective achieved, as .6880 now acts as support look for a test of offers towards .6950 and then stops above.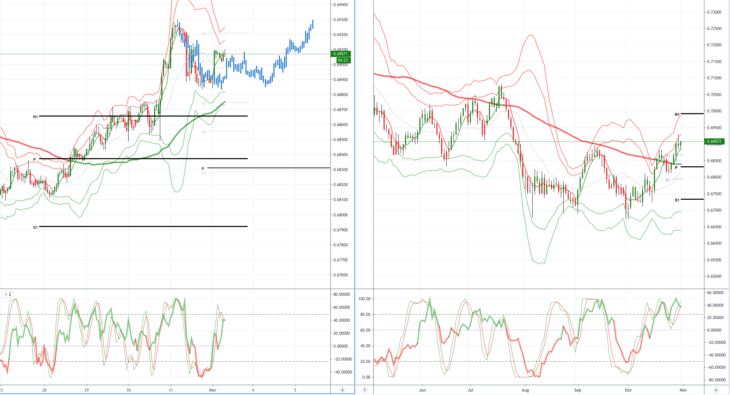 Disclaimer: The material provided is for information purposes only and should not be considered as investment advice. The views, information, or opinions expressed in the text belong solely to the author, and not to the author's employer, organization, committee or other group or individual or company.