Main market themes
Optimism on the pending US-China trade deal faded on Friday after President Trump said that he hasn't yet agreed to remove tariffs on imported Chinese goods as part of the first phase of a US-China trade deal. He said "I haven't agreed to anything…China would like to get somewhat of a rollback, [but] not a complete rollback because they know I won't do it." This followed comment a day earlier by China's Ministry of Commerce that negotiators had discussions and agreed to remove the additional tariffs in phases as progress is made on the agreement, which was later confirmed by Trump's economic advisor Kudlow. At the end of the day, it is Trump's view that counts.
A rollback of at least some tariffs is a precondition for China to sign a trade deal. This was highlighted by the Global Times, where the editorial content is used as a mouthpiece for the country's leadership. It said that "What President Trump said is not what the markets expect. But he said 'the US hasn't agreed to a rollback of tariffs'. It's not a flat denial. What's certain is that if there's no rollback of tariffs, there will be no phase 1 deal".
Trump's comments had a negative impact on US equities, seeing the S&P500 down as much as 0.4%, before a recovery saw it close up 0.3%, close to the intraday record high set the previous session. That took the weekly gain to 0.9%, the fifth consecutive weekly increase. Optimism abounds that a trade deal will eventually be signed, in the course of time. The equity market remains resilient to the higher interest rate environment, betting that a deal will see growth recover.
Treasury yields rose moderately by 1- 3bps along the curve. Benchmark 10Y UST gained 2bps to 1.94%. The greenback sustained its strength, appreciating against most of its major peers. Oil prices went up slightly, Brent crude gained 0.4% to $62.51/barrel.
On the CFTC front, the investment community was split over the USD in the latest week. Longer term, asset manager accounts took a big step against the USD, increasing their net short USD bias significantly. But the shorter term players were mixed with leveraged accounts slightly increasing their net implied long USD bias, but noncommercial accounts slightly reduced them.
US bond markets will be shut on Monday for Veterans Day but equity markets will remain open.
Today's Options Expiries for 10AM New York Cut (notable size in bold)
EURUSD (Intraday bias: Bearish below 1.1080 targeting 1.0960)
From a technical and trading perspective, as 1.1080 now act as resistance expect a test of pivotal support at 1.1020 abreach here would open a deeper correction to test 1.0960/40. On the day only a breach of 1.11 would stabilize the pair, suggesting the correction is complete.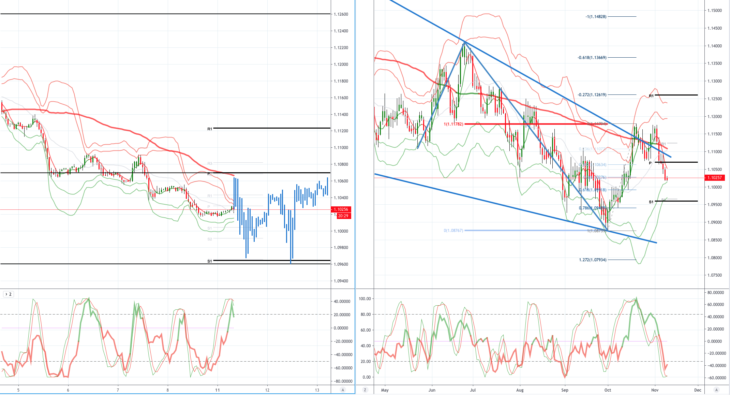 GBPUSD (Intraday bias: Bearish below 1.2840 targeting 1.2725)
From a technical and trading perspective, as 1.2840 caps any upside attempts, look for a test of 1.2725/00, watching this area closely as we could set a base to complete the current corrective consolidation, a daily close sub 1.27 would open a deeper pullback to target 1.2580.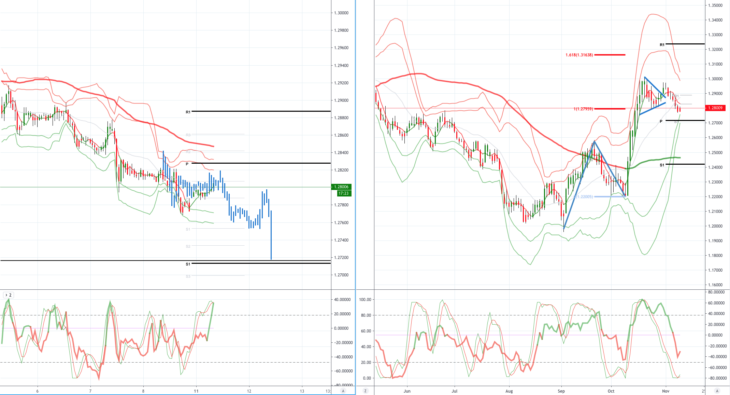 USDJPY (intraday bias: Neutral bearish below 109, bullish above 109.50)
From a technical and trading perspective, only a close above 109.60 will inject further upside momentum setting the stage for a grind higher to target the equidistant swing objectives sited at 110.57/69, however a failure to capture ground above 109.60 will likely prompt further long liquidation to test bids back towards 108.50.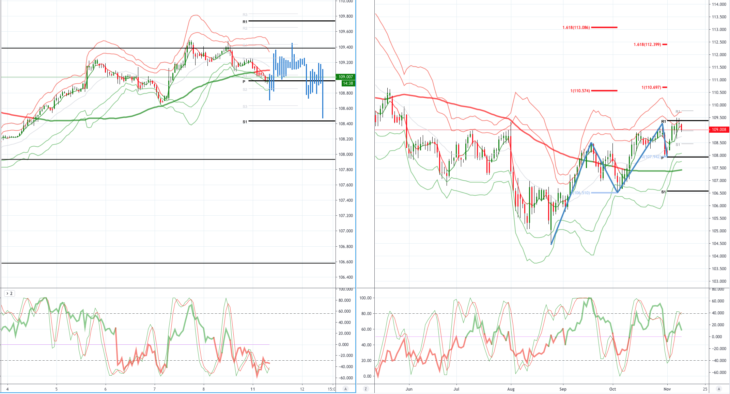 AUDUSD (Intraday bias: Neutral Bullish above .6870 Bearish below)
From a technical and trading perspective, as .6875  caps the topside look for a test of bids and stops below .6850. As .6830 supports there is a window to set a base targeting another test above .6900 and the stops above last week's highs. A failure below .6800 would open a decline to target bids below .6850.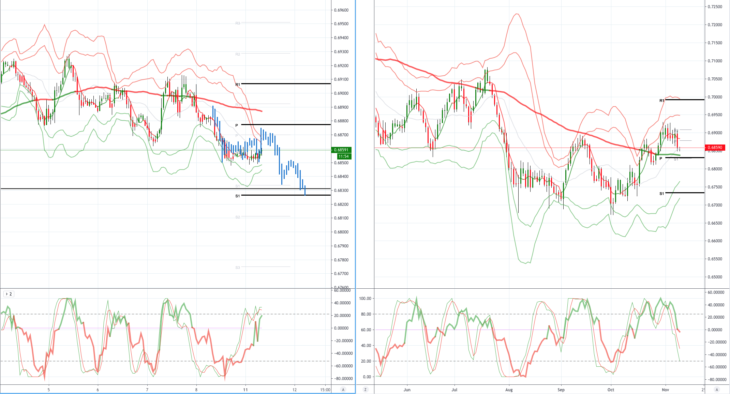 Disclaimer: The material provided is for information purposes only and should not be considered as investment advice. The views, information, or opinions expressed in the text belong solely to the author, and not to the author's employer, organization, committee or other group or individual or company.