Main market themes
US stocks rallied to an all-time high on Friday, leading the Dow Jones Industrial Average to cross 28,000 mark for the first time in history over a renewed sense of trade optimism and a rebound in US retail sales data.
White House economic advisor Larry Kudlow said at a Council of Foreign Relations event that both the US and China were inching towards a trade deal, citing good and constructive progress, a welcoming news to markets following a week of uncertain headlines that suggested negotiations had balked over disagreement in farm purchases.
The Dow alongside the S&P 500 and NASDAQ rose 0.7-0.8% to finish at record closings. Treasury yields picked up slightly by around 1-2bps along the curve, gold and JPY retreated while the USD slipped.
Oil prices jumped by 1.6% over trade optimism – Brent crude settled at $63.3/barrel, its highest in two months.
US retail sales rebounded: Retail sales in the US rebounded to increase 0.3% MOM in October (Sep: -0.3% revised), supported by motor vehicles sales and higher gasoline higher prices. September's decline was its first in seven months. In October, the retail sales for control group, widely perceived as a more accurate gauge of core consumer spending also picked up 0.3% MOM (Sep: – 0.1% revised), in line with expectations that Americans are raising spending ahead of Christmas amidst a largely solid consumer sentiment.
Muted Eurozone inflation; narrowing trade surplus: the final reading of Eurozone October HICP inflation was unrevised at 0.7% YOY (Sep: +0.8%) and similarly, the core reading was unchanged at 1.1% YOY (Sep: +1.0%), reflecting the ongoing lack of price pressure in the Euro area economy that has in part led to the ECB to add stimulus via deposit rate cut and a renewed Asset Purchase Program (APP). External trade weakened in September as exports recorded a 0.4% MOM decline (Aug: -0.5%) to mark its fourth straight contraction. Imports rebounded to increase 0.8% MOM (Sep: -0.2%), thus leaving trade surplus at a smaller €18.3b (Aug: €19.7b revised). Compared to the same period last year, exports continued to slip and at a larger margin of 1.6% YOY (Aug: -1.3%) while imports picked up 0.7% YOY (Aug: -1.7%), again reflecting weakness in the global trade sector.
Japan industrial production bounced off contraction: The final reading of Japan September industrial production growth was revised higher from 1.1% to 1.3% YOY (Aug: -4.7%), a modest rebound from sharp contraction observed in the previous month. MOM, output increased 1.7% (Aug: -1.2%), more than offset August's decline, led by a rebound in manufacturing output. Nonetheless forward indicators such as PMI suggests that the manufacturing sector remains as slower demand overseas continues to weigh on exports which in turn takes a toll on the country's manufacturing health.
On the CFTC front, the trading community remains very mixed on broad USD prospects. Asset managers reduced their implied USD short, while non-commercial accounts increased net implied long USD bias. However, leveraged accounts shed net implied USD longs marginally. Digging deeper, non-commercial and leveraged accounts built up JPY shorts significantly in the latest reading, underlying the shift in overall risk sentiment and the trend of moving against the JPY in the past four weeks.
This week's data calendar looks relatively light, except for flash Nov PMIs at the end of the week. More action on the central bank front, with meeting minutes of the RBA (Tue), Fed (Wed) and ECB (Tue) scheduled. On the political front, Trump impeachment hearings continue and UK political parties are to release their election manifestos.
Today's Options Expiries for 10AM New York Cut (notable size in bold)
EURUSD: 1.1055 (EUR1.3bn) 1.1145 (EUR761mn)
USDJPY: 108.00 (USD 485mn) 109 (GBP485mn)
GBPUSD: 1.2885 (GBP 210mn) 1.3000 (GBP255mn)
EURUSD (Intraday bias: Bullish above 1.1030 targeting 1.1180)
From a technical and trading perspective, as 1.1030 now act as support there is a window to set a base targeting a move to test offers and stops above 1.11, a failure below 1.10 would suggest a premature upside attempt, and see prices retreating to test bids at 1.0960, where bulls will likely mount a further attempt to build a base.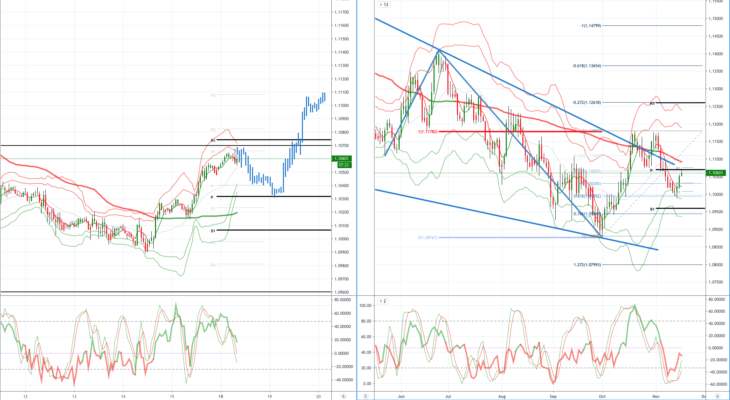 GBPUSD (Intraday bias: Bullish above 1.2870 targeting 1.3000)
From a technical and trading perspective, as 1.2870 supports look for a grind higher to retest offers and stops above 1.30 en route to the broader upside objective of 1.32, on the week only a failure below 1.2820 would concern the bullish bias suggesting further consolidation in the 1.27/1.29 range.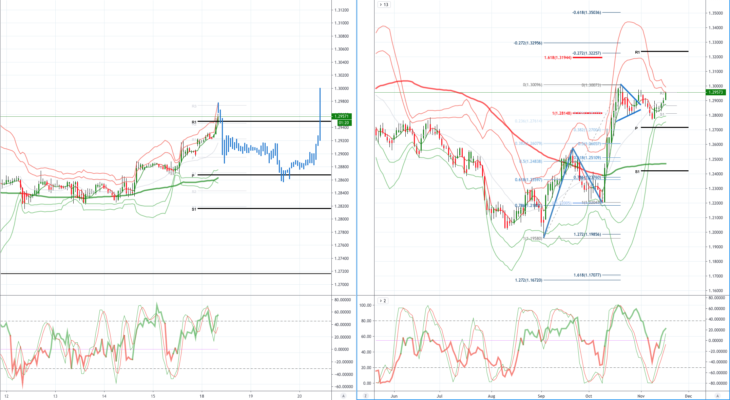 USDJPY (intraday bias: Bearish below 109 targeting 107.90)
From a technical and trading perspective, the anticipated further long liquidation to test bids back towards 108.50 played out and bulls once again defended the key support, a failure to quickly recapture ground above 109 would open a move to retest Fridays lows and likely see newly minted longs throw in the towel again, with the pullback extending to test bids below 108.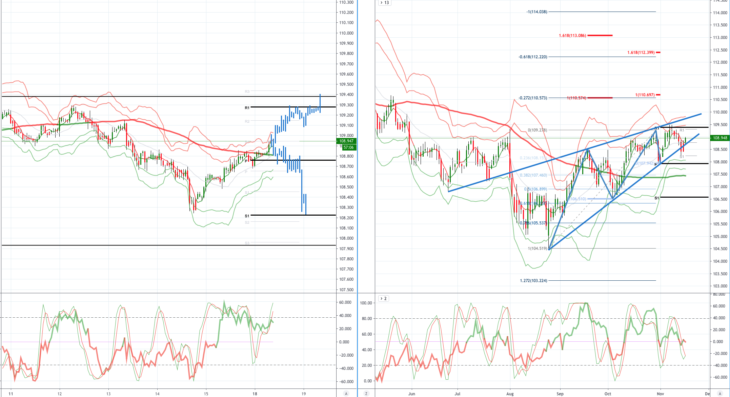 AUDUSD (Intraday bias: Bearish below .6830 targeting .6750)
From a technical and trading perspective, pivotal .6830 prior support now acts as resistance only a sustained drive through this level would suggest a false donside break and confirm a base for another assault on .6900 offers and stops. As .6830 caps upside attempts expect a retest of Fridays low enroute to a test of .6735.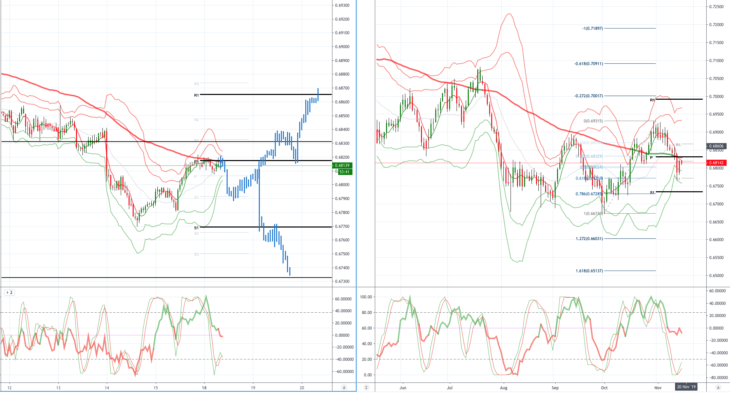 Disclaimer: The material provided is for information purposes only and should not be considered as investment advice. The views, information, or opinions expressed in the text belong solely to the author, and not to the author's employer, organization, committee or other group or individual or company.