Main market themes
Daily Market Outlook – Markets ended on a mixed note overnight amidst a lack of progress at US-China trade front while weaker retail outlook raised concerns over US consumer spending. Shares of Home Depot and Kohl's fell after the retailers slashed their sales/profit forecasts, weighing on the S&P 500 (-0.1%) and the Dow (-0.4%). NASDAQ rose 0.2%, supported by tech stocks.
President Trump again threatened trade war escalation as he said that he would "raise the tariffs even higher" on Chinese goods if no deal is made with China, casting uncertainty surrounding the progress of the highly anticipated "phase one" trade deal in-the-making. Two US Congress bills passed over the past few hours may be the focus of today. On the positive side, the US House passed a bill extending temporary funding through 20 Dec to avert a widespread government shutdown that would have taken place later this week without it. The bill will go to Senate and is expected to be passed before midnight Thursday. On the flip side, the US Senate passed the Hong Kong Human Rights bill, one month after the House passed a similar bill. The two versions will be consolidated before going to President Trump to be signed into law. Given that the bills were passed unanimously in both chambers, a presidential veto could be overridden. China has previously warned that it will retaliate should the bill become law. The HK bill is likely to cloud the outlook of US/China trade talks.
Treasury yields moved lower by 0-5bps. The USD traded mixed against major currencies over the lack of key data and trade progress and markets largely ignored Trump's latest comments. The GBP slipped as PM Boris Johnson debated Labour leader Jeremy Corbyn.
Oil prices tumbled by 2.5-3.2% on oversupply concern and absence of trade talk progress. Brent crude settled at $60.91/barrel.
US homebuilding activities rebounded in October: Housing starts staged a minor recovery in October to increase 3.8% MOM (Sep: -7.9% revised), below analysts' expectations of a 5.1% gain. Building permits however topped estimates to record a solid 5.0% MOM gain (Sep: -0.4%). While this offers tentative signs of more robust homebuilding activities in the medium term, projects could be delayed due to the holiday season and colder weather.
British manufacturing sector remained weak: The latest CBI Industrial Trends Survey reported that its headline total orders index went up to -26% in November (Oct: -37%), to signal an improvement in British manufacturing order book but the index remains well below its long run average of -13%. The result was a survey of 307 manufacturers this month and among key findings are better exports orders, continuous fall in output and steady average selling prices. CBI said that while the uncertainty surrounding a no-deal Brexit has lessened, the manufacturing sector remains under pressure from weak global trade and a subdued economy.
Japan exports slipped for 11th month; imports plunged over typhoon, tax hike: Japan exports fell more than expected by 9.2% YOY in October (Sep: – 5.2%) according to official data this morning, marking its eleventh consecutive month of decline since December last year as the Japanese external trade sector continues to fall victim to current US-China trade uncertainty that has dragged on demand. Imports plunged 14.8% YOY (Sep: -1.5%) as domestic demand was disrupted over typhoon and the recent hike in sales tax, leaving the trade balance to swing to a surplus of ¥17.3b (Sep: -¥124.8b revised).
Australia Leading Index points to weak economic momentum: The Westpac-Melbourne Institute Leading Index edged lower by 0.07% in October (Sep: -0.12% revised) leading the six-month annualized growth rate at a slightly better -0.91% (Sep: -1.01%), materially below trend and continues to point to weak economic momentum heading into 2020.
Today's Options Expiries for 10AM New York Cut (notable size in bold)
EURUSD (Intraday bias: Bullish above 1.1030 targeting 1.1180)
From a technical and trading perspective, as 1.1030 now act as support there is a window to set a base targeting a move to test offers and stops above 1.11, a failure below 1.10 would suggest a premature upside attempt, and see prices retreating to test bids at 1.0960, where bulls will likely mount a further attempt to build a base.
EURUSD…UPDATE 1.1030 test appears to be uderway with intraday divergence weighing. Watching for intraday reversal patterns into 1.10/30/40 to add long exposure.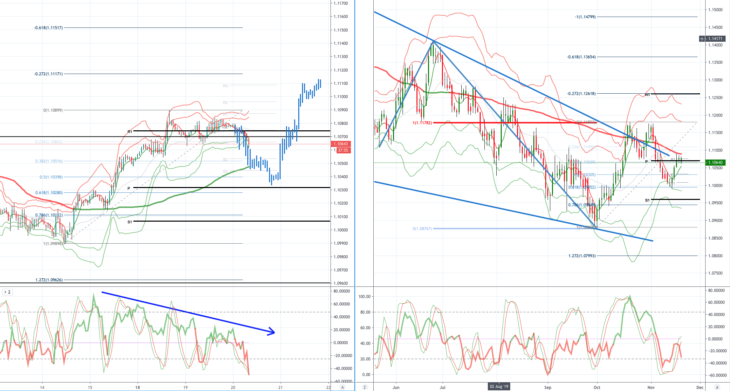 GBPUSD (Intraday bias: Bullish above 1.2870 targeting 1.3000)
From a technical and trading perspective, as 1.2870 supports look for a grind higher to retest offers and stops above 1.30 en route to the broader upside objective of 1.32, on the week only a failure below 1.2820 would concern the bullish bias suggesting further consolidation in the 1.27/1.29 range. NO CHANGE IN VIEW

USDJPY (intraday bias: Bearish below 109 targeting 107.90)
From a technical and trading perspective, the anticipated further long liquidation to test bids back towards 108.50 played out and bulls once again defended the key support, a failure to quickly recapture ground above 109 would open a move to retest Fridays lows and likely see newly minted longs throw in the towel again, with the pullback extending to test bids below 108. NO CHANGE IN VIEW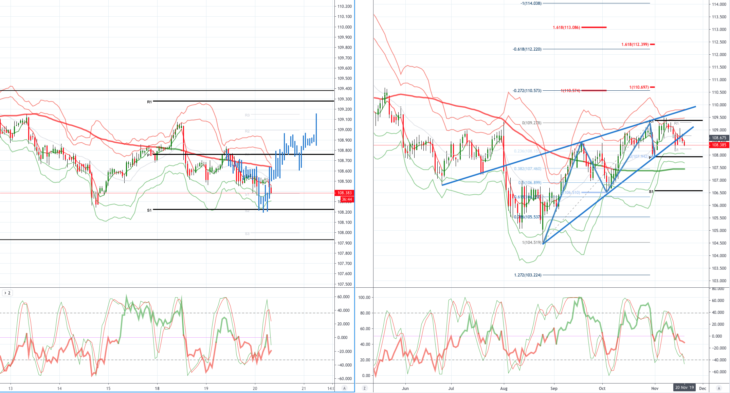 AUDUSD (Intraday bias: Bearish below .6830 targeting .6750)
From a technical and trading perspective, pivotal .6830 prior support now acts as resistance only a sustained drive through this level would suggest a false donside break and confirm a base for another assault on .6900 offers and stops. As .6830 caps upside attempts expect a retest of Fridays low enroute to a test of .6735. NO CHANGE IN VIEW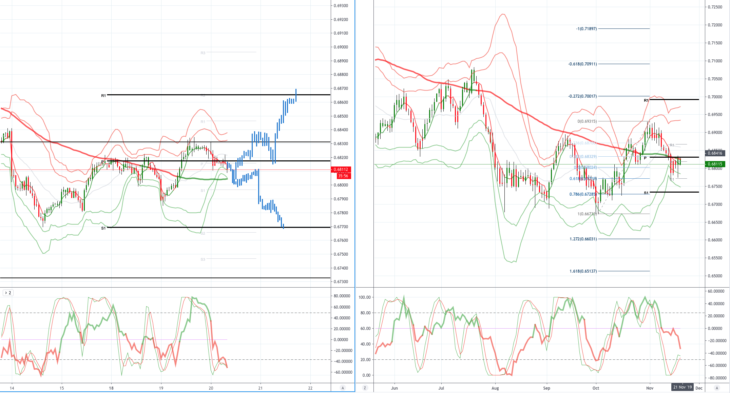 Disclaimer: The material provided is for information purposes only and should not be considered as investment advice. The views, information, or opinions expressed in the text belong solely to the author, and not to the author's employer, organization, committee or other group or individual or company.