Main market themes
Daily market outlook: US stocks rose overnight, buoyed by optimism that the US and China seem inching closer to ink a partial trade deal as Beijing announced that it had agreed with the US to remove tariffs in phases. Reuters also cited an anonymous US official this morning of the planned rollback of tariffs. No details have been released over this agreement.
Major indexes picked up 0.3-0.7% with the Dow and S&P500 closing at their record highs. Investors sold US treasuries, pushing yields higher by 6-10bps across the curve. Benchmark 10Y UST yield jumped by 10bps to 1.92%, its highest level since late July this year.
BOE kept rate at 0.75% and maintained hawkish stance; vote split surprised market: The BOE kept bank rate unchanged at 0.75% as widely expected, but the MPC's 7-2 vote was a departure from its previously unanimous decision, offering a dovish tilt to a generally hawkish monetary stance. The major change to the statement was the BOE's optimistic outlook regarding Brexit and hence as it said that "the perceived likelihood of a no-deal Brexit has fallen markedly". The recent Brexit "flextension" is expected to remove some uncertainties and the MPC are projecting growth to pick up in 2020, supported by fiscal stimulus. GDP growth has been revised upward for 4Q19 (0.7% to 1.0%) and 4Q20 (1.5% to 1.6%) but was trimmed for 4Q21 (2.2% to 1.8%) and 4Q22 (2.3% to 2.1%) over expected weaker global environment. Inflation is projected to be benign and likely slipping to 1.4% by 4Q19 over fall in energy and water prices. The BOE maintained that monetary policy could still respond in either direction to changes in economic outlook in order to bring inflation back to its 2% target. It hinted the potential of a rate cut had global growth fails to stabilize and Brexit uncertainties remained entrenched. Barring from the materialization of these scenarios, BOE held on to its hawkish stance, saying that a modest tightening of policy at a gradual pace and to a limited extent may be needed to sustain its inflation target.
Later today, US consumer sentiment, as compiled by the University of Michigan should benefit from positive spillover from stocks reaching record highs of late. The preliminary reading for November is expected at 95.5 (unchanged from October) and continuing its rebound from 3-year lows of 89.80 reached in August.
Today's Options Expiries for 10AM New York Cut (notable size in bold)
EURUSD: 1.1050 921m 1.1095 580m 1.1100 1.0b 1.1135 821m 1.1150 583m
GBPUSD: 1.2700 2.3b 1.2800 830m 1.2825 257m
USDJPY: 108.30 381m 108.45 824m 108.50 1.2b 109.00 945m 109.05 540m 110.00 805m
EURUSD (Intraday bias: Bearish below 1.11 targeting 1.0960)
From a technical and trading perspective, 1.1130 support being eroded (daily chart has flipped bearish as per the near term VWAP) this delays the anticipated 1.12 upside objective. As 1.1150 now act as resistance expect a test of pivotal support back at 1.1070 participation at this level will be key for further upside trend development.
EURUSD…UPDATE testing the 50% retracement of the October advance a close below 1.1020 would open a deeper correction to test 1.0960/40. On the day only a breach of 1.11 would stabilize the pair, suggesting the correction is complete.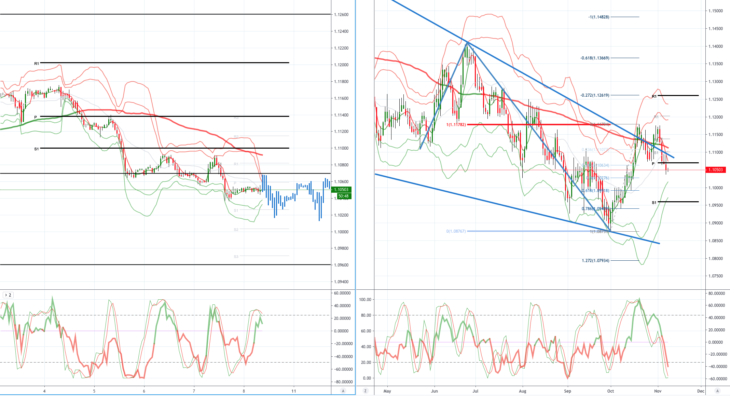 GBPUSD (Intraday bias: Neutral: bullish above 1.2915, bearish below 1.2870)
From a technical and trading perspective, Daily chart has flipped bearish as per the daily VWAP, currently the upside breach of the symmetrical triangle appears to have been a false break, on the day look for a test of 1.2840 to find some initial support, leading to further consolidation in the 1.2840/1.290 area. A breach of 1.2820 would suggest a deeper correction to test pivotal 1.2720. NO CHANGE IN VIEW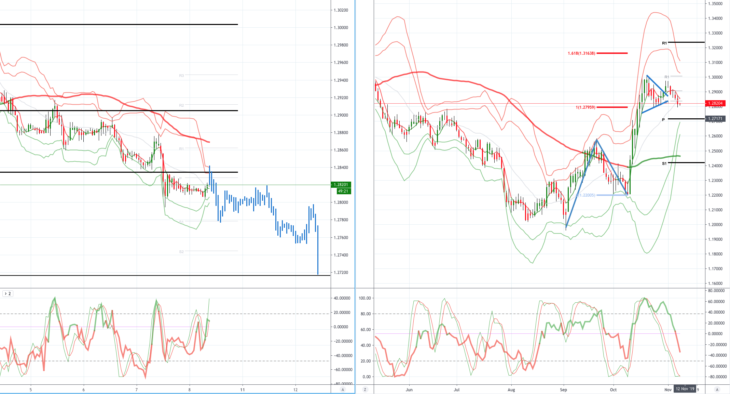 USDJPY (intraday bias: Bullish target 109.40 achieved)
From a technical and trading perspective, 108.50 failed to acts as resistance, the daily chart has flipped bullish as per the near term VWAP, suggesting further upside potential, with stops above 109.30 eyed. Only a failure below 108.40 would open another test of bids at 108.00.
USDJPY…UPDATE as 109 acts as support look for another test of offers and stops above 109.50, a close above 109.60 would set the stage for a grind higher to target the equidistant swing objectives sited at 110.57/69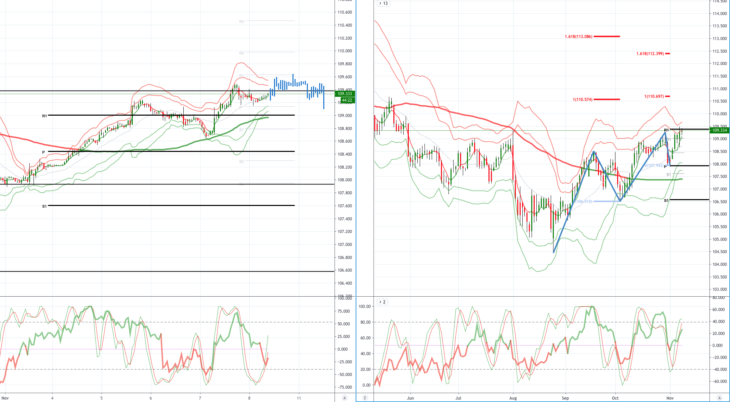 AUDUSD (Intraday bias: Neutral Bullish above .6870 Bearish below)
From a technical and trading perspective,initial bullish objective achieved, as .6880 now acts as support look for a test of offers towards .6950 and then stops above. Caution today as daily chart has flipped bearish as per the near term VWAP (note yesterday's key reversal and second close below the near term VWAP), failure to recapture ground above .6910 could see a breach of yesterday's low and open a test of pivotal support sited .6840/30.
AUDUSD…UPDATE Failure to establish ground above .6910 has seen bulls taking profits, as .6910 caps the topside look for a test of bids towards .6950 and stops below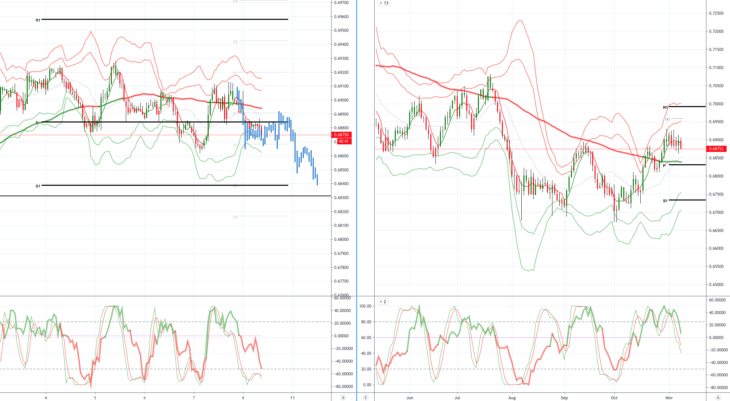 Disclaimer: The material provided is for information purposes only and should not be considered as investment advice. The views, information, or opinions expressed in the text belong solely to the author, and not to the author's employer, organization, committee or other group or individual or company.