Main Market Themes
US stocks rebounded to finish modestly higher on the last day of 3Q, led by the surge in Apple shares amidst easing trade worries after Trade Advisor Peter Navarro dismissed the potential delisting of Chinese firms from US stock exchanges as fake news. Technology sector got a major boost with Apple shares climbing by 2.4% on upbeat analysts' comments. Stocks saw only a modest gain in a quarter characterised by trade uncertainties, persistent concerns over global and domestic growth which had led to a brief inversion of the yield curve and most recently, rising impeachment risk in the US.
On Monday, US bond yields slipped around 1-2bps, benchmark 10Y UST yield lost 1bp to 1.67%.
Oil prices continued to fall as concerns over supply outage and Middle-east tension faded. International benchmark Brent crude dropped by 1.8% to $60.78/barrel while US WTI fell sharply by 3.3% to $54.07/barrel. For the quarter, Brent eased a whopping 8.7% WTI lost 7.5%.
The greenback as measured by the Dollar Index firmed up by 0.27% to a multi-year high of 99.38 as selling pressure surrounding the euro intensified following weak German CPI. USD strengthened against nearly all majors. Continued strength in the dollar as the greenback's safe haven appeal remains strong in the midst of general uncertainties, opening up potential to hit the important psychological handle of 100.0.
There were reports on Monday, that PM Boris Johnson will reveal his final Brexit plan to EU leaders as early as Tuesday (1 October). Johnson's Brexit plan is expected to be based on the creation of an all- Ireland "economic zone" which would allow agricultural and food products to move between Northern Ireland and the Republic of Ireland without checks at the border.
As widly expected the Reserve Bank of Australia, cut interest rates by 25bp to 0.75% amid elevated external risks and signalled a willingness to do more should conditions warrant it.
Market attention today will be on several FOMC voters speaking in public forums including Chicago Fed President Evans, Fed Board Vice Chair Clarida and Fed Governor Bowman.
The US focus will be on domestic politics, as the risk of impeachment proceedings against US President Trump intensified after a congressional panel released a whistleblower complaint last week (26 September) and House Speaker Nancy Pelosi announced the House will start an inquiry to impeach the president.
EURUSD (Intraday bias: Bearish 1.0085 target achieved)
From a technical and trading perspective anticipated 1.0885 target achieved as 1.0930 caps corrective upside bears target 1.0820. A move back through 1.0935 is needed to alleviate the downside pressure and set a near term base to target a test of the now pivotal 1.0960. Note decent sized 1.0970 options due to expire Thursday 3rd October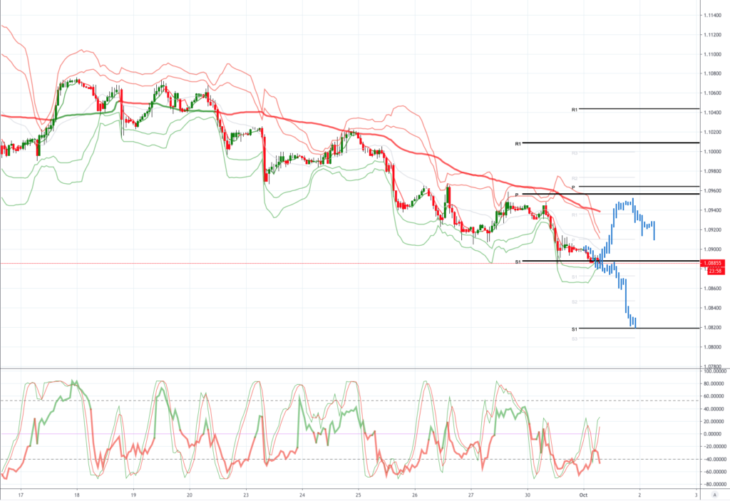 GBPUSD (Intraday bias: Bearish below 1.2350 targeting 1.22)
From a technical and trading perspective as 1.2350 caps the upside I now see the potential for a pullback to test bids towards 1.22 where I will be watching for intraday reversal patterns to attempt long positions for a move back through 1.23. A failure to find support in the1.22 zone would be a bearish development exposing 1.20 as the next downside objective, only a move back through 1.2365 would delay further downside. Note decent sized 1.2210 options due to expire Thursday October 3rd.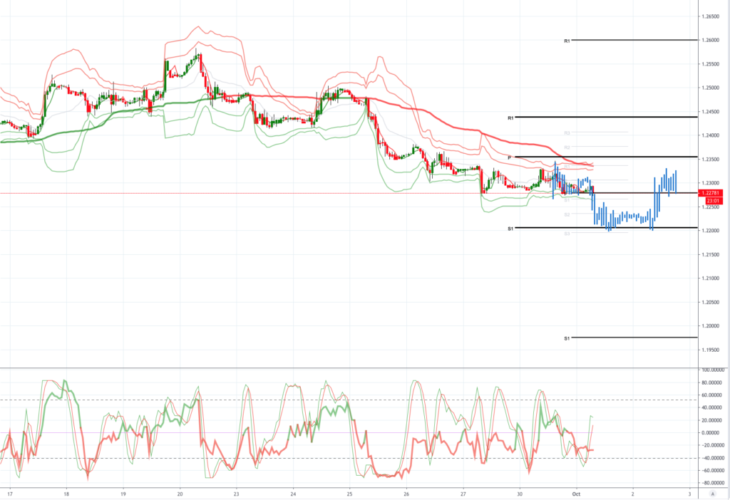 USDJPY (intraday bias: Bullish above 107.50 targeting 108.40)
From a technical and trading perspective as 107.50 contains the correction there is scope for the current grind higher to test offers above 109 where I will be watching for momentum and sentiment divergence to complete the current sequence and present an opportunity to initiate short exposure targeting a move back through 108 and a retest of bids below 107. A failure below 107.40 would delay upside objective and suggest a return to 107 support.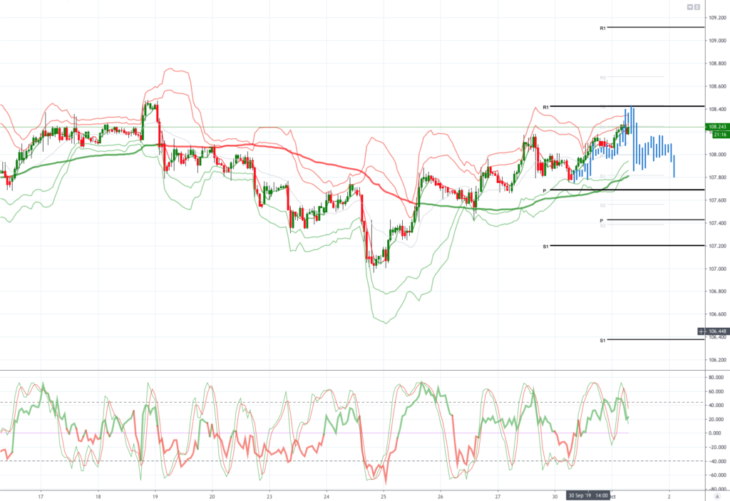 AUDUSD (Intraday bias: Bearish below .6735 targeting .6688)
From a technical and trading perspective the anticipated test of .6725 plays out as .6735 continues to cap upside attempts bears target a test of .6680. A move back through .6780 is needed to renew bullish sentiment.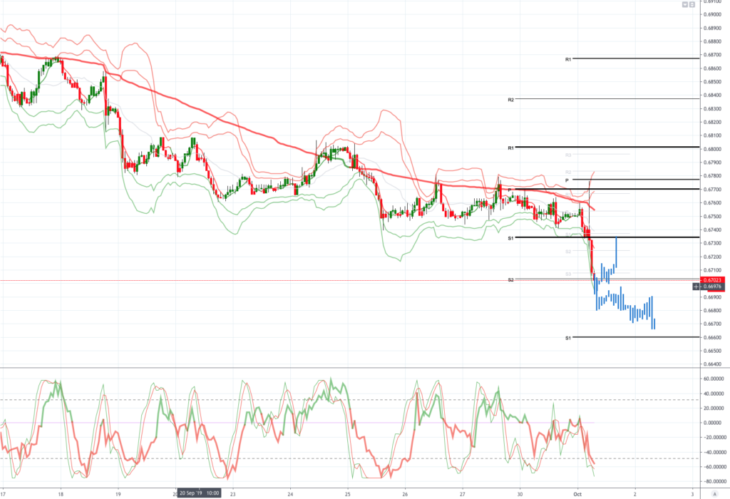 Please note that this material is provided for informational purposes only and should not be considered as investment advice. The views discussed in the above article are those of our analysts and are not shared by Tickmill. Trading in the financial markets is very risky.