Main market themes
Stock Indices  and FX whipsawed overnight on barrage of trade conflicting headlines, after a late boost from positive trade headlines and managed to stage a rebound after falling for two consecutive sessions. A Bloomberg news story cited an unnamed Chinese source that China is still open to a limited trade deal by offering "non-core concessions like purchases of (US) agricultural products without giving in to major sticking points", so long that the Trump Administration would impose no more tariffs on China.
SCMP carried a story that deputy-level trade talks between the US and China failed to yield any progress on critical issues sent markets sharply lower.
CNBC tweeted that the SCMP story is inaccurate, losses pared.
Then one report said the China meeting cut to one day, that Liu He will leave Washington on Friday and back to risk-off.
The New York Times said Trump admin will soon issue licenses to some American companies to supply non-sensitive goods to Huawei and markets recovered again. Talks are set to begin on Thursday.
Meanwhile the September FOMC meeting minutes was a non-event and offered no fresh insights except for revealing that most Fed officials believed a 25bps cut in Fed funds rate was appropriate at that point, citing that downside risk to outlook had increased somewhat since July meeting as trade uncertainties weighed on business investment, exports and manufacturing production.
Into the end of the week, we are effectively reduced to watching the wires on the Sino-US trade front and positioning for risk-on /risk off trades as the sentiments shift. Further out, however, the likelihood of a material deal may be diminishing, this may limit the shelf-life of any outcome from the talks.
Today's Options Expiries for 10AM New York Cut
EURUSD (Intraday bias: Bullish above 1.0940, targeting 1.1045)
From a technical and trading perspective as suggested we cleared 1.0970 and have renewed bullish sentiments offers & stops over 1.10 now look vulnerable, on the day we look for 1.0940 to provide support, a failure below 1.0920 would concern the bullish bias and open another run to test bids at 1.09. I am still running weekly & daily long positions with decent profits and now risk free.
EURUSD…UPDATE anticipated test of 1.10 offers and stops above playout as 1.0970 supports on the day look for 1.1045 target. A failure below 1.040 opens a test of bids ahead of 1.09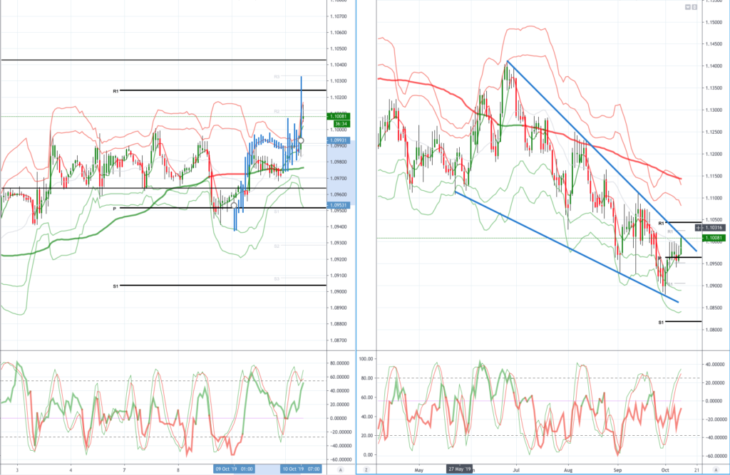 GBPUSD (Intraday bias: Neutral, bullish above 1.22 bearish below)
From a technical and trading perspective 1.2350 stops taken out as we spiked 1.24 in standard sterling style trade we duly retreated to test bids at 1.23 as these continue to support this area should provide the platform to test my target, however, a failure below 1.2285 would negate upside objectives and open a retest of 1.22 bids.
GBPUSD…UPDATE as 1.22 survives, potential to retest 1.23 from below, as this caps upside attempts we likely take another look at 1.22 bids. Trade is stymied by headline risk, as such I am stepping aside for now waiting for more favourable levels to rengage.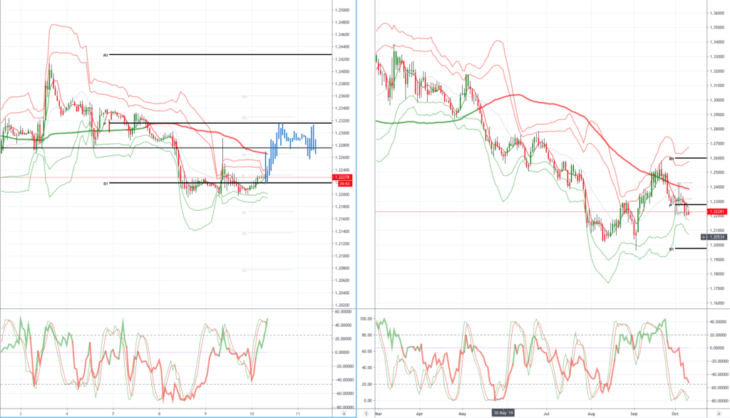 USDJPY (intraday bias: Neutral, bullish above 107.50 bearish below 107)
From a technical and trading perspective prices look poised to test bids below 106.50a failure below here will open a 106.10 test, look for 107.35 to caps any upside attempts, through 107.60 would delay downside objectives.
USDJPY…UPDATE the move through 107.60 opens a test of offers and stops above 108, however, headline risk remains heightened as such expect whipswa in the current 107/107.60 range an sustained break will given directional bias into the end of the week.
AUDUSD (Intraday bias:Bullish above .6720 target .6810)
From a technical and trading perspective the move back through .6750 has renewed bullish aspirations, however expect heavy going as the market tries to chew through thick offers towards .6775, however, as .6740 supports look for another impulsive move to gun stops ahead of .6800 challenge.
AUDUSD…UPDATE no change in view, if we can take out .6760, offers and stops above .6800 remains the upside objective, however, if .6715 fails to stem declines on the day bulls will likely throw in the towel for now exposing stops below last weeks lows.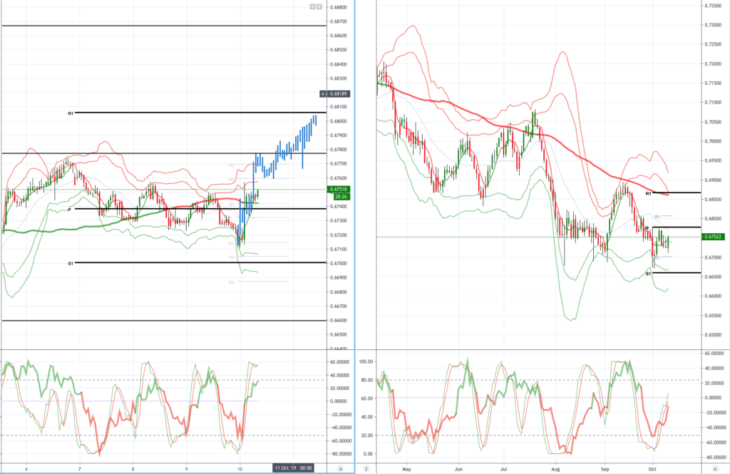 Please note that this material is provided for informational purposes only and should not be considered as investment advice. The views discussed in the above article are those of our analysts and are not shared by Tickmill. Trading in the financial markets is very risky.