Main market themes
US stocks gained ground overnight as a series of upbeat corporate earnings alleviated worries over a slower growth and temporary moved the current US-China trade dispute to the backseat. Major indexes rebounded to add 0.9-1.2%, led by shares of JP Morgan, Citigroup, UnitedHealth and Johnsons & Johnsons after their upbeat third-quarter earnings that mainly reflected strength in consumer's financials and spending.
Traders exited safe haven markets were back into riskon mode, leading treasuries yields to pick up 2-4bps along the curve.
All eyes remain on the Brexit front. GBP surged towards 1.2800 on reports that negotiators were closing in on a draft deal, with hopes an agreement will be reached by midnight. Two EU officials told Reuters, however, that any discussion that the two sides are close to agreeing to a text of a Brexit deal is "premature". Cautious comments from Irish PM Leo Varadkar and the DUP have since damped bullish spirits.
Oil prices continued to fall by 1-1.5%.
According to the minutes of the Reserve Bank of Australia (RBA)'s October meeting released on Tuesday, the interest rate cut was sharply debated among board members with fears it could drive up house prices and fail to deliver a boost to the economy. The minutes showed the main reasons for the October cut were the bank's concerns unemployment is not low enough to drive up wages and increased economy-wide inflation. For now, there are good reasons for the RBA to remain on a "wait-and-see" approach, especially since there are only three quarter-point cash rate cuts left before Australia joins the "exclusive" group of central banks in the world with zero and negative interest rates.
Today's Options Expiries for 10AM New York Cut
EURUSD: 1.0950 (1.4BLN), 1.0980 (1BLN), 1.1025 (1.1BLN) 1.1050-60 (1.2BLN), 1.1075 (1.3BLN), 1.1125 (730M)
GBPUSD: 1.2650 (325M), 1.2800 (403M), 1.2925 (200M)
AUDUSD: 0.6750 (520M), 0.6800 (630M)
USDJPY: 108.30 (400M), 108.75 (550M), 109.00 (370M), 109.75 (550M)
EURUSD (Intraday bias: Bullish above 1.10 targeting 1.11)
From a technical and trading perspective 1.1045 target achieved. As 1.10 prior resistance now acts as support look for consolidation to form a platform for bulls to make a run at 1.11 over the coming sessions. Only a failure below 1.0960 would concern the bullish bias.
EURUSD…UPDATE no change in view, however, note intraday momentum and sentiment divergence may weigh on the single currency.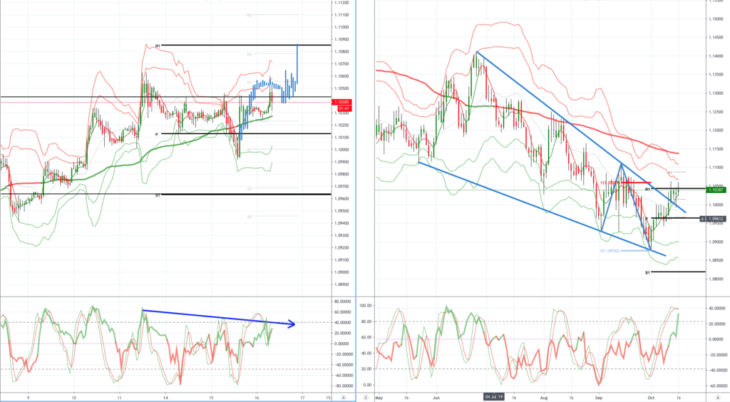 GBPUSD (Intraday bias: Bullish above 1.25 targeting 1.28)
From a technical and trading perspective as 1.25 now acts as support look for bullish reversal patterns on on intraday basis to set long positions targeting an equidistant swing objective at 1.28, on the day only below1.2450 would concern the bullish bias.
GBPUSD…Update high print of 1.2799 sees anticipated profit taking play out as 1.26 supports there is potential for a third push into 1.2830/50 (with intraday momentum & sentiment divergence) where I will be watching for intraday reversal patterns to set short positions.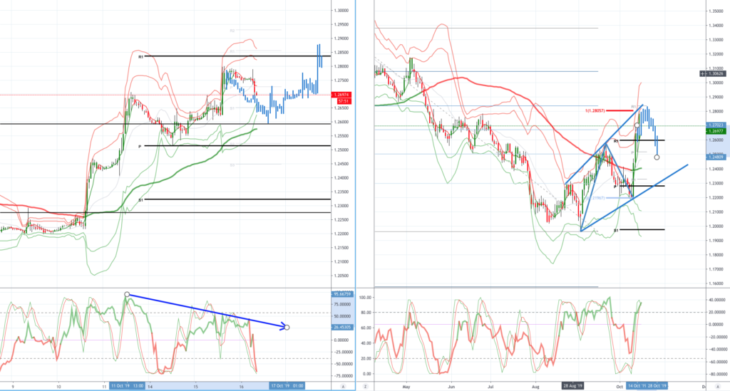 USDJPY (intraday bias: Bullish above 108.40 targeting 109)
From a technical and trading perspective as 107.85 now acts as support look for a move through last weeks highs enroute to test offers and stops above 109 on the day only a move through 107.40 would concern the bullish bias.
USDJPY…Update anticipated drive through last weeks high plays out, however, this new high looks vulnerable as we have significant divergence developing on the daily charts as such, I will be watching for intraday reversal patterns as we test stops and offers above 109 to set short positions.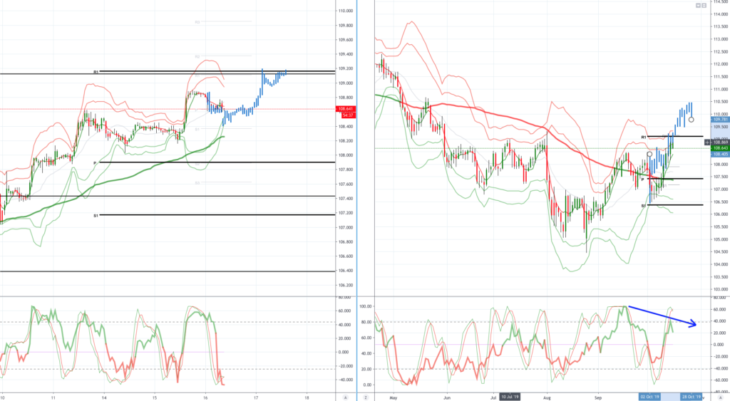 AUDUSD (Intraday bias:Neutral bullish above .6780 bearish below .6730)
From a technical and trading perspective .6800 upside objective achieved,a failure below .6750 would concern the bullish bias and suggest a false break and a return to the range of .6700-.6800, a move back through .6810 is needed to keep upside momentum and set sights on offers and stops above .6865
AUDUSD…Update testing pivotal .6730 support, failure here puts the ball back in the bears court as they target offers and stops towards .6700.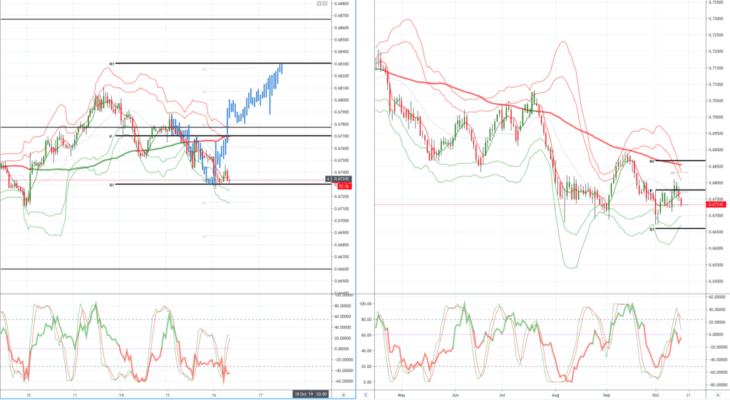 Please note that this material is provided for informational purposes only and should not be considered as investment advice. The views discussed in the above article are those of our analysts and are not shared by Tickmill. Trading in the financial markets is very risky.