Main market themes
US stocks finished lower overnight as poor retail sales data and renewed concerns over US-China relations overshadowed upbeat corporate earnings. Major indexes slipped around 0.1-0.3% after official data reported that retail sales contracted tor the first time in seven months.
The House of Representatives passed a bill aimed at supporting Hong Kong protests, prompted China to threaten retaliation, and risked jeopardising a trade deal underway and more broadly an already fragile Sino-American relations.
Traders exited the equity market in favour of safer US treasuries- leaving yields to fall by 1-4bps.
Oil prices rose around 1-1.2% overnight but are expected to retreat this morning after API reported larger than expected (+10.5mil-barrel) gain in US crude stocks.
The prospect of a Brexit deal seems near as headlines emerged overnight that the EU and UK negotiators were close to reaching an agreement in a last-ditch effort to prevent a hard Brexit. The IMF slashed its global growth forecast for 2019 for the fifth straight time from 3.2% to 3.0%, expecting the prolonged trade tension to weigh on growth trajectory on a global scale. The projection for 2020 was also trimmed from 3.5% to 3.4%.
The latest Federal Reserve Beige Book reported that the US economy expanded at a "slight to modest" pace as opposed to the previous assessment of a "modest" expansion, citing that persistent trade tensions and slower growth had weighed on activity, signaling a less optimistic outlook nationwide. The survey also highlighted slower hiring growth and modest price increases in the US economy as widely expected.
Expect geopolitical risk events will dominate for now. In Europe, the markets will still try to read tea leaves on Brexit to determine the GBP directionality. Note that any deal from the EU Summit later today still has to pass the UK Parliament on Saturday.
Today's Options Expiries for 10AM New York Cut
EURUSD (Intraday bias: Bullish above 1.10 targeting 1.11)
From a technical and trading perspective 1.1045 target achieved. As 1.10 prior resistance now acts as support look for consolidation to form a platform for bulls to make a run at 1.11 over the coming sessions. Only a failure below 1.0960 would concern the bullish bias.
EURUSD…UPDATE no change in view target within striking distance intraday 1.1040 key support.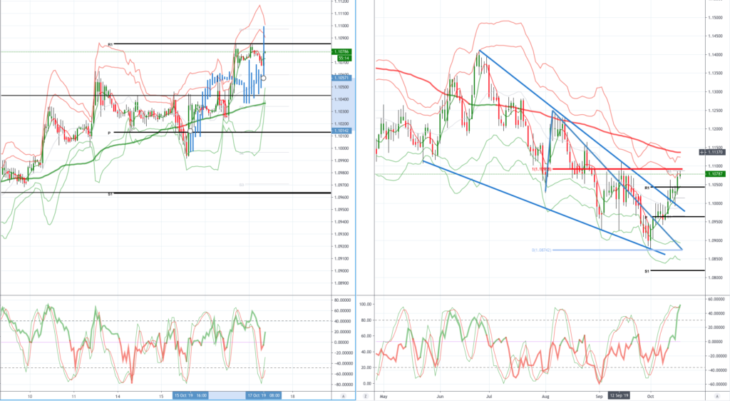 GBPUSD (Intraday bias: Bullish target 1.28 achieved)
From a technical and trading perspective as 1.25 now acts as support look for bullish reversal patterns on on intraday basis to set long positions targeting an equidistant swing objective at 1.28, on the day only below1.2450 would concern the bullish bias.
GBPUSD…Update 1.2830/50 extension objective achieved (with intraday momentum & sentiment divergence) buy the rumour sell the fact set up starts to develop. 1.26 key support as this level holds 1.30 psychological magnet comes into play.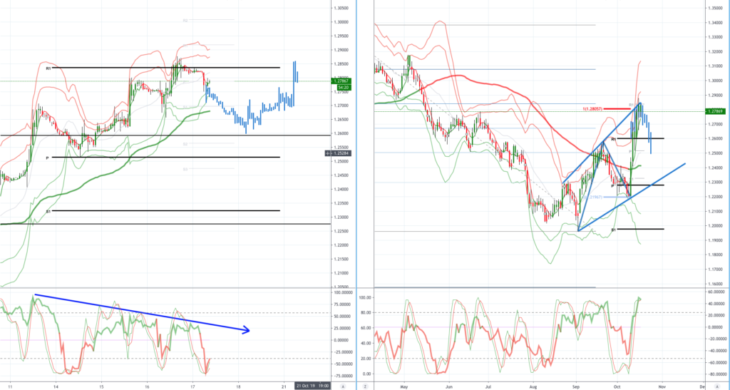 USDJPY (intraday bias: Bullish above 108.40 targeting 109)
From a technical and trading perspective as 107.85 now acts as support look for a move through last weeks highs enroute to test offers and stops above 109 on the day only a move through 107.40 would concern the bullish bias.
USDJPY…Update anticipated drive through last weeks high plays out, however, this new high looks vulnerable as we have significant divergence developing on the daily charts as such, I will be watching for intraday reversal patterns as we test stops and offers above 109 to set short positions.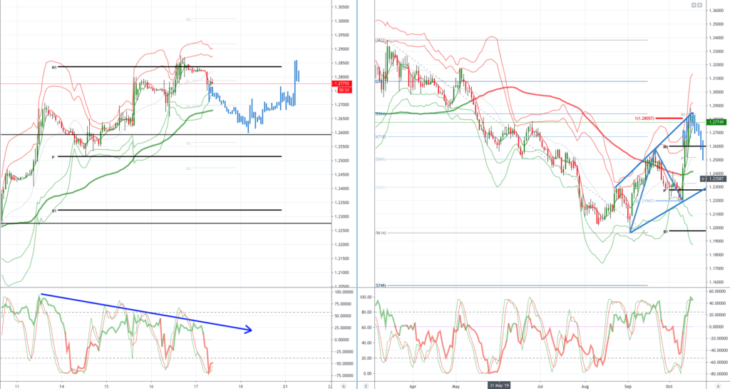 AUDUSD (Intraday bias:Neutral bullish above .6780 bearish below .6730)
From a technical and trading perspective .6800 upside objective achieved,a failure below .6750 would concern the bullish bias and suggest a false break and a return to the range of .6700-.6800, a move back through .6810 is needed to keep upside momentum and set sights on offers and stops above .6865
AUDUSD…Update pivotal .6730 support holds and stops above .6800 are vulnerable again, as offers above .6800 fail to cap look for .6830 upside objective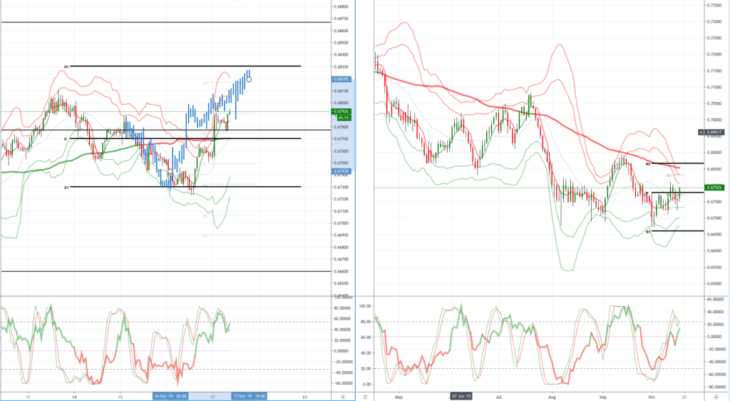 Please note that this material is provided for informational purposes only and should not be considered as investment advice. The views discussed in the above article are those of our analysts and are not shared by Tickmill. Trading in the financial markets is very risky.