Main market themes
Daily Market Outlook: stocks rebounded overnight on upbeat corporate earnings, positive US-China trade news and EU's approval of Boris Johnson's Brexit deal which overshadowed weaker US economic data. Key indexes gained by 0.1% to 0.4%, as China maintained that it would increase its purchase of US agricultural products but did not confirm the signing of the so called "phase one" trade deal.
Just a few hours before the start of a two-day summit with EU leaders in Brussels, UK PM Boris Johnson clinched a Brexit deal with the EU. Boris Johnson said "we have a great new Brexit deal" via Twitter; whilst European Commission President Jean-Claude Juncker called the deal "fair and balanced". That said, speculation on whether the latest Brexit deal will pass the House of Commons on Saturday is likely to continue dominating markets. The Democratic Unionist Party (DUP) has announced that its position towards the proposed deal remains unchanged (that is no support for the deal), which means there is a high risk that the government will not have the majority for the deal in the UK Parliament (as was the case for the previous government of PM Theresa May). Reports have also indicated that the Labour Party may seek a referendum to confirm the deal.
Treasury yields rose only slightly overnight by around 1bps despite positive headlines, as US data continued to disappoint and reaffirmed views that the current economic expansion might not last long.
Markets continued to expect a Fed rate cut at the end of October with futures pointing to 82% chance of a 25basis point cut in the Fed Funds rate target range.
Oil prices picked up by 0.8-1.0%
Apart from geopolitics, a swathe of US data turned in softer than expected, effectively chipping away the thesis that the US/Fed is in a better position relative to the rest of the world. The convergence lower of US growth towards the global experience is perhaps too fast for comfort at this juncture.
Today's Options Expiries for 10AM New York Cut
EURUSD (Intraday bias: Bullish target 1.11 achieved)
From a technical and trading perspective 1.11 target achieved. As 1.1090 as support look for consolidation to form a platform for bulls to make a run at pivotal 1.1150/70 (major trendline & symmetry swing resistance) over the coming sessions. Only a failure below 1.1060 would concern the bullish bias.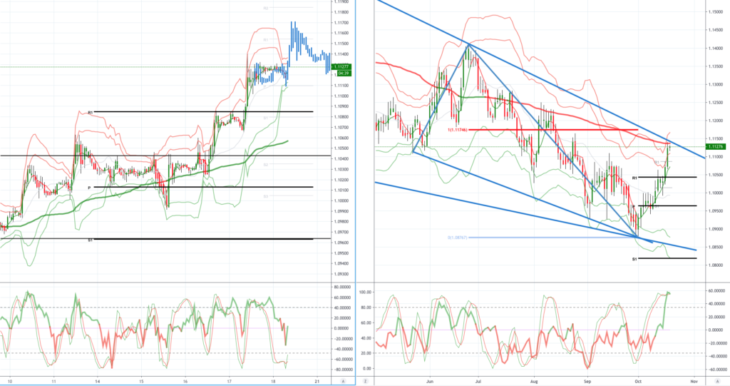 GBPUSD (Intraday bias: Neutral, Weekend Headline Risk)
From a technical and trading perspective 1.2830/50 extension objective achieved (with intraday momentum & sentiment divergence) buy the rumour sell the fact set up plays out as anticipated from 1.30 psychological magnet. Suggest caution on positioning into the weekend with major headline risk offering potential weekend gaps at the Asian open Sunday.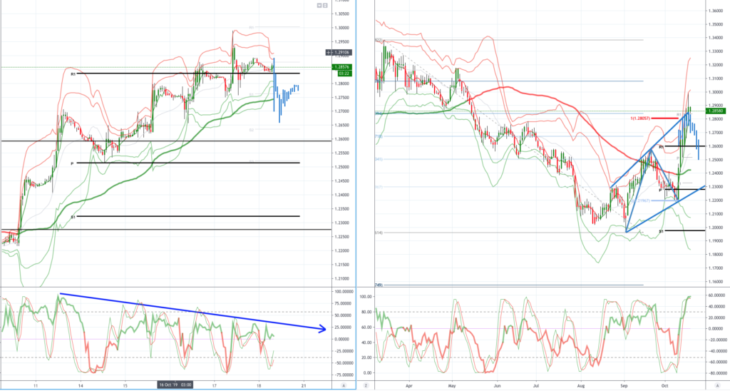 USDJPY (intraday bias: Bullish above 108.40 targeting 109)
From a technical and trading perspective anticipated drive through last weeks high plays out, however, this new high looks vulnerable as we have significant divergence developing on the daily & intraday charts as such, expect strong resistance as we test stops and offers above 109 with the potential for a morning meaningful correction from this area.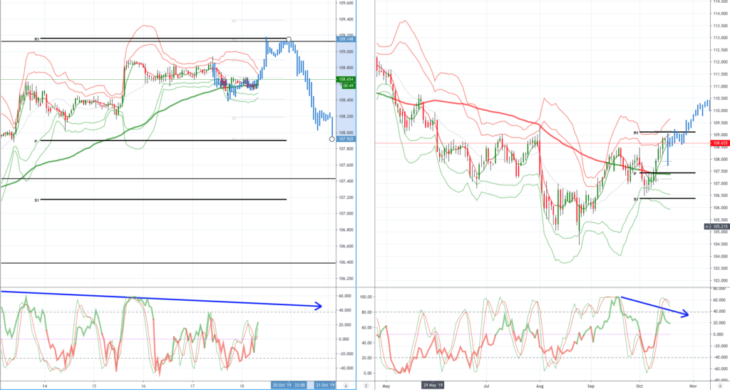 AUDUSD (Intraday bias:Neutral bullish above .6780 bearish below .6730)
From a technical and trading perspective pivotal .6730 support holds and stops above .6800 are vulnerable again, as offers above .6800 fail to cap look for .6830 upside objective.
AUDUSD…Update .6830 achieved as .6800 now acts as support look for a test of monthly R1 at .6860, on the day only a breach of .6770 would concern the bullish bias.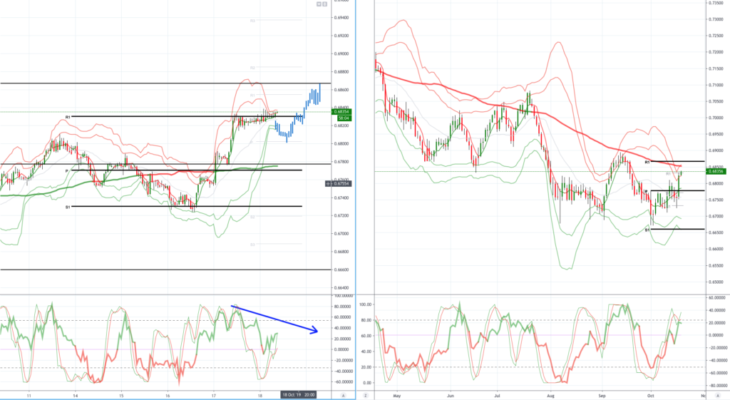 Disclaimer: The material provided is for information purposes only and should not be considered as investment advice. The views, information, or opinions expressed in the text belong solely to the author, and not to the author's employer, organization, committee or other group or individual or company.