Main market themes
Daily market outlook: Brexit remains the key focus. In the latest development, UK PM Boris Johnson has been prevented from holding a key vote on the Brexit withdrawal deal he recently agreed with Brussels. The UK government was keen to have a "meaningful vote" yesterday (21 October), but this was rejected by House Speaker John Bercow. In outlining his decision, Bercow said there had been no change in either substance or circumstance since Johnson relinquished a first attempt to have a vote on his Brexit deal over the weekend. Meanwhile, the EU is holding off on its decision whether to grant an extension likely as it observes ongoing developments in the British Parliament and with still time ahead of the October 31st deadline.
Boris Johnson must now attempt to get his 110-page Withdrawal Agreement Bill through both the House of Commons and the House of Lords in the space of a week. The second reading will be a good test of support, but even assuming it passes, the government's difficulties could begin in the next stage of the Withdrawal Agreement Bill, when MPs can table amendments. If any of these amendments passes, Boris Johnson is expected to abandon the legislation, accept the need for an extension, and then the most likely outcome would be for Boris Johnson to seek an election.
US stocks finished higher overnight to kick start a busy week in corporate earnings in anticipation of further development in US-China trade deal. Major indexes tracked higher global benchmarks to end on a positive note.
The S&P500 rose by 0.7% and tech-heavy NASDAQ by 0.9% ahead of the release of Microsoft, Amazon and Twitter's earnings. The gain in the Dow Jones was capped at 0.2%, weighed down by the 3.8% fall in Boeing's share price over growing scrutiny by regulators and analysts' downgrades.
Trade optimism played a huge part in lifting overall sentiment as President Donald Trump said that the current bid to sign a trade deal with China was progressing well, raising expectations that both countries could sign a deal next month in Chile.
Treasuries yields picked up around 4-5bps along the curve as investors exited safer assets. The USD regained some strength, strengthening against the GBP, EUR, JPY and CHF.
Oil prices slipped by 0.8-0.9%.
Today's Options Expiries for 10AM New York Cut
No expiries of note today
EURUSD (Intraday bias: Bullish above 1.11 target 1.1230)
From a technical and trading perspective, as 1.11 acts as support look for an initial test of offers and stops above 1.12, expect profit taking on newly minted long positions on the initial foray above 1.12. The October upswing has impulsive qualities and as such I will be looking to buy corrective pullbacks in the near term. Only a failure below 1.1040 would concern the bullish bias.
EURUSD…UPDATE intra day divergence developing and starting to weigh on price look for support at 1.1110 as this area contains the correction bulls target a 1.12 test, failure here opens pivotal 1.1040.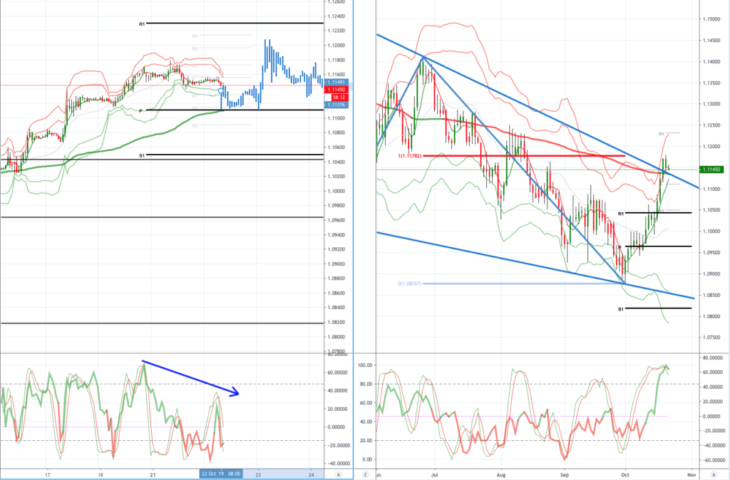 GBPUSD (Intraday bias: Bullish above 1.2830 target 1.3150)
From a technical and trading perspective, as 1.2830 acts a support bulls look to establish traction above 1.30 targeting an extension to 1.3150/60 from this level I anticipate profit taking to emerge. The impulsive quality of the advance suggests a buy on dip strategy should be rewarded over the near term, on the week only a move through 1.25 would concern the bullish bias.
GBPUSD…UPDATE No change in view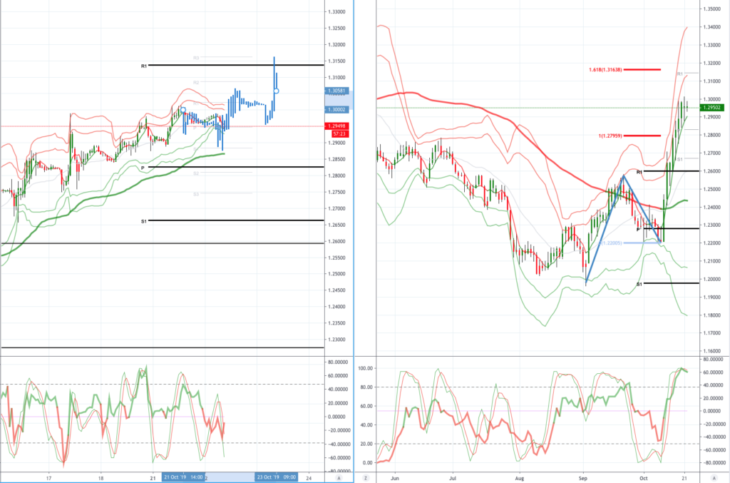 USDJPY (intraday bias: Neutral, bullish above 108.30 bearish below 108)
From a technical and trading perspective USDJPY appears to be moving into a consolidation phase in the 108/109 range. As 108.40 supports I still anticipate a test of offers and stops above 109 which should cap on the initial test, however, a failure below 108 would open a swift test of bids below 107.50.
USDJPY…UPDATE No change in view.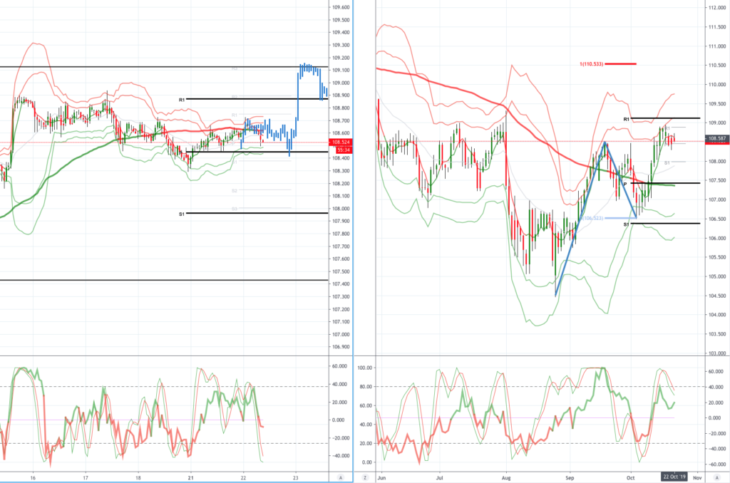 AUDUSD (Intraday bias: Bullish above .6850 target .6905)
From a technical and trading perspective pivotal as .6850 now acts as support look for a test of the pivot cluster at .6905 expect profit taking from this area, only a breach of .6810 would concern the bullish bias.
AUDUSD…UPDATE intraday divergence starting to weigh on prices, on the day a breach of .6850 opens a test of .6810 bids, newly minted longs may throw in the towel here and open a deeper correction to test pivotal .6750.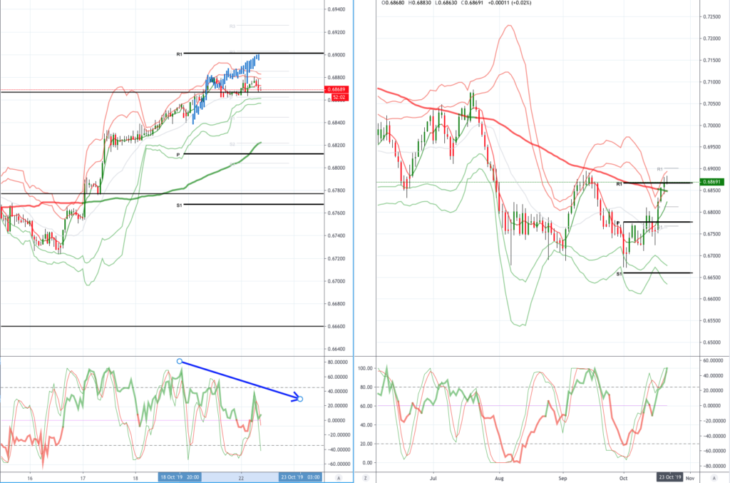 Disclaimer: The material provided is for information purposes only and should not be considered as investment advice. The views, information, or opinions expressed in the text belong solely to the author, and not to the author's employer, organization, committee or other group or individual or company.