Main market themes
Daily Market Outlook: Brexit remains on the forefront, following a series of votes on Tuesday that were critical in the Brexit proceedings. GBP had swung wildly on Tuesday, initially ticking modestly higher after the first of two votes, where UK PM Boris Johnson received parliamentary majority – passing 329 to 299 – to move his Withdrawal Agreement Bill legislation to the next stage. However, price action was capped ahead of the second and more-important vote, a fast-tracked Brexit timetable, which set out a three day schedule to rush his deal through the House of Commons. This second vote, referred to as the program motion, did not pass, however, with the result being 308 to 322. Consequently, GBP tumbled to lows. In response to the failed vote, Boris Johnson said the next steps are "to intensify preparations for a no-deal Brexit" and "pause legislation until the EU has made up its mind about a delay". Meanwhile, there were reports of the European Commission saying that President Donald Tusk is consulting EU leaders on extending the Brexit deadline to 31 January 2020, after the UK government lost the fast-track vote in Tuesday's parliamentary session.
US existing home sales fall despite lower rates: The National Association of Realtors said that existing home sales in the US fell 2.2% MOM to a seasonally adjusted annual rate of 5.38mil units in September (Aug: +1.5% revised), partly reversing two months of gain. The more-than expected decline again illustrates the lack of previously owned properties for sales in the market despite a lower interest rates environment following Fed's two rate cut this year.
US Richmond Fed Manufacturing Index signals manufacturing regain momentum: The latest Richmond Fed's Fifth District Survey of Manufacturing Activity reported that its headline composite index rose to 8 in October (Sep: -9) driven by higher readings of all three components namely shipments, new orders and employment, offering relief that the region's manufacturing activities are rebounding from the contraction seen last month.
The Dow Jones dropped a little by 0.2% while the S&P 500 and NASDAQ each slipped by 0.4% and 0.7%.
Treasury yields dropped around 3-4bps along the curve.
Oil prices were up by 1-1.6% over news that OPEC and allies were considering for more production cut.
Today's Options Expiries for 10AM New York Cut (notable size in bold)
EURUSD (Intraday bias: Bullish above 1.11 target 1.1230)
From a technical and trading perspective, as 1.11 acts as support look for an initial test of offers and stops above 1.12, expect profit taking on newly minted long positions on the initial foray above 1.12. The October upswing has impulsive qualities and as such I will be looking to buy corrective pullbacks in the near term. Only a failure below 1.1040 would concern the bullish bias.
EURUSD…UPDATE intra day divergence developing and starting to weigh on price look for support at 1.1110 as this area contains the correction bulls target a 1.12 test, failure here opens pivotal 1.1040. No change in view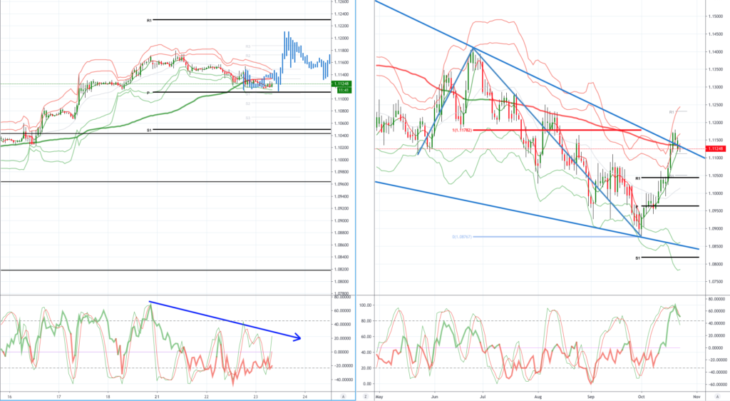 GBPUSD (Intraday bias: Bullish above 1.2830 target 1.3150)
From a technical and trading perspective, as 1.2830 acts a support bulls look to establish traction above 1.30 targeting an extension to 1.3150/60 from this level I anticipate profit taking to emerge. The impulsive quality of the advance suggests a buy on dip strategy should be rewarded over the near term, on the week only a move through 1.25 would concern the bullish bias.
GBPUSD…UPDATE No change in view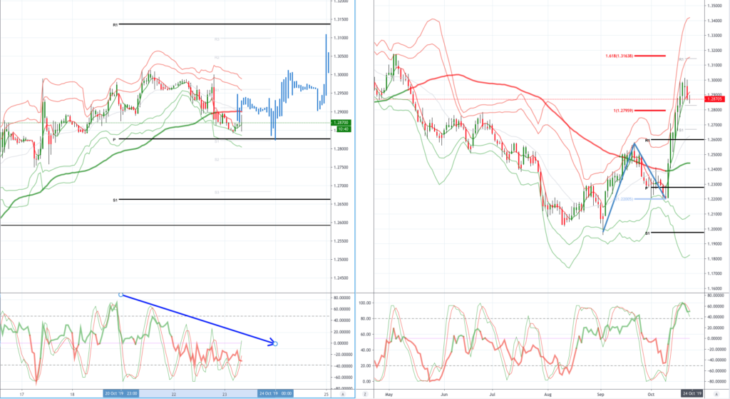 USDJPY (intraday bias: Neutral, bullish above 108.30 bearish below 108)
From a technical and trading perspective USDJPY appears to be moving into a consolidation phase in the 108/109 range. As 108.40 supports I still anticipate a test of offers and stops above 109 which should cap on the initial test, however, a failure below 108 would open a swift test of bids below 107.50.
USDJPY…UPDATE No change in view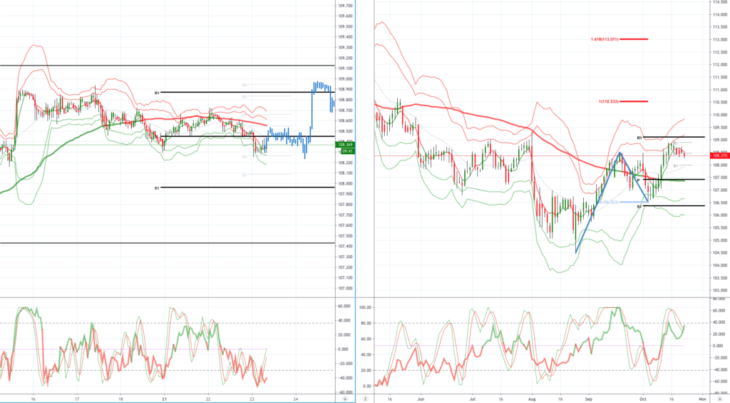 AUDUSD (Intraday bias: Bullish above .6810 target .6905)
From a technical and trading perspective pivotal as .6850 now acts as support look for a test of the pivot cluster at .6905 expect profit taking from this area, only a breach of .6810 would concern the bullish bias.
AUDUSD…UPDATE intraday divergence starting to weigh on prices, on the day a breach of .6850 opens a test of .6810 bids, newly minted longs may throw in the towel here and open a deeper correction to test pivotal .6750. Pivotal .6810 test underway, bull bear line in the sand for the day.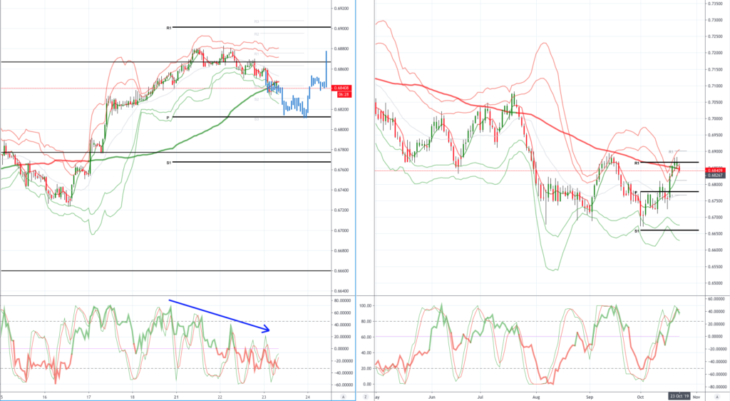 Disclaimer: The material provided is for information purposes only and should not be considered as investment advice. The views, information, or opinions expressed in the text belong solely to the author, and not to the author's employer, organization, committee or other group or individual or company.