Main market themes
Daily market outlook: US stocks gained slightly overnight despite mixed earnings reports amid a lack of US-China trade development. Key benchmarks picked up a little by 0.2%-0.3% as shares of industrial bellwethers Boeing and Caterpillar managed to register more than 1% gains even after their earnings missed expectations. Notably chip stocks underperformed, in tandem with the plunge in Texas Instrument's share price after the chip maker's reported a revenue miss and weaker guidance for the current quarter. The Philadelphia Semiconductor Index slipped by nearly 2%.
Treasuries retraced earlier gains, leading yields to end up minimally higher.
Crude oil prices were up on bigger inventory drawdown and expectation for a deeper OPEC production cut.
The European Union postponed a decision on whether to grant Britain an extension on its current 31 October Brexit deadline. The sterling rebounded and the euro stabilized against the greenback. The dollar index was flat.
Eurozone consumer confidence tumbled to the lowest point this year: The flash reading of the European Commission Consumer Confidence Index slipped to -7.6 this month (Sep: -6.5), its lowest level of the year, over heightening concerns surrounding the bloc's dismal economic growth outlook as well as Brexit uncertainty. The entrenched weakness in the manufacturing sector continued to weigh down on the Euro area's overall condition, especially in its largest economy, Germany. The ECB which holds a meeting today will restart a new round of easing measures starting November
The ECB Governing Council is set to have a meeting today followed by the usual press conference, the last one presided by Mario Draghi. Traders will also be paying attention to a slew of flash PMI readings this morning with France coming in better than expected, Germany a slight miss.
Today's Options Expiries for 10AM New York Cut (notable size in bold)
EURUSD (Intraday bias: Bullish above 1.11 target 1.1230)
From a technical and trading perspective, as 1.11 acts as support look for an initial test of offers and stops above 1.12, expect profit taking on newly minted long positions on the initial foray above 1.12. The October upswing has impulsive qualities and as such I will be looking to buy corrective pullbacks in the near term. Only a failure below 1.1040 would concern the bullish bias.
EURUSD…UPDATE intra day divergence developing and starting to weigh on price look for support at 1.1110 as this area contains the correction bulls target a 1.12 test, failure here opens pivotal 1.1040. No change in view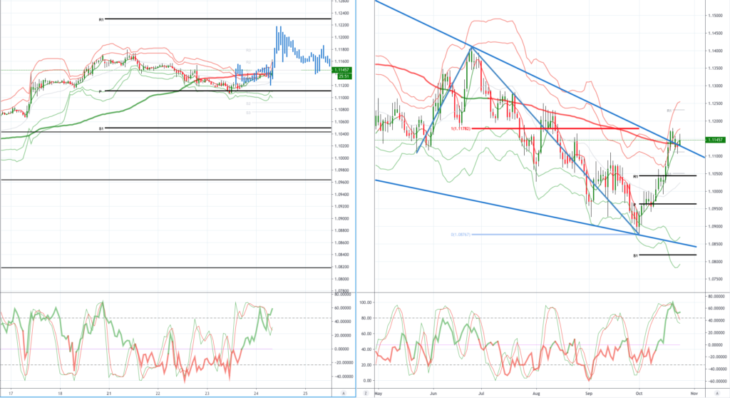 GBPUSD (Intraday bias: Bullish above 1.2830 target 1.3150)
From a technical and trading perspective, as 1.2830 acts a support bulls look to establish traction above 1.30 targeting an extension to 1.3150/60 from this level I anticipate profit taking to emerge. The impulsive quality of the advance suggests a buy on dip strategy should be rewarded over the near term, on the week only a move through 1.25 would concern the bullish bias.
GBPUSD…UPDATE Intraday divergence developing, Tuesday's Daily key reversal flipped daily chart bearish, however, without daily divergence, this would only suggest a profit taking pause.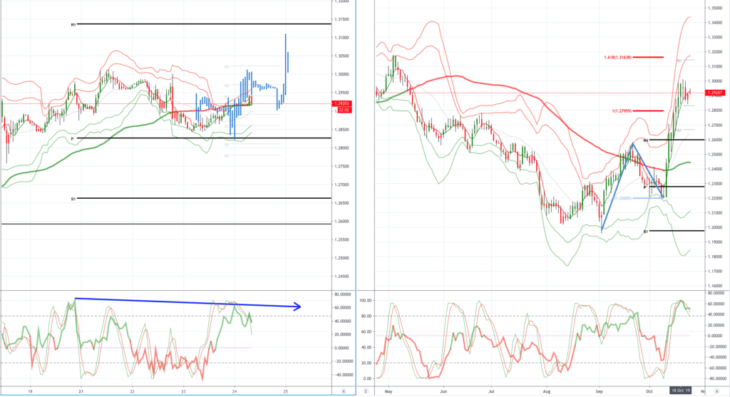 USDJPY (intraday bias: Neutral, bullish above 108.30 bearish below 108)
From a technical and trading perspective USDJPY appears to be moving into a consolidation phase in the 108/109 range. As 108.40 supports I still anticipate a test of offers and stops above 109 which should cap on the initial test, however, a failure below 108 would open a swift test of bids below 107.50.
USDJPY…UPDATE No change in view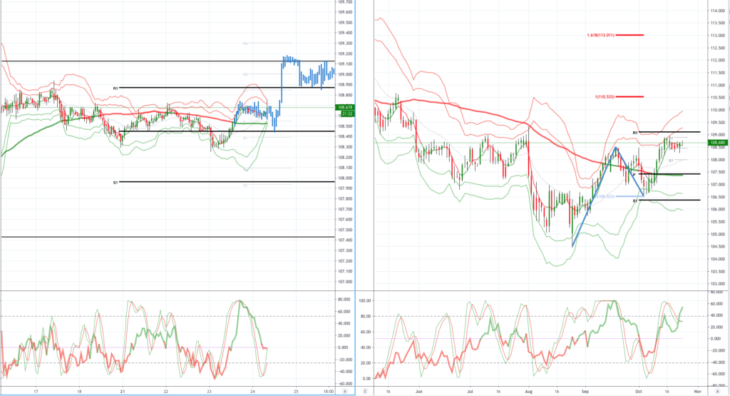 AUDUSD (Intraday bias: Bullish above .6810 target .6905)
From a technical and trading perspective pivotal as .6850 now acts as support look for a test of the pivot cluster at .6905 expect profit taking from this area, only a breach of .6810 would concern the bullish bias.
AUDUSD…UPDATE intraday divergence starting to weigh on prices, on the day a breach of .6850 opens a test of .6810 bids, newly minted longs may throw in the towel here and open a deeper correction to test pivotal .6750. Pivotal .6810 test underway, bull bear line in the sand for the day. No change in view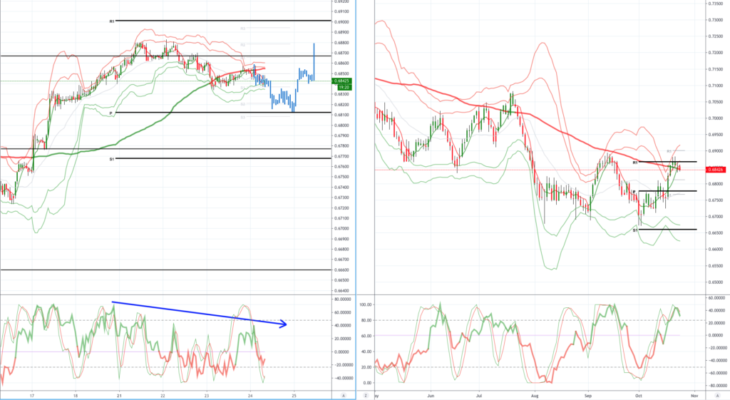 Disclaimer: The material provided is for information purposes only and should not be considered as investment advice. The views, information, or opinions expressed in the text belong solely to the author, and not to the author's employer, organization, committee or other group or individual or company.