Main market themes
Daily market outlook: US stocks finished broadly higher overnight as positive earnings by Microsoft and PayPal led the gains in tech stocks to boost the S&P500 and NASDAQ by 0.2% and 0.8%. The Dow Jones slipped 0.1%, dragged down by 3M's shares as the industrial giant missed sales estimates and lowered its guidance. Earnings were generally mixed – Amazon's profit fell by 26% over higher shipping cost, Twitter's revenue missed forecast on weaker advertising business while Intel reported strong earnings and raised its outlook.
Treasury yields barely moved.
ECB held rates steady; Draghi defended legacy: The ECB left its key interest rates unchanged as widely expected and repeated its pledge to restart its Asset Purchase Program (APP) in November while maintaining its dovish stance on monetary policy as it expects interest rates to "remain at their present or lower levels" until inflation outlook robustly converge to a level sufficiently close to, but below, 2%. The central bank reiterated the need for highly accommodative policy as economic assessment was largely unchanged – It mentioned the ongoing weakness of international trade amid persistent global uncertainties which continue to weigh on the manufacturing sector and investment growth. The services and construction sectors are said to remain resilient despite some moderation, risk surrounding euro area growth remain on the downside. Headline inflation is expected to decline slightly further before rising at the end of the year and underlying inflation remains muted. In his final press conference, President Mario Draghi defended and praised the Governing Council's firm commitment to fulfilling its mandate via measures from asset purchases to negative interest rates and expressed confidence in his successor, former IMF Managing Director Christine Lagarde for taking over the helm.
Eurozone economy is near stagnation according to PMIs: The flash Eurozone Manufacturing PMI was unchanged at 45.7 in October (Sep: 45.7), marking its ninth month below the 50.0 neutral threshold, reflecting the ongoing weakness in manufacturing conditions. The services PMI edged up slightly to 51.8 (Sep: 51.6) to signal a little improvement in services sector growth. New orders for goods and services slipped for the second month in a row, pointing to broadly weak demand. By country, the improved performance in France was said to help keep the Eurozone out of contraction whereas the rate of decline in Germany experienced a mild easing. As a result, the Composite Index inched up a tiny bit to 50.2 (Sep: 50.1), indicating that the economy is still in a state of near-stagnation.
Boris Johnson called for a snap election in a bid to pressure his opponents at Parliament to fast-track his Brexit deal. GBP slipped nearly 0.5%.
Oil went up by 0.5-0.8% (WTI $56.23/barrel, Brent $61.67/barrel) over the surprise drop in U.S. crude stocks alongside expectations of more market-supporting action by OPEC and allies.
Today's Options Expiries for 10AM New York Cut (notable size in bold)
EURUSD (Intraday bias: Neutral, bearish below 1.11, bullish above 1.1140)
From a technical and trading perspective, as 1.11 acts as support look for an initial test of offers and stops above 1.12, expect profit taking on newly minted long positions on the initial foray above 1.12. The October upswing has impulsive qualities and as such I will be looking to buy corrective pullbacks in the near term. Only a failure below 1.1040 would concern the bullish bias.
EURUSD…UPDATE intra day divergence weighing on price 1.11 support eroded, as 1.1130 caps upside look for failure here to open pivotal 1.1040 support.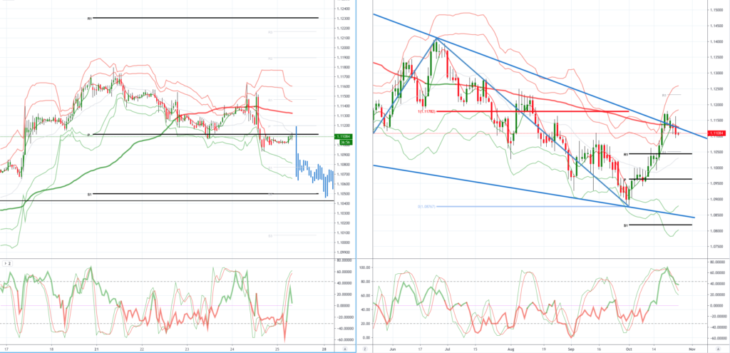 GBPUSD (Intraday bias: Bullish above 1.2830 target 1.3150)
From a technical and trading perspective, as 1.2830 acts a support bulls look to establish traction above 1.30 targeting an extension to 1.3150/60 from this level I anticipate profit taking to emerge. The impulsive quality of the advance suggests a buy on dip strategy should be rewarded over the near term, on the week only a move through 1.25 would concern the bullish bias.
GBPUSD…UPDATE Intraday divergence plays out, Tuesday's Daily key reversal flipped daily chart bearish, however, without daily divergence, this would only suggest a profit taking pause, however, as 1.2850 caps upside look for a deeper correction to test bids towards 1.2650.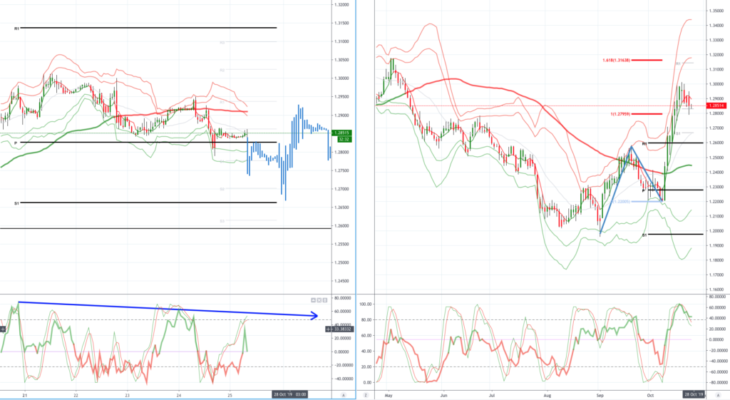 USDJPY (intraday bias: Neutral, bullish above 108.30 bearish below 108)
From a technical and trading perspective USDJPY appears to be moving into a consolidation phase in the 108/109 range. As 108.40 supports I still anticipate a test of offers and stops above 109 which should cap on the initial test, however, a failure below 108 would open a swift test of bids below 107.50.
USDJPY…UPDATE No change in view.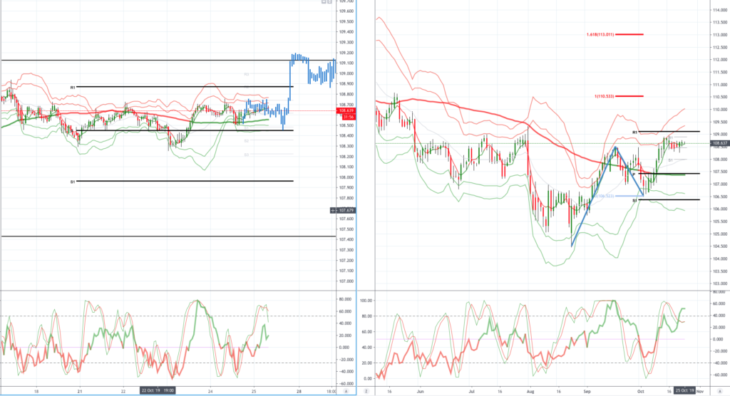 AUDUSD (Intraday bias: Bullish above .6810 target .6905)
From a technical and trading perspective pivotal as .6850 now acts as support look for a test of the pivot cluster at .6905 expect profit taking from this area, only a breach of .6810 would concern the bullish bias.
AUDUSD…UPDATE intraday divergence starting to weigh on prices, on the day a breach of .6850 opens a test of .6810 bids, newly minted longs may throw in the towel here and open a deeper correction to test pivotal .6750. Pivotal .6810 test underway, bull bear line in the sand for the day. No change in view.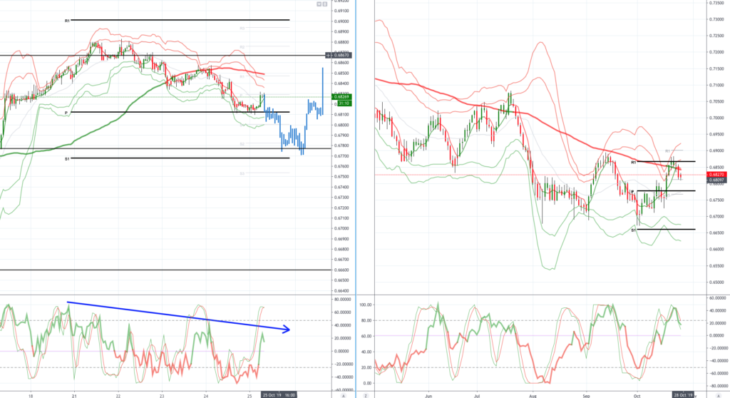 Disclaimer: The material provided is for information purposes only and should not be considered as investment advice. The views, information, or opinions expressed in the text belong solely to the author, and not to the author's employer, organization, committee or other group or individual or company.