Main market themes
Daily market outlook: Some positive noises on a partial US-China trade deal have supported risk appetite at the start to week in Asia. China said that parts of the text for a first-phase deal are "basically completed". Hopes are that Presidents Trump and Xi will sign an agreement next month.
On the Brexit front, media reports suggest the EU will agree to a three-month 'flextension' to the Brexit deadline to 31 January, with the option of an earlier departure date if the Withdrawal Agreement is ratified. With the EU reportedly ready to grant an extension to the Brexit deadline by up to three months, the focus turns to an expected vote in the House of Commons today (probably late afternoon at the earliest) where two‑thirds of MPs are needed to consent to an early election on 12 December. It would need the support of Labour, but its leader Jeremy Corbyn yesterday said that it would not support it. If the vote fails, then the government may try to find other ways to instigate an early election.
US 2yr treasury yields rose from 1.58% to 1.62%, the 10yr yield from 1.75% to 1.80%. Markets are pricing 22bp of easing at the 30 October meeting and a terminal rate of 1.26% (vs 1.88% currently).
Oil had its biggest weekly gain in five weeks helped by further positive signs that the US and China may be close to agreeing parts of a phase one trade deal, the surprise drop in EIA inventory data and the closure of the North Sea Forties field pipeline on Thursday. WTI gained 5.4% last week while Brent rose by 4.4%.
Aside from Brexit & trade developments, trader attention will centre on the US FOMC policy decision on Wednesday, with expectations of another rate cut but signals of a pause thereafter. The US later this week will also release the first estimate of Q3 GDP, the PCE deflator and labour market data. The coming days also sees the release of Eurozone Q3 GDP and October CPI.
Citi Bank note "On FX the preliminary estimate of month-end FX hedge rebalancing flows notes a marginal need to sell USD against all G10 currencies except JPY on October 31. Overall selling USD against GBP is the strongest signal this month, although at +0.48 std. dev, remains relatively weak by historic standards. In a continuation of Septembers moves, most equity markets have gained on average while almost all fixed income markets have underperformed. Swedish and Japanese equities in particular showed strong gains while UK bonds lost nearly -2% amidst Brexit driven volatility.
– On asset rebalancing, CitiFX Quant notes October month end is likely to see a rotation from equities into fixed income although the signal is weak at just +/-0.2 historic std. dev. CEE and European equities are likely to see the strongest equity outflows although overall CEE bonds receive the highest outflow signal at a moderately strong -1.4 historic std dev. Developed market bonds and Canadian equities are set to receive most of this as inflows. The FX impact is likely to be USD selling against EUR and GBP at month end".
Today's Options Expiries for 10AM New York Cut (notable size in bold)
EURUSD (Intraday bias: Neutral, bearish below 1.11, bullish above 1.1120)
From a technical and trading perspective,  as 1.1110 caps upside look for failure here to open pivotal 1.1040 support, as this area supports there is the potential to set a base to target a retest of 1.1180 offers. A failure at 1.1030 exposes bids and stops below 1.10.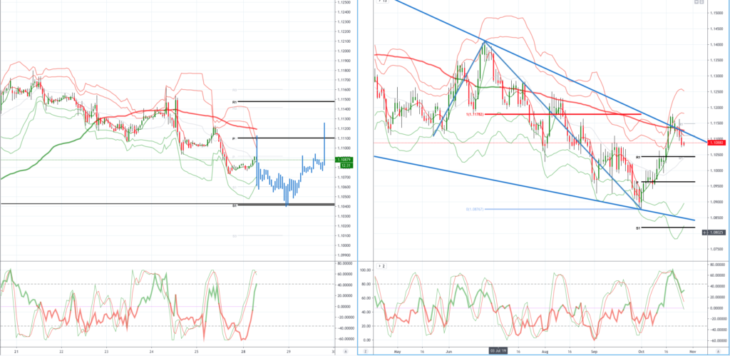 GBPUSD (Intraday bias: Bullish above 1.2830 target 1.3150)
From a technical and trading perspective, last Tuesday's Daily key reversal flipped daily chart bearish, however, without daily divergence, this would only suggest a profit taking pause, as 1.29 caps upside look for a deeper correction to test bids below 1.2750, as this area contains the correction watch for intraday bullish reversal patterns to set longs targeting a retest of 1.30. Failure below 1.27 opens the pivotal 1.26 support.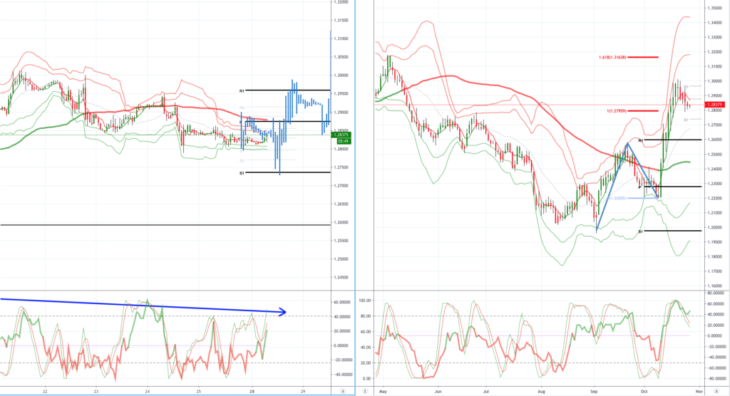 USDJPY (intraday bias: Neutral, bullish above 108.30 bearish below 108)
From a technical and trading perspective, consolidation continues in the 108/109 range. As 108.40 supports I still anticipate a test of offers and stops above 109 which should cap on the initial test, however, a failure below 108 would open a swift test of bids below 107.50.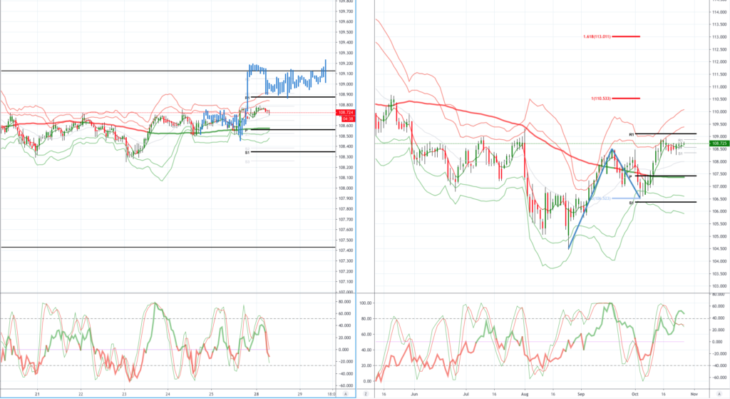 AUDUSD (Intraday bias: Bullish above .6810 target .6905)
From a technical and trading perspective, as .6850 caps upside attempts look for a test of bids sub .6800, as .6770 contains the correction bulls will try to set a platform to target a retest of last week's highs, en-route to challenging offers and stops above .6900.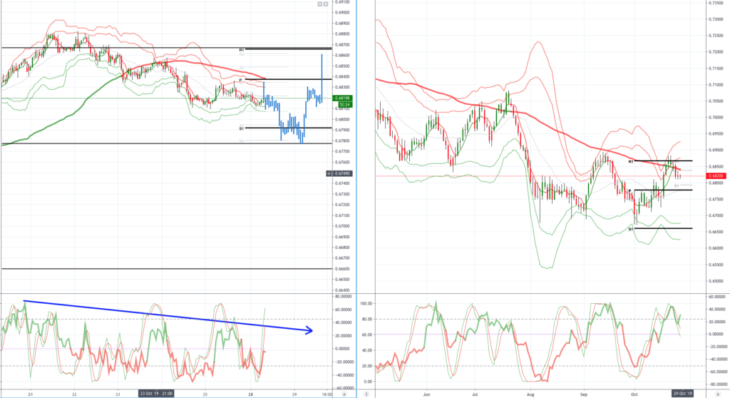 Disclaimer: The material provided is for information purposes only and should not be considered as investment advice. The views, information, or opinions expressed in the text belong solely to the author, and not to the author's employer, organization, committee or other group or individual or company.