Main market themes
Daily market outlook: The EU has agreed to a 3-month extension for Brexit to 31 January 2020. The UK was originally slated to leave the EU this Thursday (31 October) after two previous extensions from Brussels. The extension is expected to be formalized through a written procedure and is set to state that the EU would not reopen the Withdrawal Agreement for negotiations. Meanwhile, UK lawmakers have rejected UK PM Boris Johnson's request to hold a general election on 12 December. Under the rules, two-thirds of Parliament, or 434 MPs, needed to approve the motion for it to pass, but it got only 299 as opposition lawmakers declined the opportunity to take on Boris Johnson at the ballot box. Boris Johnson said the government will try again with a new route for a 12 December election in a vote later today (29 October), saying it was time to "get Brexit done".
US stocks rose overnight leading the S&P500 to hit its record high, boosted by trade optimism as traders kick started a busy week filled with top-tiered economic data and the crucial FOMC meeting. The S&P500 rose 0.6%, while the Dow Jones and NASDAQ each gained 0.5% and 1.0%, shy from their record closings.
Both the US and China were reportedly said to be edging closer to a "phase one" trade deal last Friday and President Trump on Monday added that he was expected to sign a significant part of the deal "ahead of schedule".
Weaker data also reinforced belief that the Fed would deliver its third rate cut of the year this week.
Treasuries yields rose 2-5bps amid better sentiment, dollar slipped against most major currencies
Today's Options Expiries for 10AM New York Cut (notable size in bold)
EURUSD: 1.0900 (EUR1.6bn); 1.0965 (EUR447mn); 1.1000 (EUR350mn); 1.1050 (EUR411mn); 1.1125 (EUR451mn); 1.1210 (EUR967mn)
USDJPY: 107.50 (USD555mn); 108.00 (USD642mn); 108.03 (USD520mn); 108.50 (USD362mn); 109.00 (USD1.2bn); 109.10 (USD401mn); 110 (USD686mn); 110.05 (USD464mn)
AUDUSD: 0.6875 (AUD456mn)
EURUSD (Intraday bias: Neutral, bearish below 1.11, bullish above 1.1120)
From a technical and trading perspective, intra day divergence weighing on price as 1.1110 caps upside look for failure here to open pivotal 1.1040 support, as this area supports there is the potential to set a base to target a retest of 1.1180 offers. A failure at 1.1030 exposes bids and stops below 1.10 NO CHANGE IN VIEW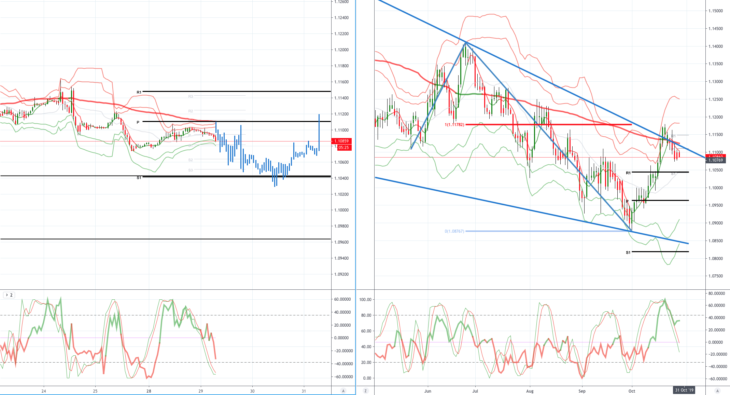 GBPUSD (Intraday bias: Bullish above 1.2750 target 1.3150)
From a technical and trading perspective, last Tuesday's Daily key reversal flipped daily chart bearish, however, without daily divergence, this would only suggest a profit taking pause, as 1.29 caps upside look for a deeper correction to test bids below 1.2750, as this area contains the correction watch for intraday bullish reversal patterns to set longs targeting a retest of 1.30. Failure below 1.27 opens the pivotal 1.26 support. NO CHANGE IN VIEW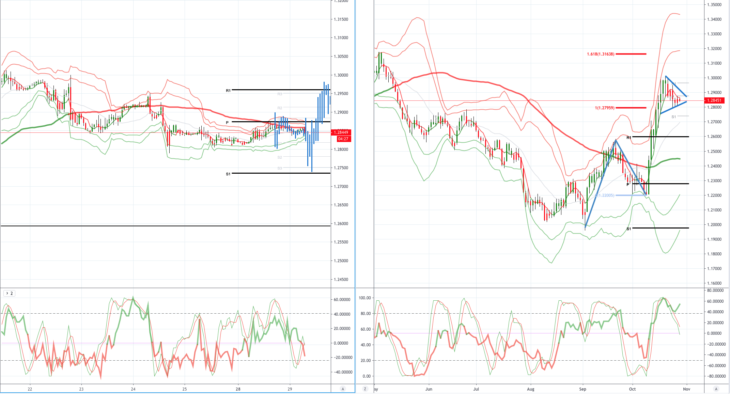 USDJPY (intraday bias: Neutral, bullish above 108.30 bearish below 108)
From a technical and trading perspective, consolidation continues in the 108/109 range. As 108.40 supports I still anticipate a test of offers and stops above 109 which should cap on the initial test, however, a failure below 108 would open a swift test of bids below 107.50.
USDJPY…UPDATE as anticipated initial foray above 109 meets decent offers, as 108.60 supports bulls will attempt another challenge of stops above 109.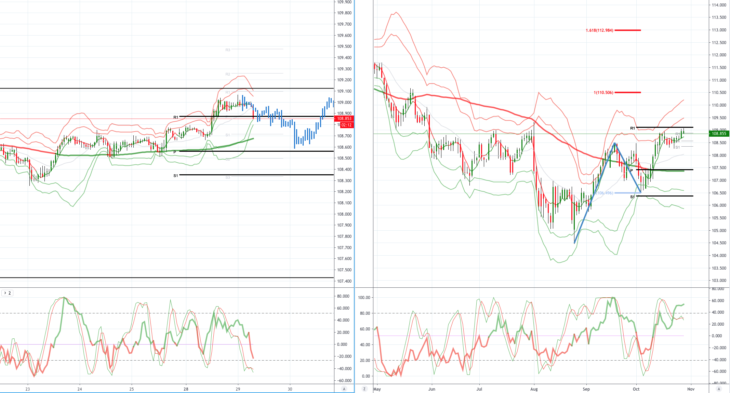 AUDUSD (Intraday bias: Bullish above .6810 target .6905)
From a technical and trading perspective, as .6865 caps upside attempts look for a test of bids sub .6800, as .6770 contains the correction bulls will try to set a platform to target a retest of last week's highs, en-route to challenging offers and stops above .6900.
AUDUSD…UPDATE A close above .6885 would negate the corrective view and inject further upside momentum with bulls eyeing a .7000 test.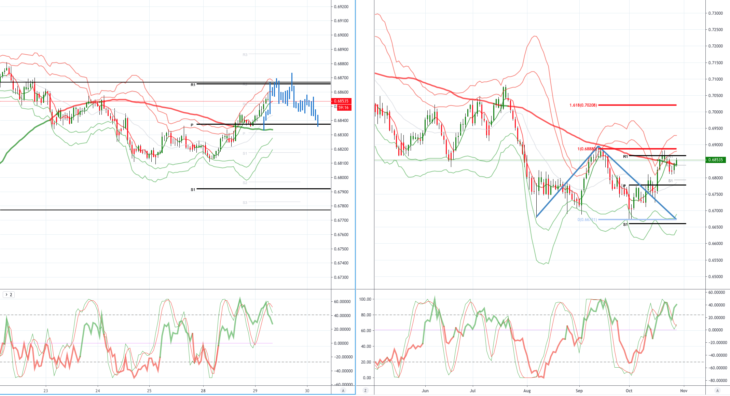 Disclaimer: The material provided is for information purposes only and should not be considered as investment advice. The views, information, or opinions expressed in the text belong solely to the author, and not to the author's employer, organization, committee or other group or individual or company.