Main market themes
UK lawmakers voted 438 to 20 in favour of holding an early election on 12 December. This would be the first election held in December since 1923. Amendments to the bill, including an alternative 9 December election date and a lowering of the voting age to 16, were earlier rejected. The bill will now go to the House of Lords for further debate on Wednesday (30 October), although this is unlikely to derail the decision made by MPs in the House of Commons. Meanwhile, Donald Tusk, who is stepping down as EU Council president at the end of November, warned that the latest Brexit delay to 31 January, 2020 "may be the last one"
Ahead of the Fed tonight, the price action for the broader USD will remain driven by month-end flows, which after the surge in US equities to new all-time highs, is expected to see dollar selling.
Markets have effectively priced in a third successive 25bps cut by the Federal Reserve tonight, although economists are a little more divided on the outcome. If the Fed does not cut, we will see a sharp reaction in the markets, otherwise the focus will be on the forward guidance post today's meeting and whether the committee signals further reductions are less likely now.
On the trade front, Reuters reported that the so-called Phase-One agreement between the US and China might not be ready to be signed at the APEC meeting in Chile next month. Those headlines caused a short-lived dip in both equities and bond yields although a closer read of the article suggested that any delay would be due to timing constraints rather than a lack of commitment on either side. The article claimed good progress was still being made and the expectation is for an agreement at APEC.
Today's Options Expiries for 10AM New York Cut (notable size in bold)
EURUSD: 1.1100 (EUR449mn); 1.1125 (EUR848mn); 1.1200 (EUR755mn)
USDJPY: 108.00 (USD756mn); 109.00 (USD2.1bn)
AUDUSD: 0.6785 (AUD571mn)
EURUSD (Intraday bias: Neutral, bearish below 1.11, bullish above 1.1120)
From a technical and trading perspective, intraday divergence weighing on price as 1.1110 caps upside look for failure here to open pivotal 1.1040 support, as this area supports there is the potential to set a base to target a retest of 1.1180 offers. A failure at 1.1030 exposes bids and stops below 1.10
EURUSD….UPDATE Daily chart has flipped bullish as per the daily VWAP, as such while 1.11 supports intraday look for a test of 1.1145, I would anticipate profit taking here ahead of the FOMC this evening, likely consolidation ahead of the decision.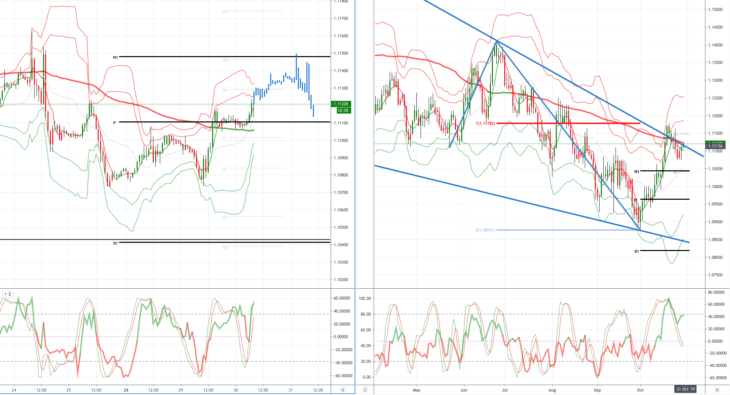 GBPUSD (Intraday bias: Bullish above 1.2750 target 1.3150)
From a technical and trading perspective, last Tuesday's Daily key reversal flipped daily chart bearish, however, without daily divergence, this would only suggest a profit taking pause, as 1.29 caps upside look for a deeper correction to test bids below 1.2750, as this area contains the correction watch for intraday bullish reversal patterns to set longs targeting a retest of 1.30. Failure below 1.27 opens the pivotal 1.26 support.
GBPUSD…UPDATE Daily chart has flipped bullish as per the daily VWAP, also the daily chart has a potentially bullish triangle developing, as 1.2850 supports look for continued consolidation, with  the potential to challenge stops above 1.2950.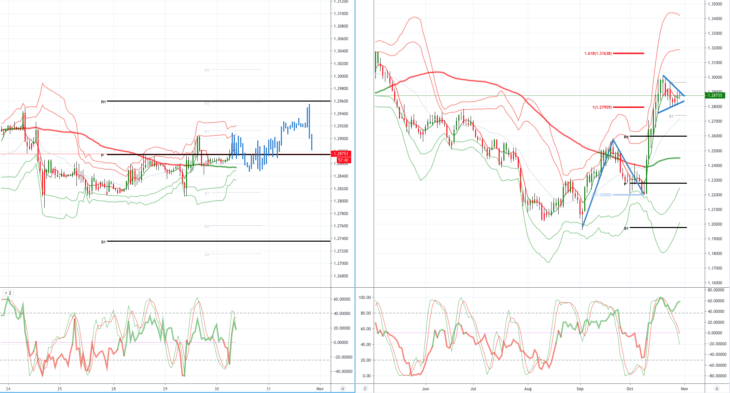 USDJPY (intraday bias: Neutral, bullish above 108.30 bearish below 108)
From a technical and trading perspective, consolidation continues in the 108/109 range. As 108.40 supports I still anticipate a test of offers and stops above 109 which should cap on the initial test, however, a failure below 108 would open a swift test of bids below 107.50.
USDJPY…UPDATE as anticipated initial foray above 109 meets decent offers, as 108.60 supports bulls will attempt another challenge of stops above 109 NO CHANGE IN VIEW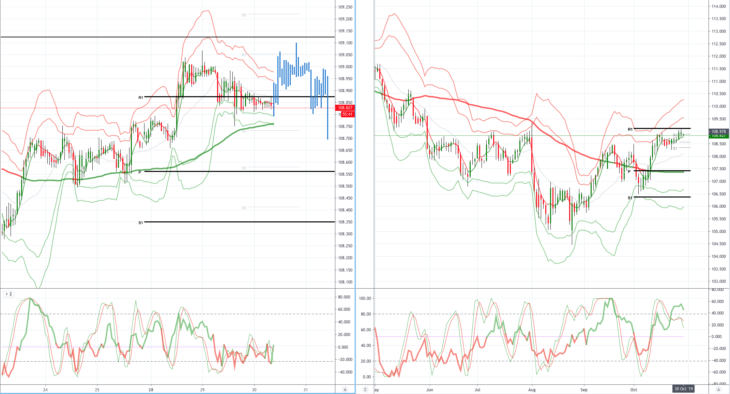 AUDUSD (Intraday bias: Bullish above .6810 target .6905)
From a technical and trading perspective, as .6865 caps upside attempts look for a test of bids sub .6800, as .6770 contains the correction bulls will try to set a platform to target a retest of last week's highs, en-route to challenging offers and stops above .6900.
AUDUSD…UPDATE A close above .6885 would negate the corrective view and inject further upside momentum with bulls eyeing a .7000 test. NO CHANGE IN VIEW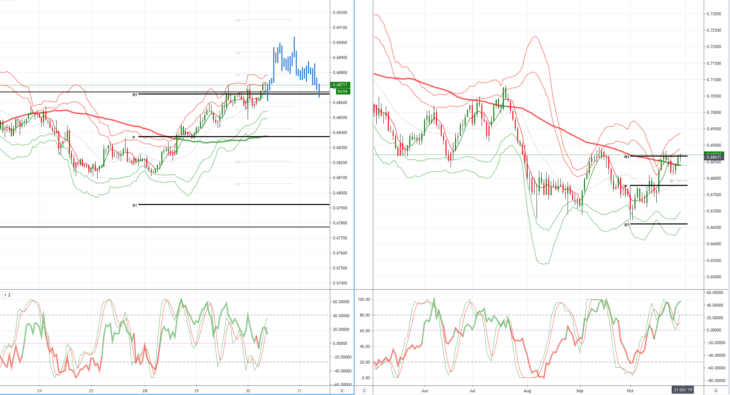 Disclaimer: The material provided is for information purposes only and should not be considered as investment advice. The views, information, or opinions expressed in the text belong solely to the author, and not to the author's employer, organization, committee or other group or individual or company.