Main market themes
Daily market outlook: The Federal Reserve cut the Fed Funds Rate target range by 25 bps from 1.75- 2% to 1.5-1.75% as widely expected, marking its third reduction in its benchmark rate this year. There was little change in the FOMC statement, but the Fed removed its language of "to act as appropriate" to support its latest decision to ease policy, offering signals that the Fed is likely leaving rate unchanged for the remainder of 2019.
Fed Chair Jerome Powell's press conference remarks supported views that the cut was somewhat hawkish in the sense that Powell appeared more positive over growth outlook, referring the move as insurance in the face of global development and against ongoing risks. He said that monetary policy is in a good place, the US and China are inching closer to a deal and the likelihood of a hard Brexit is dimming. Chair Powell indicated that although it might be done cutting for now, the bar to hiking was high. This gave stocks a boost, sending the S&P to an all-time high; it also triggered USD selling.
US advance 3Q GDP growth topped estimates, supported by consumer spending: US annualized real GDP surprised to the upside, recording an impressive 1.9% QOQ growth in the third quarter of 2019 (2Q: +2.0%), topping analysts' estimates of 1.6%. Growth in 3Q, albeit slower than 2Q, reflected the positive contributions from personal consumption expenditures (PCE), federal government spending, residential fixed investment, state and local government spending, and exports that were partly offset by negative contributions from nonresidential fixed investment and private inventory investment (business investment). YOY, GDP growth decelerated to 2.0% (2Q: +2.3%). Consumer spending supported by a firm labour market continued to buoy US growth, allaying some fears of a recession as business investment faltered amidst weaker sentiment brought about by trade and tariffs related uncertainty.
US equity markets are close to unchanged while bond yields are slightly lower. The US yield curve has flattened, with short-end rates supported by the slightly hawkish Fed statement, but the 10 year yield falling 4bps to 1.8%.
The fall in long-end rates occurred as Chile called off the APEC Summit that was due to take place next month due to the ongoing street protests. Presidents Trump and Xi had been planning to sign the Phase-One trade agreement at APEC. The market moves were reasonably modest, with a US spokesperson later saying that it expected to finalise Phase-One "within the same time frame" and Treasury Secretary Mnuchin quoted by the New York Times as saying a deal was likely to be signed in November.
Today's Options Expiries for 10AM New York Cut (notable size in bold)
EURUSD (Intraday bias: Bullish above 1.1120 target 1.12)
From a technical and trading perspective, intra day divergence weighing on price as 1.1110 caps upside look for failure here to open pivotal 1.1040 support, as this area supports there is the potential to set a base to target a retest of 1.1180 offers. A failure at 1.1030 exposes bids and stops below 1.10
EURUSD….UPDATE Daily chart has flipped bullish as per the daily VWAP, as such while 1.11 supports intraday look for a test of 1.1145.  1.1145 achieved on the day as 1.1130 acts as support 1.12 test is the next upside objective. Only below 1.11 concerns bullish bias.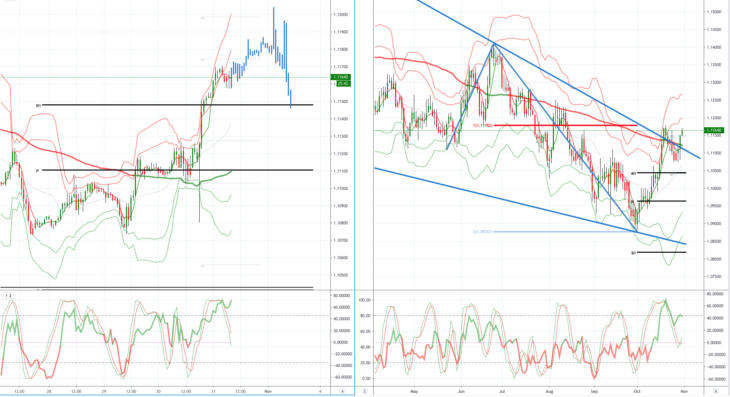 GBPUSD (Intraday bias: Bullish above 1.2750 target 1.3150)
From a technical and trading perspective, last Tuesday's Daily key reversal flipped daily chart bearish, however, without daily divergence, this would only suggest a profit taking pause, as 1.29 caps upside look for a deeper correction to test bids below 1.2750, as this area contains the correction watch for intraday bullish reversal patterns to set longs targeting a retest of 1.30. Failure below 1.27 opens the pivotal 1.26 support.
GBPUSD…UPDATE Daily chart has flipped bullish as per the daily VWAP, also the daily chart has a potentially bullish triangle developing, as 1.2850 supports look for continued consolidation, with the potential to challenge stops above 1.2950. 1.2950 achieved as 1.2880 support look for a test of offers towards 1.30 then stops above.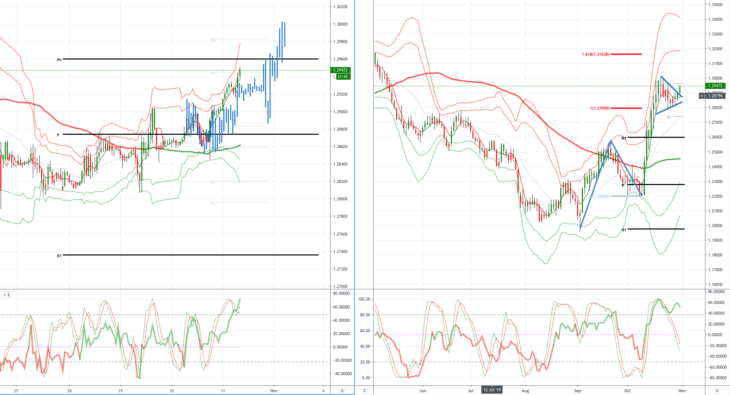 USDJPY (intraday bias: Bearish below 108.80 target 108.35)
From a technical and trading perspective, consolidation continues in the 108/109 range. As 108.40 supports I still anticipate a test of offers and stops above 109 which should cap on the initial test, however, a failure below 108 would open a swift test of bids below 107.50.
USDJPY…UPDATE as anticipated initial foray above 109 meets decent offers, as 108.60 supports bulls will attempt another challenge of stops above 109. Second attempt at stops above 109 meets big offers and sees a sharp reversal overnight, as 108.80 caps upside attempts look for a test of bids towards 108.35.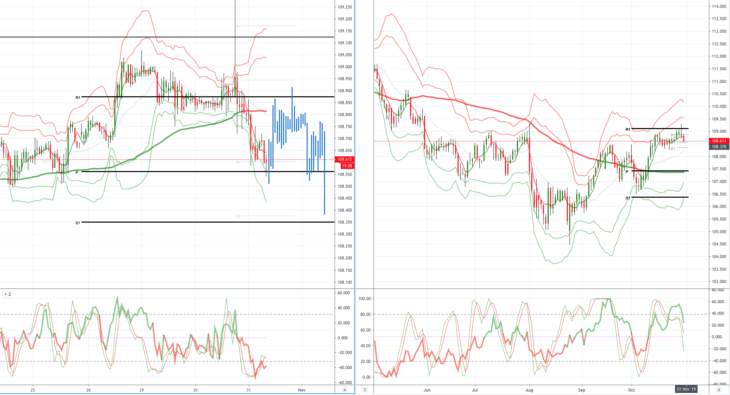 AUDUSD (Intraday bias: Bullish target .6905 achieved)
From a technical and trading perspective, as .6865 caps upside attempts look for a test of bids sub .6800, as .6770 contains the correction bulls will try to set a platform to target a retest of last week's highs, en-route to challenging offers and stops above .6900.
AUDUSD…UPDATE A close above .6885 would negate the corrective view and inject further upside momentum with bulls eyeing a .7000 test. Initial bullish objective achieved, as .6880 now acts as support look for a test of offers towards .6950 and then stops above.
Disclaimer: The material provided is for information purposes only and should not be considered as investment advice. The views, information, or opinions expressed in the text belong solely to the author, and not to the author's employer, organization, committee or other group or individual or company.