Main market themes
US stocks slipped overnight as traders turned anxious over less positive trade headlines just days ahead of the high stake US-China negotiation. A Bloomberg news story reporting China's intention to narrow scope of the scheduled talk coupled with the lack of economic data helped push major indexes lower on Monday leading the Dow Jones, S&P500 and NASDAQ to drop by 0.3-0.5%.
Treasuries yields picked up 3-6bps along the curve, yield on benchmark 2Y notes closed 6bps higher at 1.46% while 10Y UST yield rose by 3bps to 1.56%.
What is certain to raise jitters today is the Trump Administration's latest move to put eight Chinese technology companies on a blacklist that prohibit the latter to do business with American companies without being granted an American license, further casting doubt over the possibility of both sides reaching any sort of amicable agreement this week.
On a brighter note, Trump signed two US-Japan trade agreements on Monday, calling the deal a "phenomenal victory" for US farmers.
The USD saw gains against most G10 counterparts on Monday, and looked to have stabilized from last week's declines. The EUR once again turned back at the 1.1000 handle, with the soft macro outlook in EU still lurking in the background. The AUD was the main underperformer, further hampered on the back of low expectations ahead of the Sino-US talks.
Expect USD prospects to be dependent on the Sino-US trade outcome in the near term. A deal of sorts would likely support risk sentiments in the near term, and see the USD, JPY soften against the cyclicals. The extent of this move will then dependent on the assessment of the deal. On the flipside, a negative outcome may further depress the likes of the AUD. In this context, expect the AUDUSD to potentially find new lows, and the JPY crosses to stay heavy.
EURUSD (Intraday bias: Bullish above 1.0960, targeting 1.1045)
From a technical and trading perspective as suggested we cleared 1.0970 and have renewed bullish sentiments offers & stops over 1.10 now look vulnerable, on the day we look for 1.0940 to provide support, a failure below 1.0920 would concern the bullish bias and open another run to test bids at 1.09. I am still running weekly & daily long positions with decent profits and now risk free.
EURUSD…UPDATE another failed run at 1.10 yesteterday concerns the bullish bias, if we can't take out the stops above 1.10 in the London session I anticipate a deeper pullback to test the bids ahead of 1.09,a close today below 1.0960 would flip the daily charts bearish. I am raising stops on my long positions to 1.0960 and locking in profits.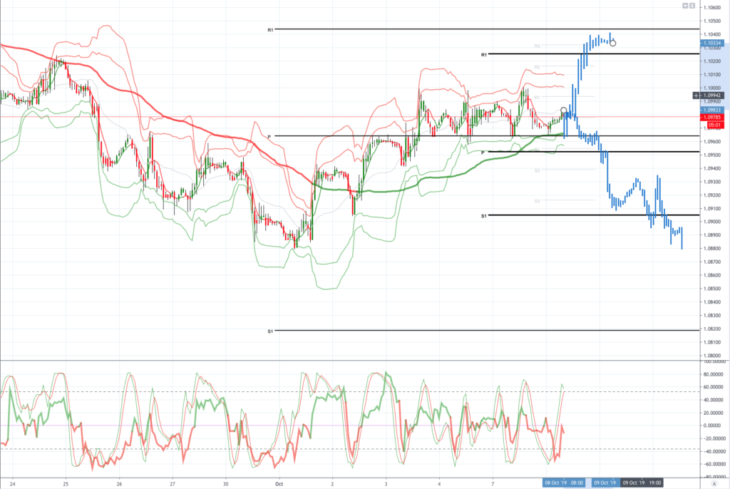 GBPUSD (Intraday bias: Bullish above 1.2250 targeting 1.2450)
From a technical and trading perspective 1.2350 stops taken out as we spiked 1.24 in standard sterling style trade we duly retreated to test bids at 1.23 as these continue to support this area should provide the platform to test my target, however, a failure below 1.2285 would negate upside objectives and open a retest of 1.22 bids.
GBPUSD…UPDATE price action remains lacklustre driven by political headlines, bullish sentiments are starting to fade and the potential to retest 1.22 bids is increasing, only a drive through 1.2350 would reinvigorate bulls.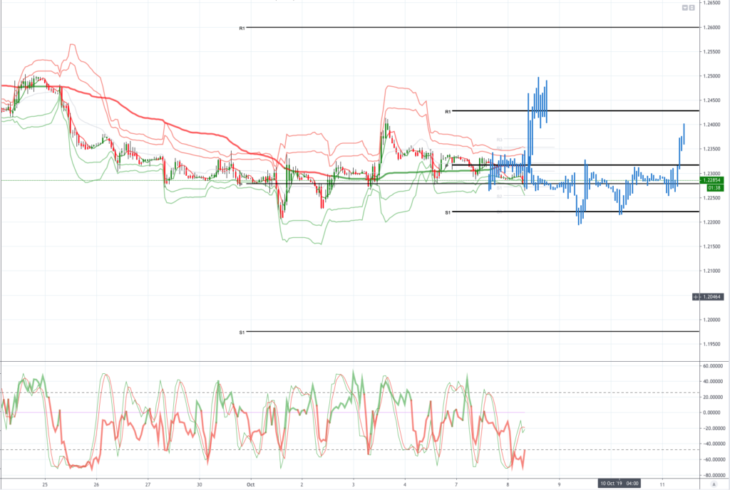 USDJPY (intraday bias: Bearish below 107.50 targeting 106.40)
From a technical and trading perspective prices look poised to test bids below 106.50a failure below here will open a 106.10 test, look for 107.35 to caps any upside attempts, through 107.60 would delay downside objectives.
USDJPY…UPDATE anticipated offers towards 107.50 emerge and as such set the battle lines for the day, as this 107.50 resistance holds look for a retest of swing lows to 106.60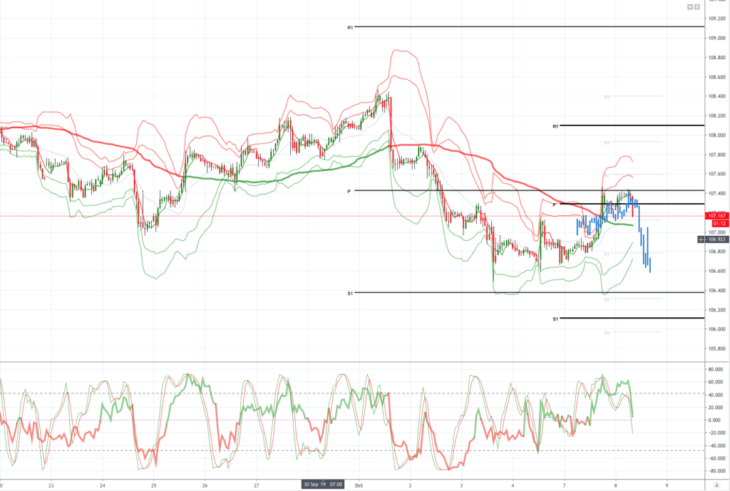 AUDUSD (Intraday bias:Bullish above .6740 target .6810)
From a technical and trading perspective the move back through .6750 has renewed bullish aspirations, however expect heavy going as the market tries to chew through thick offers towards .6775, however, as .6740 supports look for another impulsive move to gun stops ahead of .6800 challenge.
AUDUSD…UPDATE pivotal today is the.6750 level a failure here opens a move to test bids ahead of .6700, if we can take out .6760, offers and stops above .6800 are vulnerable on the day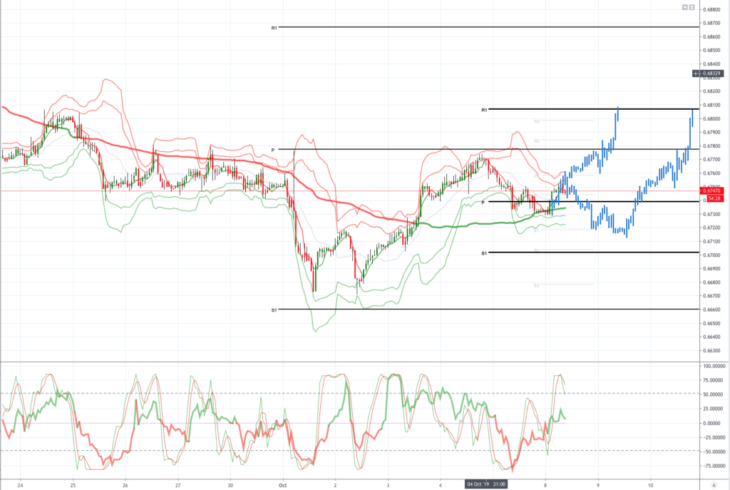 Please note that this material is provided for informational purposes only and should not be considered as investment advice. The views discussed in the above article are those of our analysts and are not shared by Tickmill. Trading in the financial markets is very risky.