Main Market Themes
U.S. Treasury Secretary Mnuchin said that Sino-US trade negotiations have made great progress and the two sides reached a conceptual consensus on the implementation mechanism. Chinese officials plan to visit the United States in October for consultations. This is also a goodwill signal, and it is expected that the People's Bank of China Governor Yi Ganghui Will participate in trade talks and discuss exchange rate manipulation issues. Mnuchin also pointed out that the government is considering launching a new round of tax cuts next year, and stressed that the US economy is still in good condition. As for the US-Japan trade negotiations, he estimates that the two countries can soon reach an agreement.
Global equities ended mixed with muted moves either way after a rollercoaster  trading day. Investors were generally in risk on mode in the midst of mixed news flow even though such confidence dissipated late in the US session.
Sterling jumped to a six-week high following better than expected UK data that soothed recessionary fear, notably UK GDP and industrial production that picked up to increase 0.3% and 0.1% MoM respectively in July, easing concern over a technical recession in the UK economy. and abating expectations for a no-deal Brexit as PM Boris Johnson launched a second attempt for a snap election which was rejected by the UK parliament overnight.
The dollar Index closed lower by 0.14% to 98.333 led by GBP and EUR, driven by headlines over Brexit and spending plans in Germany.
US treasuries were sold off across the curve with yields climbing 5-10bps higher with the 10s settling at 1.64%.
Crude oil prices edged up around 2% on commitment by Saudi to maintain its production cut.
EURUSD (Intraday bias: 1.11 offers eyed)
From a technical and trading perspective last weeks move higher on the intraday charts demonstrated impulsive qualities as such today I am bullish above the weekly pivot 1.1010 with a stop just below 1.0970 targeting a move to test the monthly R1 at 1.1160/80 (as highlighted by the blue forecast candles on the chart)
UPDATE …EURUSD has traded higher to test offers towards 1.1070, easing overnight to test bids towards 1.1040 as these contain the pullback there is scope to retest and breach yesterday's highs en-route to a test of offers above 1.11, where there are option strikes worth about EUR 2bn slated for the New York cut (1500hrs BST)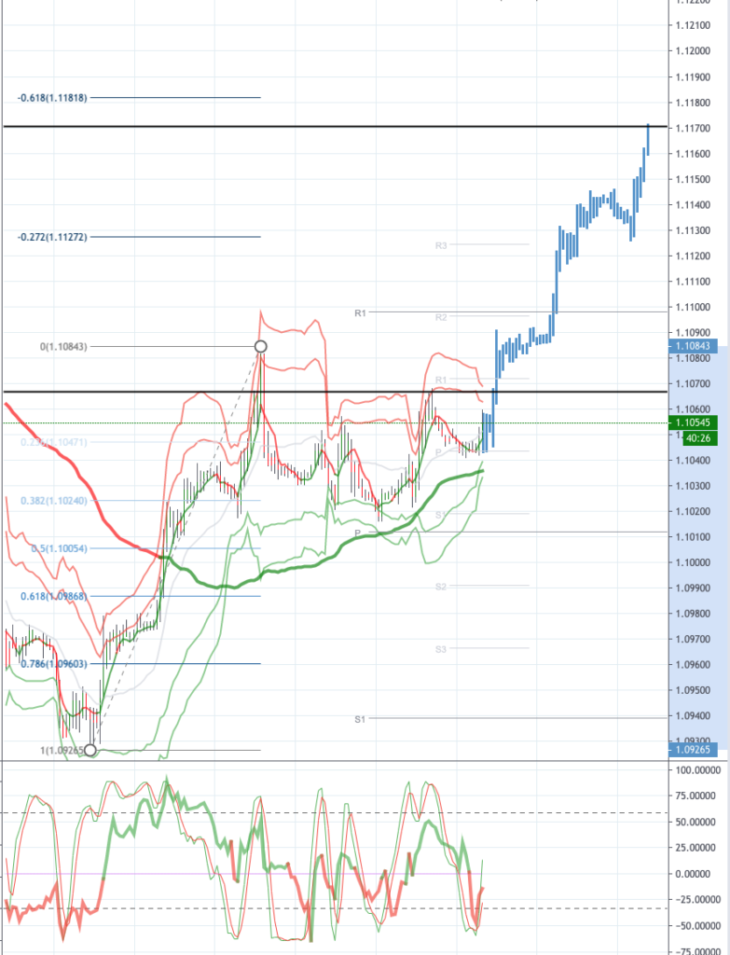 GBPUSD (Intraday bias: Scope to test 1.2450)
From a technical and trading perspective headline risk weighs with the potential for the pair to retest support towards 1.22 watch for bullish reversal patterns to 1.2185 to set a base for the next leg of the corrective recovery UPDATE …GBPUSD retained a bid tone yesterday and is set to retest yesterday's highs of of 1.2380 (as of writing) a breach of which will set a course to test offers towards 1.2450 where I anticipate offers to cap on an initial test, with the potential for a pullback to test bids towards 1.23, An early breach of 1.23 would open a test of the pivotal 1.22 support. (as highlighted by the blue forecast candles on the chart)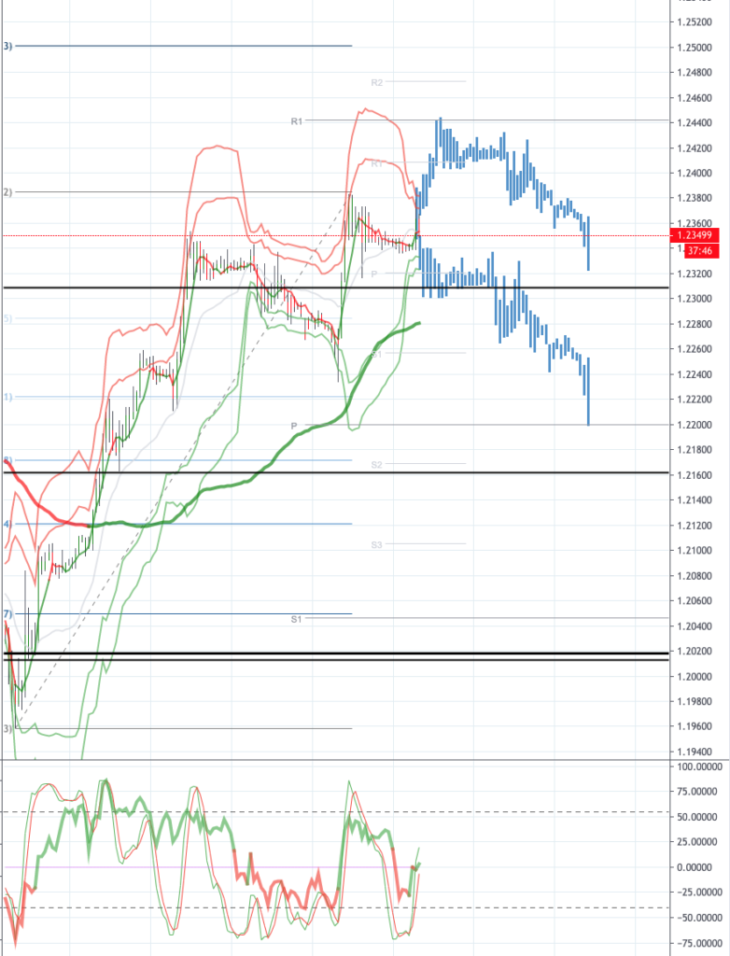 USDJPY (intraday bias: 107.50 target achieved)
From a technical and trading perspective I am looking for support to develop around the weekly pivot at 106.60 as this level holds i am looking for a retest of last week's highs above 107.20 and then the weekly R1 around 107.50 (as highlighted by the blue forecast candles on the chart)
UPDATE …USDJPY Target achieved as per yesterday's analysis, awaiting new pattern to develop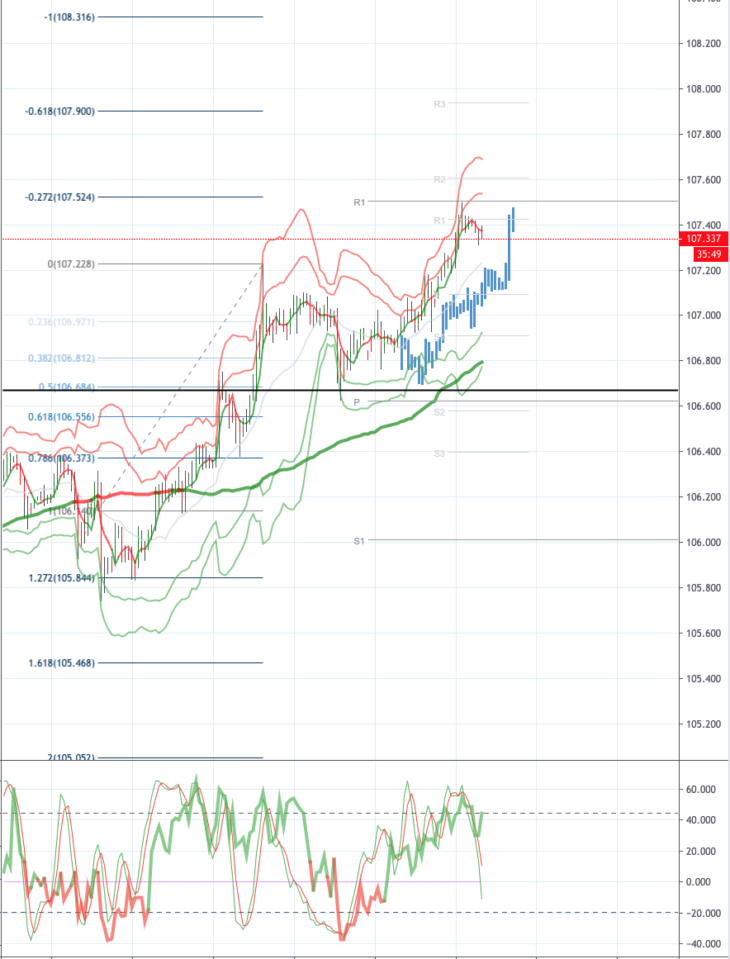 AUDUSD (Intraday bias: bullish above 0.68000)
From a technical and trading perspective last weeks intraday price pattern has impulsive qualities suggesting pullback should be bought for another leg of corrective upside, on the day I am looking for the pair to trade with a bid tone, any pullbacks towards the .6800 level will be buying opportunities as the pair should find support setting a base for the next leg higher to target offers above 0.6900
UPDATE …AUDUSD as .6880 continues to cap I anticipate a pullback to .6800 where I will be looking for bullish reversal patterns to reinstate long positions