Main Market Themes
US stocks rebounded to close slightly higher overnight as the concerns over the oil market eased a little with investors now shifting focus to the Federal Reserve's rate decision.
Major indexes struggled to post meaningful gains throughout the session The Dow Jones closed 0.1% higher while the S&P500 and NASDAQ each rose 0.3% and 0.4%.
Oil prices fell as President Trump played down his hawkish "locked and loaded" tone with Iran, signalling that he has no intention to go to war while Saudi Arabia restored partial output at its oil plant. Brent crude fell by 6.5% to $64.55/barrel while WTI dropped by 5.7% to $59.34/barrel.
Ahead of the FOMC decision, the Federal Reserve took action to calm money markets on Tuesday (17 Sep) by successfully conducting a repo operation resulting in a US$53.15bn boost in cash into the banking system. This is the first time in more than a decade that Fed has conducted a repo. The Fed will conduct another repo operation today (18 Sep) for up to US$75bn with the aim to help maintain the federal funds rate within the target range of 2.00%-2.25%
The US Dollar weakened against most of the major currencies on Tuesday as the Fed injected liquidity to alleviate the imbalances in the short-term funding markets. This comes amidst a better set of US data overnight in industrial production and capacity utilisation. The US Dollar Index (DXY) edged lower to 98.261 from previous close of 98.610 but largely remained well within recent ranges between 98 and 99.
Treasury yields fell 4-5bps as the Fed began its two-day meeting and is expected to cut its fed funds target range by 25bps. Benchmark 10Y UST yield slipped by 5bps to 1.80%.
EURUSD (Intraday bias: Bullish, as 1.10 supports, 1.1150 targeted)
From a technical and trading perspective EURUSD has potentially posted a major double bottom at the yearly S1 pivot. Price action is setting the stage for a more meaningful recovery to the upside, however, yesterdays breach of 1.11035 concerns this view. A sustained failure below 1.10 opens 1.0965 as intraday support ahead of last week's lows at 1.0930. A move back through 1.1050 is needed to suggest downside risk has been eliminated and reset focus on offers above 1.11. Note there are 1.1100 option strikes in coming days totalling more than EUR4.2bn.
EURUSD…UPDATE The Euro duly rebounded from 1.10 support and extended to retest the monthly pivot at 1.1070, however bull seem reluctant to press positions ahead of the FOMC tonight as such I remain cautiously bullish above 1.10 support.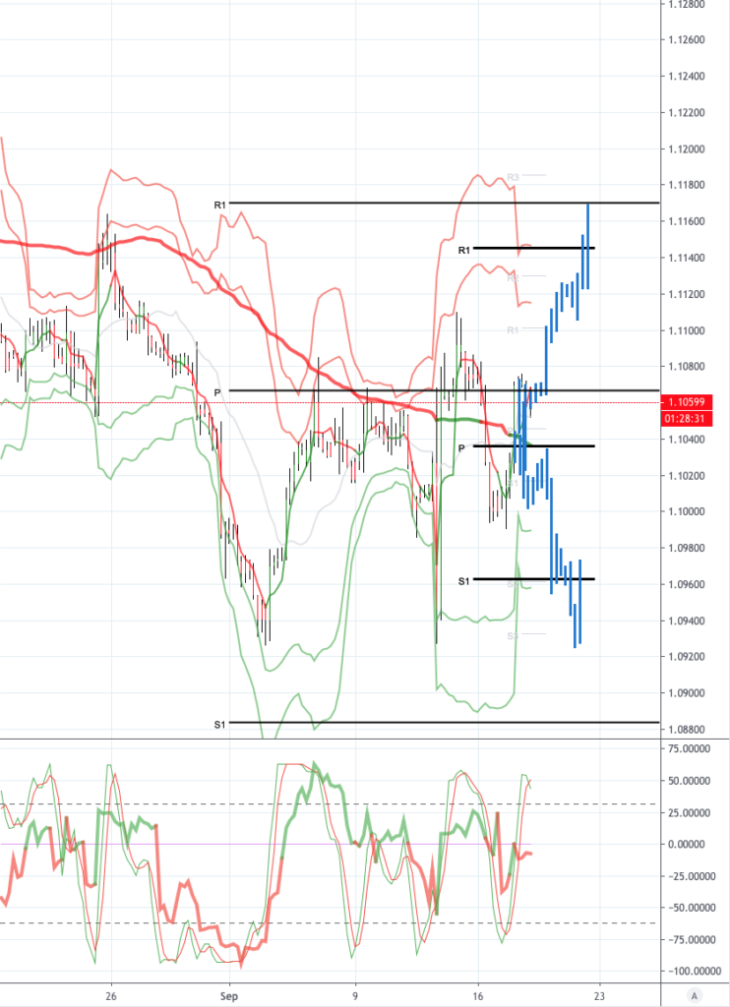 GBPUSD (Intraday bias: Bullish above 1.2385 targeting 1.2650)
From a technical and trading perspective anticipated test of 1.2450 extended to 1.25, I now see the potential for a pullback to test bids towards 1.2385, where I will be watching for intraday bullish reversal patterns to set long positions targeting a test of 1.2650 a failure below 1.23 would concern this view and suggest a more meaningful correction is underway to retest support at 1.22.
GBPUSD…UPDATE intraday bullish reversal from 1.24 support played out as such long positions in play, however, developing divergence concerns the near term bullish bias, will cut longs at entry levels on a pullback to 1.24 and re-evaluate on a test of pivotal support at 1.23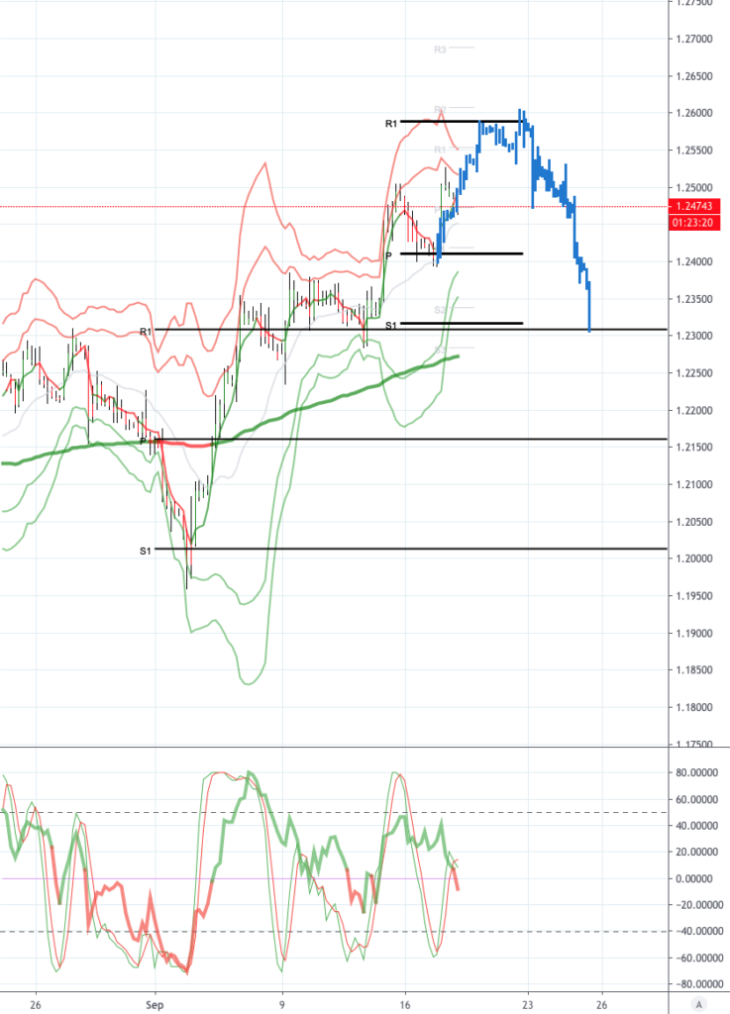 USDJPY (intraday bias: Bullish above 107.80 targeting 109)
From a technical and trading perspective 1.08 objective achieved, as 107.50 contains the correction there is scope for the current grind higher to test offers above 109 where I will be watching for momentum and sentiment divergence to complete the current sequence and present an opportunity to initiate short exposure targeting a move back through 108 and a retest of bids at 107.50. Note there are several 108.00 option strikes due next two days totalling $1.8bn.
USDJPY…UPDATE 109 test looks to be in play, however, note divergence developing on the move towards 108.50 which suggests we may struggle to reach the 109 target, however, I maintain my plan looking to sell at or above 109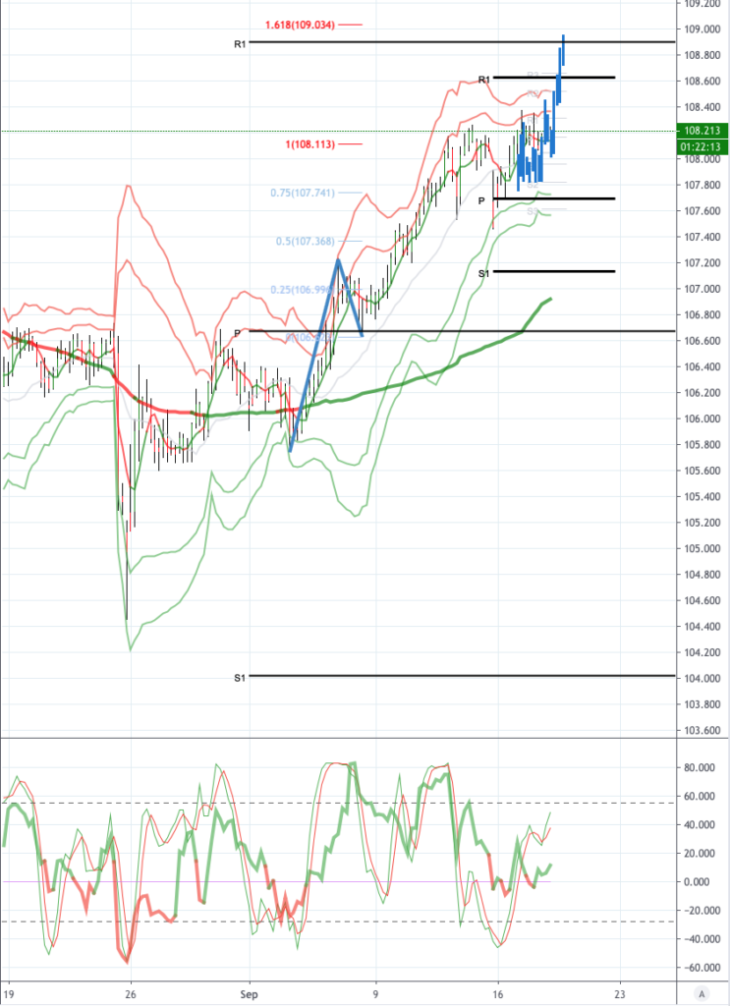 AUDUSD (Intraday bias: Bullish above .6800 targeting .7000)
From a technical and trading perspective offers just below .6900 which have capped on the initial test, setting a short term top and a correction is developing to test bids towards .6800. Monitoring price action towards the .6800 level to buy the dip for a second leg of upside to test offers towards .7000 Note there are a total of AUD 2.25bn of strikes 0.6890-0.6900 due today.
AUDUSD…Update anticipated test of bids towards .6800 appears to be underway, I will be watching for intraday reversal patterns on this pullback to set long positions targeting an equidistant swing objective towards .7000 as highlighted in the chart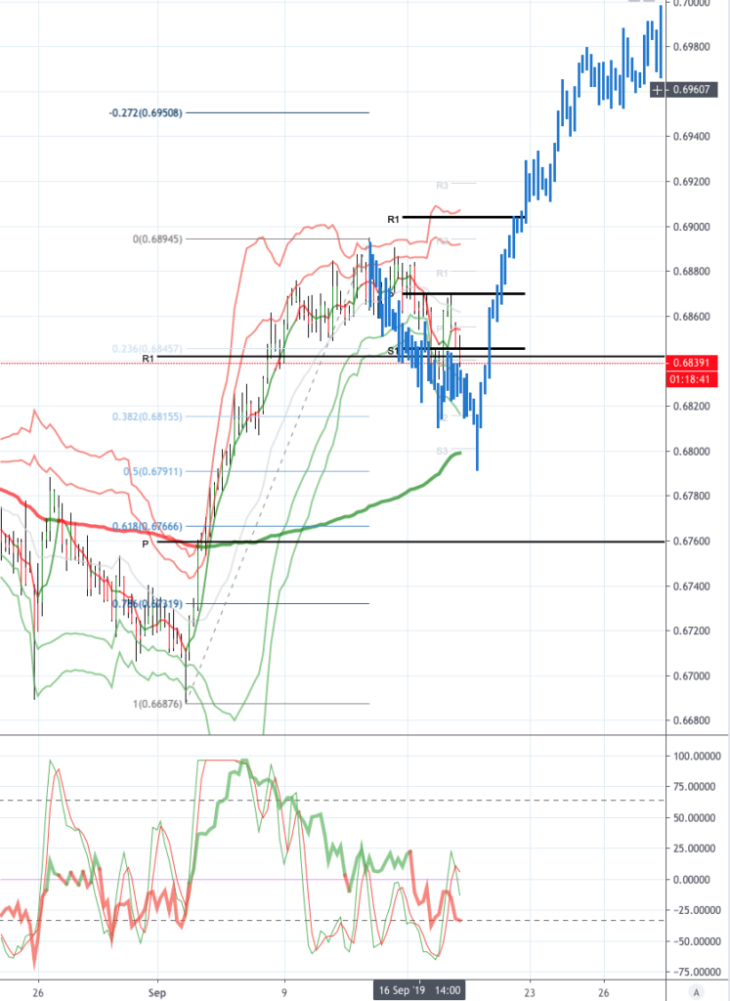 Please note that this material is provided for informational purposes only and should not be considered as investment advice. The views discussed in the above article are those of our analysts and are not shared by Tickmill. Trading in the financial markets is very risky.