US inflation report for March released on Tuesday stirred debates about inflation peaking (core inflation 6.5% vs. 6.6% forecast, used car prices -3.8%), but the bearish impact on the USD was short-lived – Fed hawk Brainard came to the rescue with comments about interest rate and QT, which fueled rally of Treasury yields. According to Brainard, the Fed may decide on balance sheet runoff as early as May and started to sell assets already in June. Regarding rate hikes, Brainard hinted that the Fed will not drag out the process of tightening and will quickly bring it to the desired level. The bearish candle on the dollar index (drop from 100+ to 99.80 points) on the CPI release swapped for a very aggressive rally towards a new local high at 100.50 points. Interestingly, after leaving the March range of 97.80-99.50, the breakout and subsequent rally faced little selling resistance at 100 and 100.50 points, while the price range during the rally was unusually tight: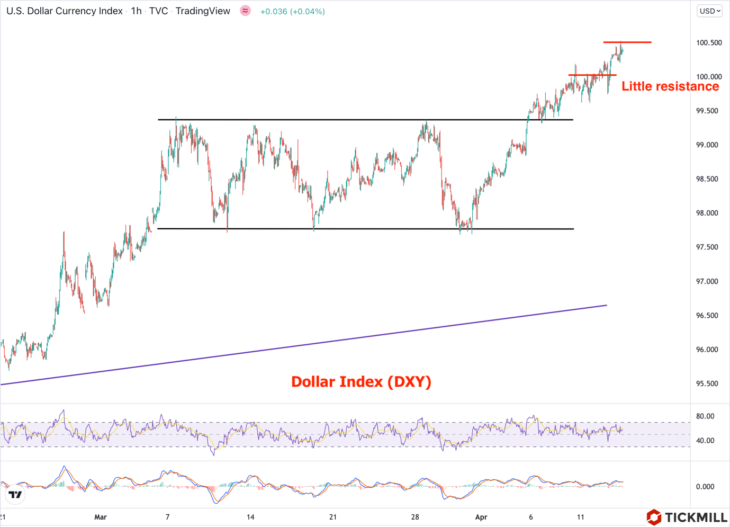 The breakout occurred at about the same time that the EU began to develop the thesis of protracted Ukraine conflict. Statements of EU officials that the hostilities may not end soon and that "the war must be won on the battlefield" undermined the market's hopes for early peace talks, which led to an increase in the geopolitical premium. In the same period, gold, a traditional defensive asset, also moved into growth, gaining 2.5%: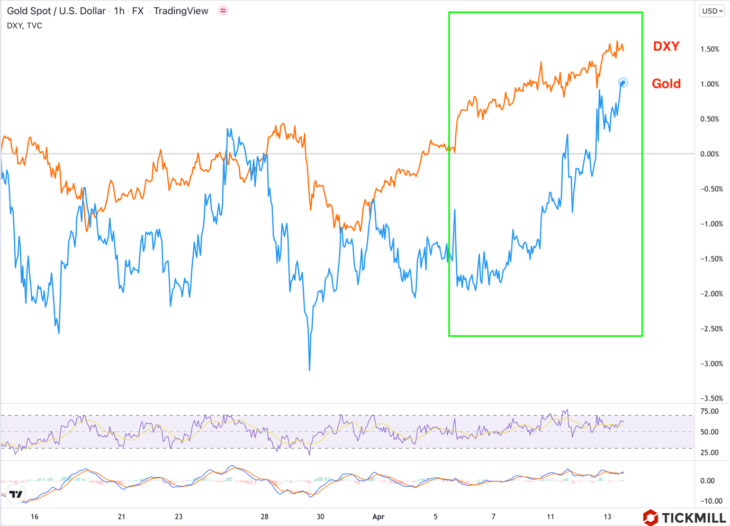 The new phase of the escalation is only about a week old and is probably far from its climax, so in the absence of large-scale de-escalation announcements, demand for the dollar and gold will remain high and the rally will continue. In this regard, the bet on retest of $2000 in gold looks justified. At the same time, the weakness of the Euro, the British pound, and the Japanese yen, which is also under pressure due to continuing rally of longer maturity Treasury yields, will probably only increase.