Gold
The near-term outlook for gold looks tilted towards higher prices in light of the worrying news last week of an escalation in tensions between the US and Iran. Following a much calmer period of relations between the two countries since last summer's standoff over Iranian attacks on oil tankers in the Strait of Hormuz, tensions have once again exploded. Following an attack on the US embassy in Iraq and subsequent retaliation by the US which saw Iranian general Soleimani killed last week, the threat of a full-scale conflict between the two countries is at its highest in years. Consequently, the flight to safety trade we have seen in recent weeks looks set to continue and likely increase.
The US FOMC minutes last week have also added support for gold prices. While the Fed was seen comfortable in its decision to keep rates on hold at this point, the central bank is still concerned about downside risks. With the Fed still keeping an eye on downside risks, the potential for further easing is still live and as such, god prices will likely remain supported.
Silver
The US-Sino trade landscape is also a key near term driver for metals prices. With the US and Chinese leaders due to sign off on the phase one deal around the middle of the month, expectations will now shift onto the second round of talks. Trump has said that he will be meeting with the Chinese premier in Beijing at a later date to kickstart the next round of talks. Metals traders will be monitoring the progress of these talks which will be a key determinant of risk flows going forward and consequently, have the potential to impact price action in both gold and silver.
XAUUSD (Bullish above 1499.74)
From a technical viewpoint. Gold is trading firmly above the monthly pivot at 1499.74, and has broken above the 2019 high watermark. Confirming the break above the bearish trend line. With longer-term VWAP flipping positive here, continued upside looks likely with any retest of the broken highs likely to find support. Yearly R1 is the next upside level to watch at 1626.76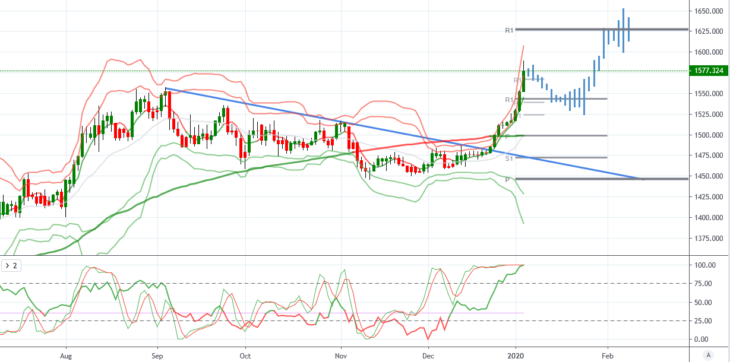 XAGUSD (Bullish above 17.4700)
From a technical viewpoint. Silver continued higher last week though was stopped by the monthly R1 at 18.4686. With longer term VWAP still positive, continued upside looks likely and any retracement lower should find demand into the cluster of support around the monthly / yearly pivot.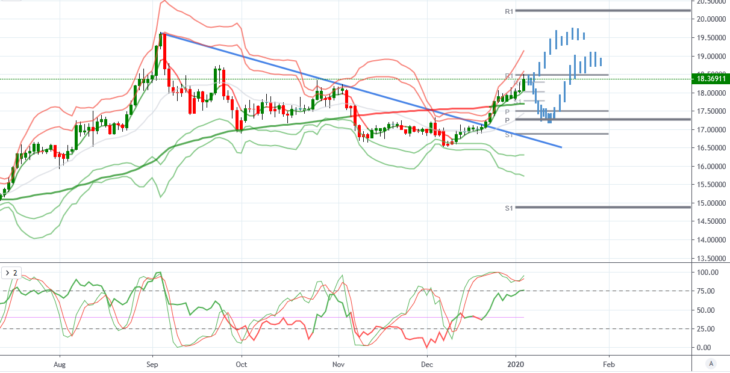 Disclaimer: The material provided is for information purposes only and should not be considered as investment advice. The views, information, or opinions expressed in the text belong solely to the author, and not to the author's employer, organization, committee or other group or individual or company.