Metals Complex Remains Range Bound For Now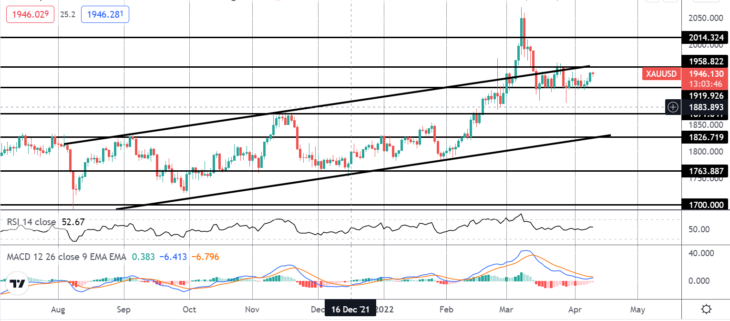 Metals prices remain broadly hemmed in by recent ranges as we kick off a fresh week. Recent USD upside has been a headwind to for metals, keeping gold and silver prices largely contained. With the market now anticipating more aggressive fed tightening than previously expected, the USD outlook contains clear upside risks. With this in mind, the road to higher prices in the metals complex has taken on fresh obstacles. Looking ahead this week, the focus will be on US CPI due tomorrow. Given the recent trend we are seeing globally, the market is anticipating further strong increases in consumer prices, which should keep the focus on USD upside, weighing on metals near-term.
Despite the dampening effect of Fed hawkishness, we are, however, still seeing a solid floor of support from safe-haven inflows. With the Russia-Ukraine situation still far from being resolved, and news flow highlighting plans to ramp up NATO military presence along the group's eastern border, tensions (and risks) remain extremely high. Risk assets have seen firm corrective action lower over recent weeks, lending support to the metals market, as traders keep a watchful eye on the situation. Given recent news highlighting Russian atrocities in Ukraine, the prospects of a near-term resolution to the violence appear weaker, suggesting continued safe-haven support for metals. Given these two opposing drivers, metals prices look likely to continue side-ways action until we get a clearer directional catalyst.
Technical Views
Gold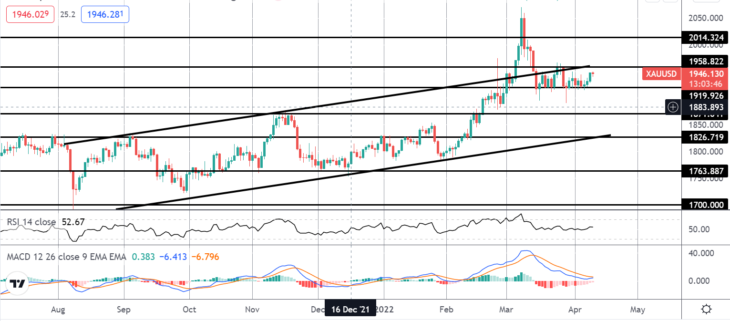 The correction lower from the recent move above 2050 has seen the gold market trading back down within the broken bull channel. Price has now settled into a tight range between 1919.92 and 1958.82. With indicators flattening here, the market is vulnerable to moves either way. However, given the broader bull trend, while 1919.92 holds as support, the focus is on a further push higher.
Silver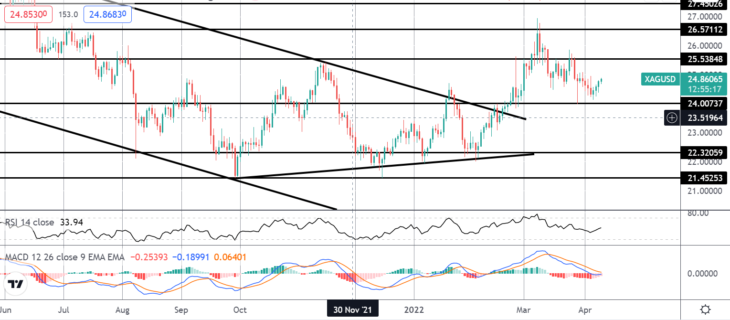 The reversal lower from 26.5712, has seen the silver market trading back down to the 24.0073 level. This region is holding as support for now and, with momentum studies turning higher here, the focus is on a continuation higher while we hold above that level. To the topside, bulls need to see a break back above the 25.5384 level to encourage fresh upside momentum.