Fundamentally Speaking
Outlook: Consumer spending.the steadfast anchor for the US economy – has been resilient even though it was a notch lower from 2Q. Still, the main drag on GDP continued to be related to the impact of trade uncertainties in the form of slumps in business investment and exports. The US housing market looked to have a new lease of life after the residential fixed investment rose 5.1% in 3Q after being stuck in a prolonged soft patch (for five quarters). If the positive effect persists, then there will be further uplift to the US economy as the lower Fed policy rate helps ease borrowing costs and reinvigorate demand for homes, although the bottleneck for the sector may be the dwindling home supply.
Weakness in corporate profitability is likely a sign that the ongoing trade tensions with China have negatively impacted US corporates. Recent concerns about a much weaker US growth outlook came amidst conflicting signals from US economic data. The 3Q GDP upward revision and the surprise jump in Oct core durable goods orders helped eased such concerns, although unexpectedly weak Nov ISM manufacturing and Oct construction spending dented hopes of a stronger 4Q. Atlanta Federal Reserve's GDPNow forecasting model is expecting US GDP growth at 1.3% in 4Q 2019, down from the recent 1.7% but still a significant improvement from 0.4% in early Nov.
Markets broadly expect full-year US growth to come in at 2.5% in 2019, and that implies a 4Q extension of 1.8% on good US consumption spending partly mitigate the downside from weaker investments and exports.
The most significant risk to the US is still trade tensions with its biggest trading partners (especially China). That risk has manifested into weaker business sentiment and leading to investment decisions being put on hold. Even as the US and China have agreed on a Phase 1 trade deal, there remains uncertainties and risks as to whether both countries will eventually come to a comprehensive trade agreement in the future, so that means that the lackluster business spending outlook may not be turning around just yet. While markets may have underestimated the resilience of US consumption in 2019, the trade-related risks which have impaired business spending in 2Q and 3Q, may eventually take its toll on US consumption spending. Overall, US GDP growth could slow further into 2020, although full-year growth is still very likely to remain positive. According to the New York Fed Recession Probability calculations, the US recession risk for Oct 2020 eased to 29% (from a recent peak of 37.9% just three months ago), suggesting a lower risk of a technical recession (i.e., two consecutive quarters of sequential q/q declines) in 2020 but this cannot be ruled out. It is important to remember that we are still in the midst of the longest US economic expansion on record (127 months as of Dec 2019) and even if we do get a technical recession in 2020, it will likely be mild.
Next year, US domestic politics will grip the attention of not just Americans but everyone as well with the US Presidential election due on 2 Nov 2020, it is unlikely to have a material effect on the US economy in 2020, (except for a slight election-relation spending boost domestically). That said, the subsequent policy direction of the next president will have implications for the US and the broader global economy. The market base case scenario is for Donald Trump to win the Presidency for a 2nd term, although this election could be acrimonious as Trump will be the first president running for re-election under impeachment proceeding.
Central Banking
After three consecutive 25bps rate cuts (in Jul, Sep & Oct) to provide insurance against ongoing risks, the Federal Reserve (Fed) signaled that the current policy stance (1.50-1.75% FED funds) is appropriate and its intention to put policy on pause, and as noted by Powell [US] monetary policy is in a right place, and the current stance of monetary policy would only change if there were a "material" change in the US economic outlook.
The boogie man for FED policy outlook is still the international trade developments, and the caveat is that another bout of US-China trade tensions post-Dec FOMC could trigger another 25 bps "insurance" rate cut from Powell in early 2020. And as it will be far enough distance from the US elections, it will not to be construed as politically motivated. Conversely, if the trade negotiation progresses smoothly into 2020, then the "insurance" cut will be unnecessary.
On the flip side, the Fed has set the bar very high for policy tightening, as there will need to be a significant rise in inflation for the Fed to go in the opposite direction and start raising rates. Core PCE inflation – the Fed's preferred price measure – has eased lower in Sep and Oct after a recent peak at 1.76% y/y in Aug. While it is certainly no longer a far way off the 2% target, it is also nowhere near being uncomfortably high. Moving into the new year, the composition of the Federal Open Market Committee (FOMC) will change in 2020. Of the four Fed Reserve Bank Presidents who will move into voting positions next year, Minneapolis Fed President, Neel Kashkari, is likely the most dovish while Cleveland Fed President Loretta Mester is slightly hawkish.
Technical Takeaway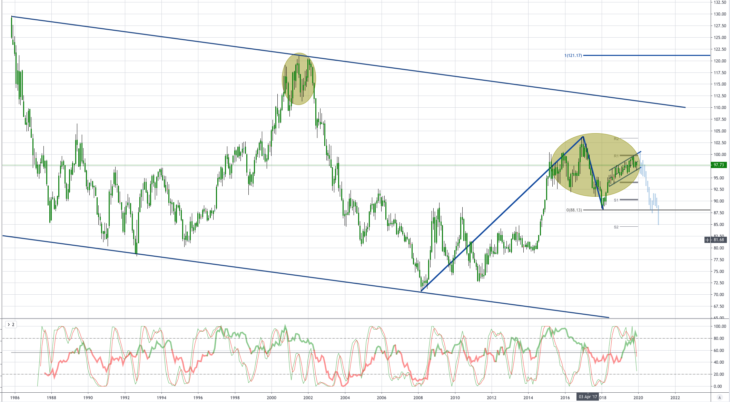 The broad USD Index appears to be on the verge of a multi month corrective phase the October decline has impulsive qualities and the recent recovery attempts have seemed laboure, however, it is noteworthy that the USD Index has held ascending trendline support and could still make another upside attempt to 100 whilst maintaining a topping head and shoulders pattern similar in a fractal nature to that seen in 2001/02. This topping patter would be negated on a breach of 104, a monthly close above this level would actually imply a technical target back to the 120 level.
Disclaimer: The material provided is for information purposes only and should not be considered as investment advice. The views, information, or opinions expressed in the text belong solely to the author, and not to the author's employer, organization, committee or other group or individual or company.