Fundamentally Speaking
Economic outlook: Abe's spending plan should keep the BoJ at bay, which has shifted focus back to the Phase One US-China trade deal, US equity markets have led the charge in global equities,p rinting consecutive new record highs with traders persistently pricing in a positive trade outcome alongside tailwinds from this year's three Fed rate cuts. Meanwhile the signal from UST yields has been more cautious/negative, the10y tenor pulling back in to year end from a high of 1.95% into a 1.70-1.80% range. Equities appear to be winning this push pull dynamic and as a result USDJPY has remained supported reflecting the risk positive vibes.
The extent of the tariff roll back in the trade deal was seen as important determinant as to whether 10y US Treasury yields can head back above 1.90% and in the process,provide a meaningful uplift for USDJPY. Tempering this narrative, the US economic data flow continues to suggest an underwhelming sub-2% US Q4 GDP outcome and against a still-subdued inflation backdrop it remains hard to see 10y UST yields making a sustained breakabove 2%.
The economic data flow in Japan has also been underwhelming, supporting our view that the consumer and the external sector are and will for some time remain the economy's soft underbelly. Retail sales collapsed in October with the drag from the sales tax hike at the beginning of the month compounded by the Hagibis Typhoon. Also in October, both imports and exports fell more than expected reflecting soft domestic and overseas demand. Thus, Japan's data flow continues to point to the need for fiscal policy to do more of the heavy lifting, particularly given the BoJ's limited ammunition.
Central Banking
Governor Kuroda has been calling on the Government to do more and unlike what we have seen in countries like Germany and Australia, in Japan the fiscal and monetary arms are certainly more inclined to work together. Following the damage from Hagibis, PM Abe flagged the likelihood of a stimulus package early in the fourth quarter of 2019 and in December the Prime MInister was true to his word delivering a spending stimulus package of $120 billion, satisfying market speculation. However, the softening in activity data coupled with the political desire to make sure the sales tax hike does not trigger a recession, staining the legacy of Abenomics, of which half is likely to be new spending. This package represents a huge stimulus, worth around 1.8% of GDP. While a package of this magnitude will no doubt raise crowding out concerns, bearing in mind Japan's unemployment rate of just 2.4%. Although the rebound in Japan's October manufacturing PMI points to some green shoots, data from the consumer and external sector suggest Japan is facing an economic slowdown. Against this backdrop and PM Abe's spending package, such spending plans will likely keep the BoJ on the sidelines into 2020.
Technical Takeaway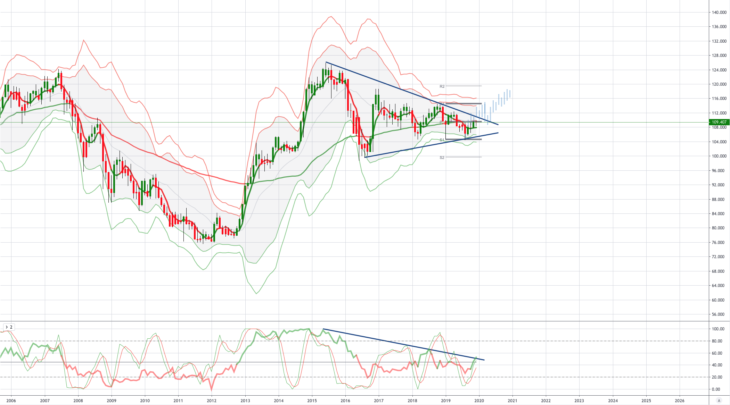 A full reversal of market sentiment from risk off in Q3 2019 to risk on in Q4 2019 spurred a strong recovery in USDJPY from three year lows of 104.4 in late August to witness prints above 109.50. Assuming that trade escalation risks stay low, together with global central banks leaning on their accommodative stance, it is likely the current bout of risk-taking hence JPY weakness can continue persist. Domestically, fiscal and monetary stimuli in 2020 are also clear negatives on the JPY. Taken together with the USDJPY pressuring a potential topside breach of its three year trendline resistance, I remain constructive on the USDJPY heading into the first quarter of 2020, if price can print a monthly close above 110.50 this would further encourage the bullish bias opening a move to test 114.50 and then onto 118.50 later in the year.
Disclaimer: The material provided is for information purposes only and should not be considered as investment advice. The views, information, or opinions expressed in the text belong solely to the author, and not to the author's employer, organization, committee or other group or individual or company.