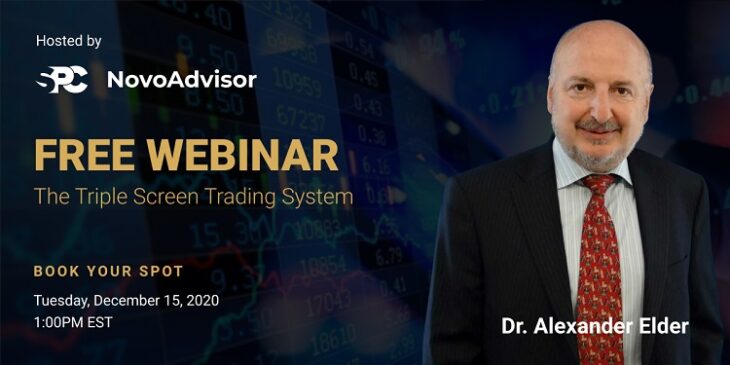 Don't miss this amazing opportunity to join Free Webinar with a world-renowned expert of stock trading – Dr. Alexander Elder!
When: Tuesday, December 15, 1:00PM EST
During the webinar you will…
Learn the secrets to successful trading using The Triple Screen System
Learn how to choose right indicators and how to determine trend-following indicators
Get Dr. Elder's evaluation of current stock market and projection of the market trends in 2021
Hear about which of the most valuable stocks to buy in the next year
Have the opportunity to ask Dr. Elder your most concerning questions about trading
Learn about investment ideas from Dr. Elder
NEW! Get detailed intro and personalized access to a revolutionary brokerage account analysis platform – NovoAdvisor
Meet the legend Dr. Alexander Elder and learn how to enhance your trading skills COMPLETELY FREE!
About the Speaker

Alexander Elder is a professional trader, a world-famous consultant and
an author of international bestselling investment books. Dr. Elder is a founder of Financial Trading Seminars, Inc. – one of the leaders of the American market in the exchange trading education and trading software development.
An outstanding speaker and author of numerous books and articles. His most famous works "Come into My Trading Room A Complete Guide to Trading" and "The New Sell and Sell Short: How to Take Profits, Cutting Losses, and Benefit from Price Declines" have been translated into dozens of languages and have remained international bestsellers for many years.
Elder continues to successfully trade and advise traders all over the world, has unique educational programs in the USA, Asia, Australia, Europe and Russia.
Interested?
Join us December 15, 2020 at 1:00PM EST and get valuable stock trading insights from an experienced trader!