Market focus
Holidays in the U. S. and the U.K. set up a sluggish course of trading on world markets, which allows key indices to carefully roll back from the lows reached last week. The trade conflict between China and the United States is increasingly perceived by the markets as the protracted cold war of the two largest world powers, which maintains the downward trend in the yield of US government bonds, despite the rebound from levels below 2.29% to 2.32% on 10-year securities by the end of Friday.

Stocks
The S&P 500 futures added 0.2% at the beginning of the week, sluggishly rebounding after a decline last Thursday. Chinese indices traded virtually unchanged the third day, but Heng Seng updated the 4-month lows this morning, rebounding in the second half of trading in Asia. Technical analysis is still on the side of the bears, indicating that the SPX remains below the 50-day moving average and the Heng Seng – below the 200-day moving average. At the end of the month, we are traditionally witnessing thrust into defensive assets, which can cause pressure on the markets during the week.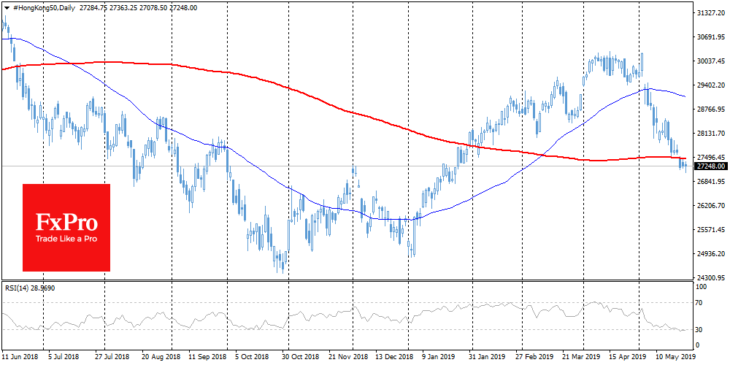 EURUSD
The single currency rose on Thursday and Friday, staying above 1.1200 at the start of trading in the new week. Slightly higher, near 1.1230, there are important levels of resistance pass in the form of the resistance of the downward trading channel and the 50-day MA. Significant news is likely to be necessary for the development of growth or reversal from these levels. The beginning of the week promises to be very calm, significant releases are expected on Thursday (US GDP) and Friday (German CPI, US Income and Outlays).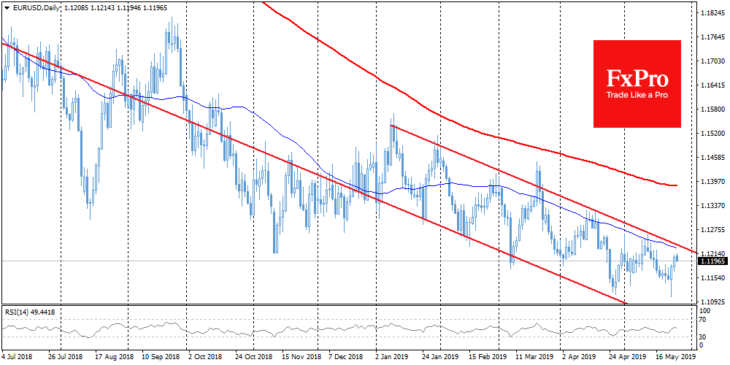 Chart of the day: Bitcoin
Once again, the weekend was marked with purchases on the cryptocurrency market. The Bitcoin settled near $8,000 last week, but Sunday evening it jumped 10% to $8,800. These are new highs since May last year. The last spikes of growth were exhausted near round levels. If this trend continues, the next stop may be a level near $9,000. In case of further growth, you should pay attention to the area of $9,600, the area of local maximums of April-May 2018.