Forex time frames are simply the different times which can be used to view how price has moved, is moving and also traders can perform technical analysis on the charts.
As you can see in the above chart, in the MT4 trading platform we have 9 different time frames: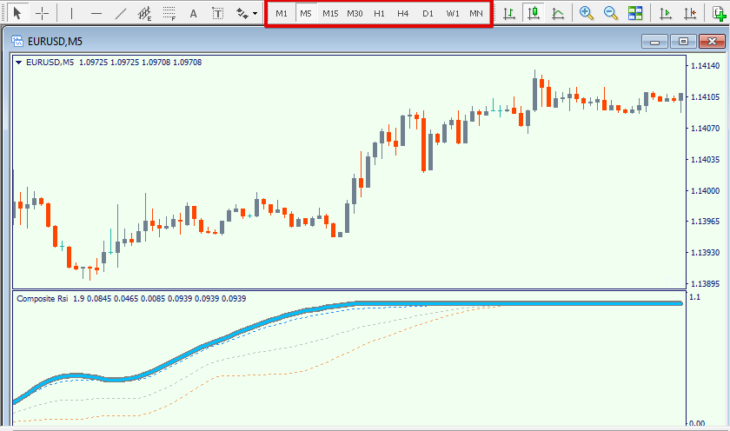 M1 = 1 minute time frame
M5 = 5 minute time frame
M15 =15 Minute time frame
30M = 30 minute time frame
1H = 1 hour time frame
4H = 4hr time frame
D1= daily time frame
W1 = weekly time frame
M1 = monthly time frame
Why do traders use different time frames?
There are few reasons why traders use different time frames:
For technical analysis, to see the big picture: if you are doing a technical analysis on 1 minute time frame chart and you want to know what the bigger trend is, you really cant see it on your chart on 1 one minute chart. You have to switch to a H1, daily or weekly chart to see the big picture how how the price is moving and where it is likely to go next.
The Forex trading system or the strategy you are using required a certain time frame. For example, forex scalpers will most likely be using the 1 minute and 5 minute time frames for trading. But the swing traders would most likely be using the 4hr or the daily charts for trading.
Different time frames in trading
Some traders only stick to trading only one time frame. Others like to see what is happening in multiple time frames before making a decision to buy or sell in a specific time frame. This technique is called multiple time frame trading.