Potential reversal EURUSD
Risk appetite was lower overnight on rising concerns about the impact of the virus outbreak in China, especially ahead of the Chinese New Year.
In the Eurozone, the ECB will hold its first Governing Council meeting of the new year. However, it should be a non-event, with no changes to policy anticipated. The central bank will likely retain its easing bias, though market expectations are for policy to stay on hold in 2020. Data-wise, the highlight in the Eurozone is the release of the flash PMIs for January. The composite index is forecast to have improved from 50.9 to 51.2, a level still consistent with sluggish growth. In terms of the breakdown, it is anticipated that the manufacturing PMI may have moved higher, but remained deep in contractionary territory at 46.8. At the same time, at 52.9, the services index is projected to hold close to December's reading.
The relative strength of the US economy and positive interest rate differentials remain supportive of the USD. The persistence of very low or even negative interest rates in other economies also makes it difficult for their currencies to make ground against the dollar. This is particularly the case for the euro, with the ECB deposit rate now pitched at –0.5%, while euro swap rates are negative out the curve as far as seven years. Indeed, it is worth noting that the EUR/USD rate has spent very little time above the $1.20 level ever since the ECB's move to negative interest rates in 2014. With very little change in interest rates expected in the coming year, range trading may remain the order of the day on FX markets in 2020.
Presidents Emmanuel Macron and Donald Trump have reached a truce to prevent any trade dispute escalation until the end of 2020, after the United States threatened to impose levies on multiple French luxury products in December following France's plan to tax (3%) revenue from digital services made by foreign firms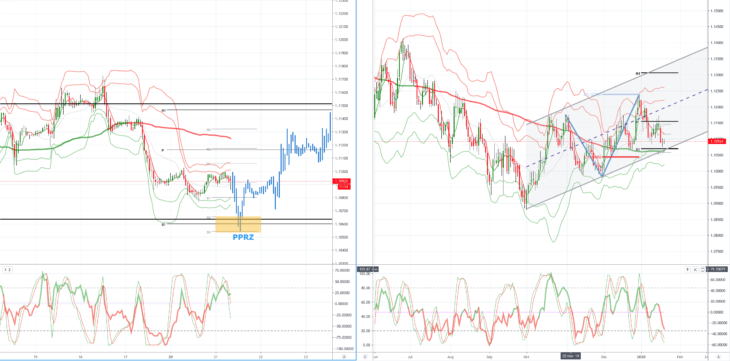 From a technical and trading perspective, the EURUSD is testing a pivotal near term support cluster at the 1.1060/40 and Potential Price reversal Zone (PPRZ). This area retains the daily  weekly and monthly support pivot points as highlighted in the chart, it also has ascending trendline support and the 100 period Volume Weighted Average Price (VWAP). Traders will be wise to watch closely how price responds in this area. If bids emerge here, watch for a close above the near term VWAP currently sited at 1.1114 to encourage prospects of a bullish reversal. It is worth noting that the USD is also testing its PPRZ highlighted last week.
Disclaimer: The material provided is for information purposes only and should not be considered as investment advice. The views, information, or opinions expressed in the text belong solely to the author, and not to the author's employer, organization, committee or other group or individual or company.