Main market themes
The climax of the UK general election has dominated the Asian trading session. Sterling surged when an exit poll conducted for UK media was released at 2200 GMT. This suggested that the Conservative Party would win 368 seats and therefore secure a significant majority. As the results have started to come in, the poll looks to have proved pretty accurate, as such Johnson has been returned as Prime Minister. Cable has settled down after the initial surge took if from around 1.3160 to 1.3514.
Stocks rose to a record high, boosted by trade optimism after President Trump tweeted that the US was "getting very close to a big deal with China". This was then followed by the news that the US and China have reached a "deal in principle" to resolve the 17-month long trade dispute and Bloomberg reported this morning that Trump has signed off on this phase one trade deal with China to narrowly avoid the scheduled 15 December US tariffs hike on $160b worth of Chinese goods. The deal was said to include China's pledge to purchase more US farm goods and reduction of existing tariff rate on China. Investors exited safe havens asset as risk sentiment returned – benchmark US treasuries yields jumped by 4-10bps. Gold price slipped for the first time in three days, yen suffered largest losses in more than three months. The dollar weakened against most of its major peers. The pound spiked by more than 2% this morning as early polls pointed to a strong Tories' victory. On Thursday, the ECB left its key interest rates unchanged and reaffirmed its accommodative policy stance. New ECB President Christine Lagarde held her press conference and said that she was neither a "hawk" nor a "dove" but intended to be a "wise owl", saying that she has her "own style" in communication. The euro moved up just a little post pressie and closed flat.
US factory gate inflation stays muted: Producer price index for final demand was unchanged in November (Oct: +0.4%) while core PPI managed to pick up 0.2% MOM (Oct: +0.0%) reflecting a modest improvement in underlying price pressure. Compared to the same period last year, PPI gained a mere 1.1% YOY (Oct: +1.1%), the same rate recorded in the previous month reaffirming the state of muted inflation at US factories in general
Eurozone industrial production contracted in October: Industrial production contracted by 0.5% MOM in October (Sep: -0.1% revised) following a downward revision to September IPI change that reflected mainly a large decrease in production of capital goods (-2.0% vs +0.7%) and a smaller rise in nondurable consumer goods. This left the annual pace of contraction to accelerated to 2.2% YOY (Sep: -1.8%) marking its one full year of decline as the manufacturing sector remains mired in a downturn, plagued by trade uncertainties and slower demand abroad. Output in the bloc's largest economy, Germany continued to drop and by even larger margin in October (-1.5% vs -1.2%), suggesting that a recovery is still far off.
BOJ Tankan Survey reflects mixed business confidence: The BOJ quarterly Tankan Survey reported a mixed business confidence among the large manufacturing and non-manufacturing sector. The Large Manufacturing Outlook Index slipped to 0 in 4Q (3Q: 2.0) to indicate manufacturing firms' dimmer growth outlook whereas the Large NonManufacturing Outlook Index rose to 18.0 (3Q: 15.0), its highest in three quarters. Meanwhile, the Large All Industry Capex rose 6.8% YOY in 4Q (3Q: +6.6%), a tad higher than that of 3Q's but still a larger pullback compared to the phenomenal double digit growth in 2018.
Today's Options Expiries for 10AM New York Cut (notable size in bold)
EURUSD (Intraday bias: Neutral Bullish above 1.1100 targeting 1.1200)
From a technical and trading perspective, the closing breach of 1.1100 and the gunning of stops above last weeks highs, encourages bullish exposure, however, headline risk remains top of mind today. Caution is counseled as we note that price failed to close above the monthly R1, a repeated failure to take out that level on a closing basis today would likely concern newly minted longs, however as 1.1110/00 now acts as support their is a window for another drive higher to target October highs. As 1.1130 supports expect a test of 1.1250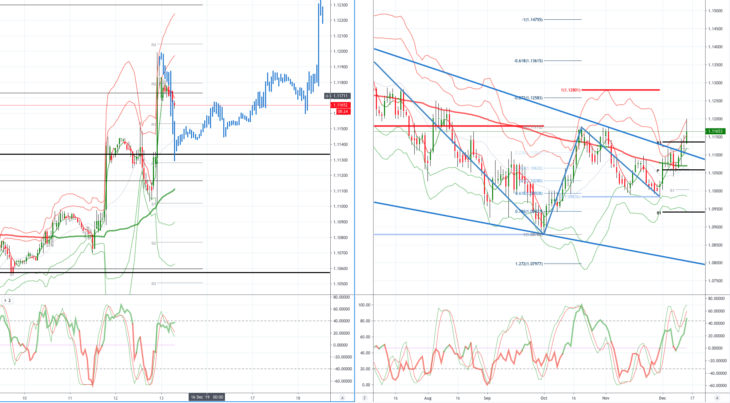 GBPUSD (Intraday bias: Bullish 1.33 target achieved)
From a technical and trading perspective, as 1.31 supports expect a grind higher to test stops and offers above 1.32, watching potential momentum divergence and resistance cluster 1.32/1.3250 to cap the current advance, prompting a potential retest of 1.30 from above.
GBPUSD…UPDATE 1.32 caps on initial test as anticipated, a second failure above 1.32 would set the stage for a test of 1.30, a close above 1.32 would give a window to spike 1.33 before the 1.30 retest. Note daily divergence which should be addressed in due course.
GBPUSD…UPDATE as 1.35 caps bids at 1.3350 likely sees a grind back towards overnight highs and stops above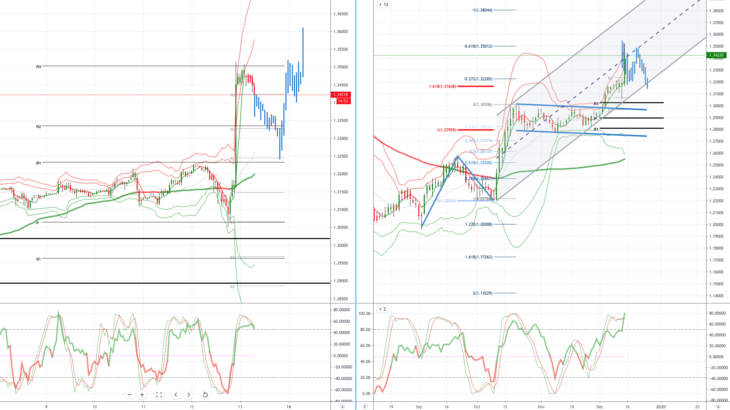 USDJPY (intraday bias: Bullish above 109.10 below 109.30 targeting 110.50)
From a technical and trading perspective, the close through 109.30 would suggest downside failure and reset sites on 110. As 109.10 acts as support look for a test of the equidistant swing objective at 110.50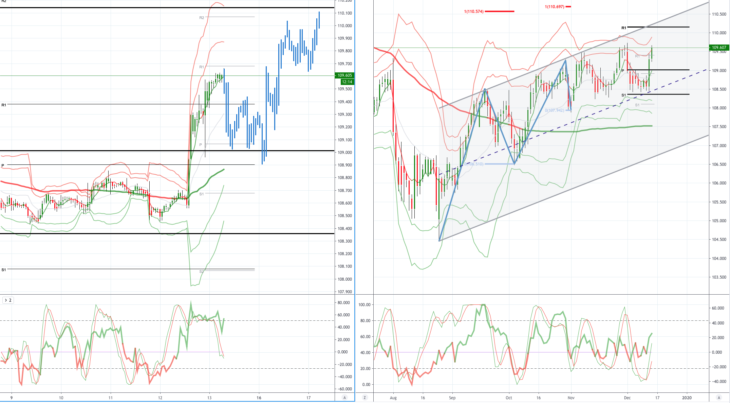 AUDUSD (Intraday bias: Bullish target .6950 achieved)
From a technical and trading perspective, anticipated basing pattern plays out stops above .6800 gunned, as .6810 supports look for a further grind higher to test offers and stops towards .6900. As .6850 caps corrections look for further upside pressure targeting a retest of October highs. Test of October offers underway as these are eroded look for a test of offers and stops to 0.7000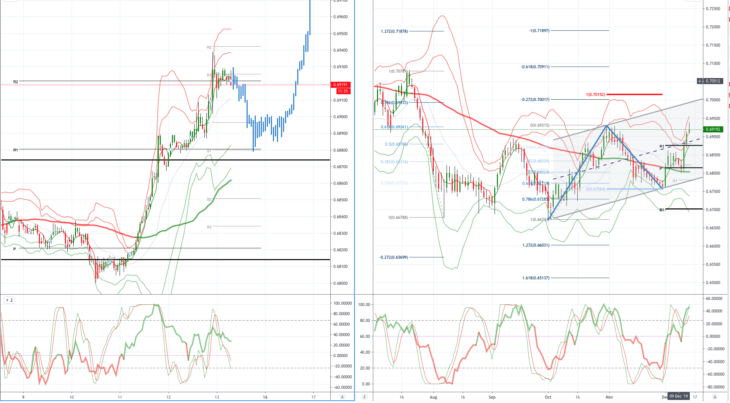 Disclaimer: The material provided is for information purposes only and should not be considered as investment advice. The views, information, or opinions expressed in the text belong solely to the author, and not to the author's employer, organization, committee or other group or individual or company.