Main market themes
US market ended Friday on a flat note after hitting record highs in the previous session as US and China finally announced a phase one trade deal that narrowly avoided the scheduled 15 Dec US tariffs hike on Chinese goods. The limited agreement, to be signed in early January involves China purchasing $200bn additional US goods and services over the next two years in exchange for a reduction of US tariffs on some Chinese goods, to be effective 30 days after the deal has been signed.
Among other outcomes include China's commitments to improve protection for intellectual property and a currency provision to not devalue the yuan to boost competitiveness.
Cautious sentiments remained with equities little changed and treasury yields slipping by around 6-7bps.
The USD's performance was uneven across the FX board; the pound soared over the Conservative Party's landslide victory. Oil prices were up by around 1.5%. Brent crude finished at $65.22/barrel on Friday.
After the landslide victory in the election on 12 December, PM Boris Johnson is expected to bring the Withdrawal Agreement Bill back to parliament before Christmas to allow the UK to leave the EU by 31 January 2020. Meanwhile, Johnson's ministers state they are confident of reaching a trade deal with the EU by the end of 2020.
Japan industrial production contracted in October: Japan industrial production slipped 4.5% MOM in October (Sep: +1.7%) leaving the annual contraction at 7.7% YOY (Sep: +1.3%) according to a final reading. The plunge in output was mainly a result of disruption at Japanese factories caused by typhoon in October
Based on CFTC data, the investment community is still mixed on the broad USD. Leveraged accounts increased their net implied long USD position, but asset managers built on their implied short USD bias.
For this week, market will watch out for flash PMI in EU and US due today. Attention also shifts back to the Bank of England monetary policy meeting after the political dust settles. However, the rate cut expectation on BoE has diminished following a landslide victory by Boris Johnson. Although the major tail risks for the global market has faded, during this festive season, market will also watch out for two development including the chance of Scotland Independence Referendum and the development of North Korean situation, after North Korea conducted another test over the weekend
Today's Options Expiries for 10AM New York Cut (notable size in bold)
EURUSD (Intraday bias: Bullish above 1.1100 targeting 1.1250)
From a technical and trading perspective, Caution is counseled as we note that price failed to close above the monthly R1, the repeated failure to take out that level on a closing basis today would likely concern newly minted longs, however as 1.1110/00 now acts as support their is a window for another drive higher to target the equidistant swing objective sited at 1.1250, 1,1160 is the key upside hurdle ahead of Friday's highs.. A close today sub 1.1110 would suggest a false topside break and reset sites on another test of bids towards 1.1060.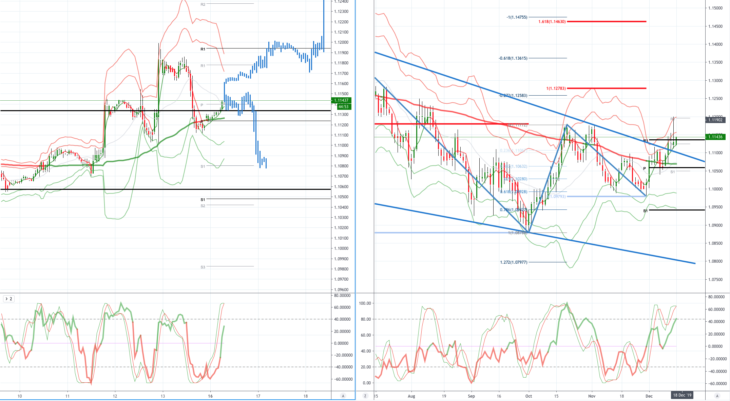 GBPUSD (Intraday bias: Neutral Bullish above 1.33 Bearish below)
From a technical and trading perspective, after last week's fireworks, expect some near term consolidation and digestion, as 1.35 caps, potential for another corrective leg to the downside testing bids to 1.3250, failure here would open a deeper correction to the 1.30 break point. A close above 1.43 would encourage bullish spirits targeting 1.3550 offers and stops next.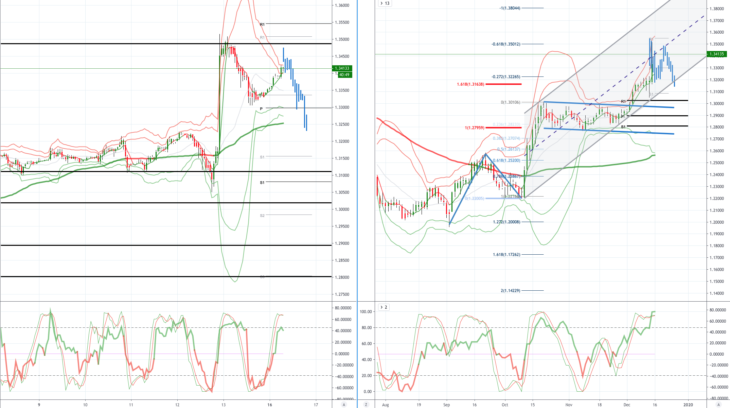 USDJPY (intraday bias: Bullish above 109.10 targeting 110.50)
From a technical and trading perspective, the close through 109.30 would suggest downside failure and reset sites on 110. As 109.10 acts as support look for a test of the equidistant swing objective at 110.50, however a close below 109 would suggest another headfake to the topside and return to bids towards 108.50.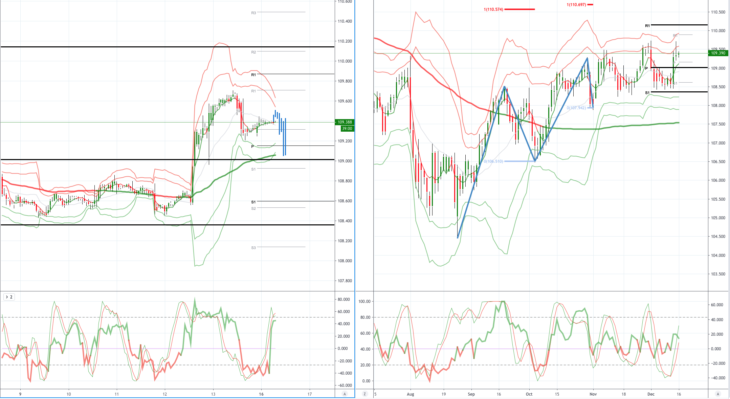 AUDUSD (Intraday bias: Bullish above .6850 targeting .7000)
From a technical and trading perspective, as .6850 caps corrections look for further upside pressure targeting a retest of October highs. Test of October offers underway as these are eroded look for a test of offers and stops to 0.7000. Caution as Friday printed a key reversal day, however, we failed to flip the daily chart bearish as per the near term Volume Weighted Average Price, follow through selling today will do so and would be of significant concern to the bullish bias.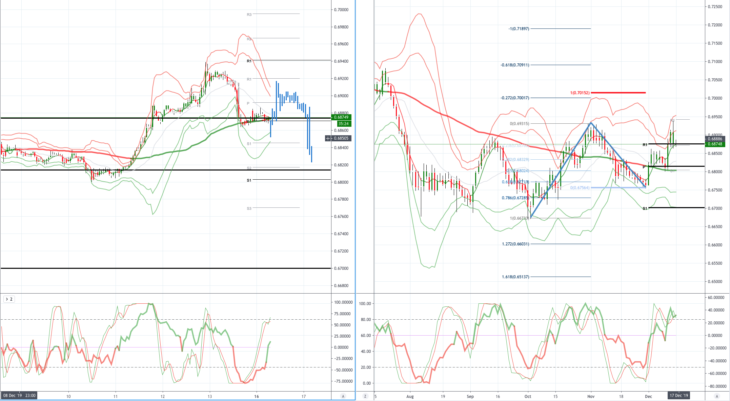 Disclaimer: The material provided is for information purposes only and should not be considered as investment advice. The views, information, or opinions expressed in the text belong solely to the author, and not to the author's employer, organization, committee or other group or individual or company.